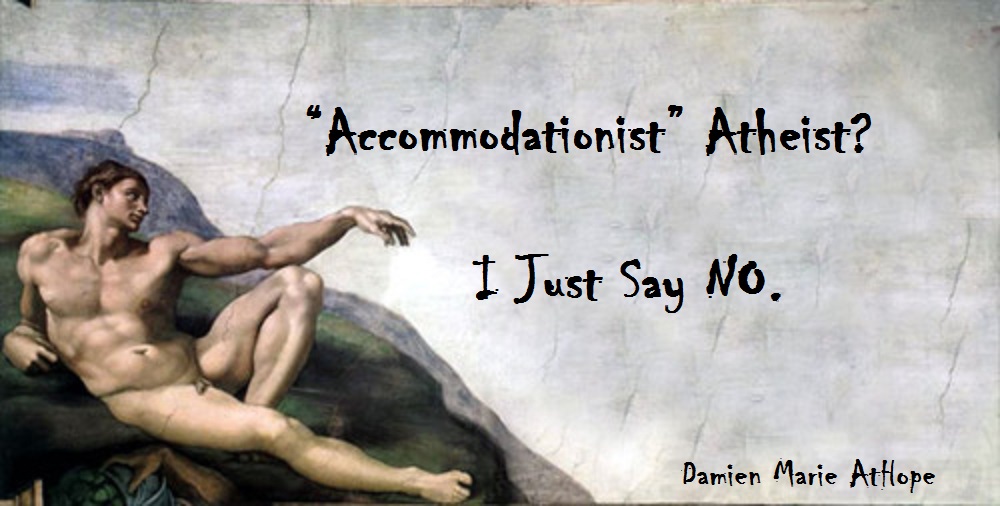 Secular Sunday School Atheist (Accommodationist Atheist):
Good to see you Saturday. Glad you got out to an event. Thought you'd be around to talk, but you left early. We'll get our chance to talk soon enough.
Damien Marie AtHope:
I realize I don't fit there and so I left and also left the group. Others have the right to do atheism their way. I am just not into that style I feel out of place an so I need to do my own thing not disrupt the rights of others. I am just to firebrand atheist and that is not against others just my style. I see I will not fit in here and do not feel here needs to change for me nor am I going to change for here. I have tried to make it work and still wish others well but I felt out of place. I don't want to argue or feel I don't fit and I see others do and that's good but I felt I needed to go.
Accommodationist Atheist:
I wouldn't have guessed, but I understand, and I'm sorry to hear it. I thought I was the one that didn't fit in there. I think atheists sometimes put too much emphasis on being individualistic and independent and not enough on being connected personally to a group. Of course you need to do what's right for you. Good luck with your book.
Damien Marie AtHope:
Thanks most of the people I talked to are accomodationism atheists so many are more like you then me. And I appreciate your thoughtful words and wish you well also.
Accommodationist Atheist:
It's funny how we see the same group in two different ways. And I prefer the term "semi-accommodationist" because I want to oppose the bad stuff religion does. I'm not an absolutist about how much to accommodate religion.
Damien Marie AtHope:
Yes that is funny, I oppose anything even like religion including atheist church but that's just me. I hated the singing at the Darwin day shortly after that and having almost everyone telling me they are accommodationist I realized good for them this is not for me. I know others like it so I am happy for them everyone should do what is right for them I never say there is only one right way for atheism only one right way for me.
Accommodationist Atheist:
You seem like the sort of guy who has no interest in moderating his own behavior in order to be more likable. If I'm wrong about that, and underneath your gruff exterior is someone who would like people to respond more positively to him, then I have some parting advice for you.
Damien Marie AtHope:
I am always open to here ideas and I am also who I am as well. feel free to say what you think I have never stopped anyone from doing that. I am me and do care about others but care about me as well.
Accommodationist Atheist:
You come across so strongly with your ideas that it feels like you don't care about anyone else in the room. And if you ask about others' ideas, it is to compare them to your own. You don't seem genuinely curious about other people, just focused on axiology, your book, etc. Like when we were at Therese McBain's talk, you told her how you disagreed with her but didn't ask her a question. If you are interested in other people for their own sakes, they respond better. If people get the idea that you're just in the room to tell people about yourself, that's a turn-off. You might see it differently, but that's how it looks to others.
Damien Marie AtHope:
I appreciate your thoughts Jonathan. I do like hearing ideas other than my own but also like telling what I think. I said I left the event as I wanted to respect that others have the right to be different than me. I do have strong opions and a strong personality but do strive to respect the self rights of others. this means I realize I am not a good fit for every type of group or type of people. I do say even if I do not agree with others style of atheism I do not think there is a right style of atheism neither others or mine the type that works for others is good for them. I believe people own themselves and thus there right to self define as they wish. I self define as a strong firebrand axiological atheist but do not expect anyone to feel the same. I do wish to be one who can respect people without respecting any religion and believe in people with out believing in any god or religion. I wish you well and think your a cool person even if on lots of things about belief we differ. take care.
Accommodationist Atheist:
Thnaks. Take care.
Damien Marie AtHope:
We are on a somewhat similar mission but maybe different paths. I thought of creating this folder of all I have done in activism and outreach as you inspired me to remind people what a strong personality like mine bent on good does. I have actively made a difference.
Accommodationist Atheist:
You seem really interested in yourself and your own accomplishments.
Damien Marie AtHope:
You want to see me in the light that you do, I get that.
Accommodationist Atheist:
You said you were open to feedback. Are you? I'm telling you how you come across to other people, and not just to me. You can be defensive about it, or you can take it to heart, your choice. Maybe you're not really interested in yourself and your own accomplishments, but you sure seem that way, and so that's how people will react to you.
Damien Marie AtHope:
You know I was thinking in a way we are both maybe doing the same thing or have a similar type goal you want to work at one end and I at the other. You it seems want religion to be more humanistic and I want antitheists and antireligionists to be more humanistic so maybe we are both fighting for humanism at the unique place we both fit. Just a though.
Accommodationist Atheist:
I see myself as trying to improve the secular community. That lines up nicely with your goals.
Secular Sunday School Atheist ("Accommodationist" atheist)
Here's the vision of atheism that Secular Sunday School Atheist (Accommodationist Atheist) holds:
Atheists ought to be self-aware. 
We don't have any holy books or priests to tell us that our thoughts and feelings are right and true. If we're proud or offended, we have no choice but to own those feelings. We can't imagine that God is proud of us or that we are offended on his behalf. We don't understand human reason to be a gift from God, nor can we expect reason to function objectively. We see ourselves as evolved animals with biased, self-serving minds.
Atheists ought to be nice. 
We know that this is our only life. We can't look at starving people and tell ourselves that they deserve their lot because of sins they committed before they were born. We can't overlook suffering in this life by looking forward to an afterlife. We can't look at differences between races or genders and say that God wants it that way. We don't have a holy book that glorifies killing infidels, apostates, gays or anyone else. We ought to be especially nice to the people who disagree with us. If people disagree with us, we never think that they're being controlled by Satan, that they are committing blasphemy, or that they deserve to be tortured forever in hell. When we feel antipathy toward someone in an "enemy camp," we should be self-aware enough to be skeptical of our own negativity.
And atheists ought to be humble. 
We know we're not God's chosen people, and we know our truths aren't God's truths. We understand ourselves to be biased and fallible just like everyone else. We know that humans are varied, both in their genes and in their experiences. We don't think that the King of the Universe wants everyone to think the same way we do. We ought to be self-aware enough to recognize our feelings of self-righteousness as bias rather than rationality.
Secular Sunday School Atheist: maybe one day evangelicals will say, "Those atheists are going to hell, but they sure are self-aware, nice, and humble."
No, I Do Not Value Accommodationism, yes I am cool being seen as an Anti-Accommodationist Atheist
Believers and even some atheist or other nonbelievers who are accommodationists feel nonaccommodationists firebrand atheists, antitheists, antireligionists, skeptics or rationalists like me should not attack the thinking of believers as they see this as disrespecting or attacking the one holding the belief thus the believer themselves.
I regard this as ridiculous, do they hold this as a universal belief or just a special belief towards religion believers. Such as I guess if universal I will never have to worry about you attacking my firebrand atheist beliefs either right or are you bigoted in how you apply your thinking about attacking thinking is attacking the person.
Attacking the thinking is not attacking the person and guess what this includes religion and god or any beliefs.
In case you are unfamiliar with the term accommodationism it is a term of modern rationalism or atheism refers to the belief that some sort of "common ground" can be found between believers in magical and supernatural things and those who hold the scientific method and methodological naturalism as humanity's best tools to describe the universe.
Some simply call it soft or friendly atheism. I say do what you feel is right I see no rightness in this style.
It's not the belief the believer holds to themselves, that in itself would not bother me if it somehow stayed encapsulation as a self-chosen preference they did not try to force on the larger world.
But of course they not only express their myths, lies, pseudo history, pseudo-science, conspiracy theories of reality and often bigotry as well as a desire to oppress all who do not believe like them.
Let me provide a fake but similar example.
Such as, if they only like cheese only pizza I would say whatever but when you force your kids to eat cheese only pizza and say they are sinful and committing evil if they ever even desire toppings and punish and shame them for eating pizza with toppings.
Who would not see a need to speak out against this? Well I do even if many do not.
Furthermore using the same analogy this same non topping pizza true believer tried to have laws changed to limit topping choices or remove toppings all together and stated it was a fact that there was only cheese pizza 6,000 years ago and that is how it should always be even showing you the sacred non topping pizza cookbook of their people.
The problem is first they have no right to oppress others rights, second is what the anti-topping pizza believers are saying is lies. The history of pizza does not match their claims.
The word "pizza" was first documented in 997 AD in Gaeta, Italy, and successively in different parts of Central and South Italy. The precursor of pizza was probably the focaccia, a flatbread known to the Romans as "panis focacius", to which toppings were then added. Imagine people believing lies against their interest, it is almost as if they have been raised to believe things that are irrational should not be challenged.
Who would not see a need to speak out against this? Well I do even if many do not.
In the same way religion believers and how they push their belief not only makes it reasonable to actively oppose but my duty to do so for all this and more I am not an Atheist accommodationist.
And never will be…..
http://rationalwiki.org/wiki/Accommodationism
http://en.m.wikipedia.org/wiki/History_of_pizza