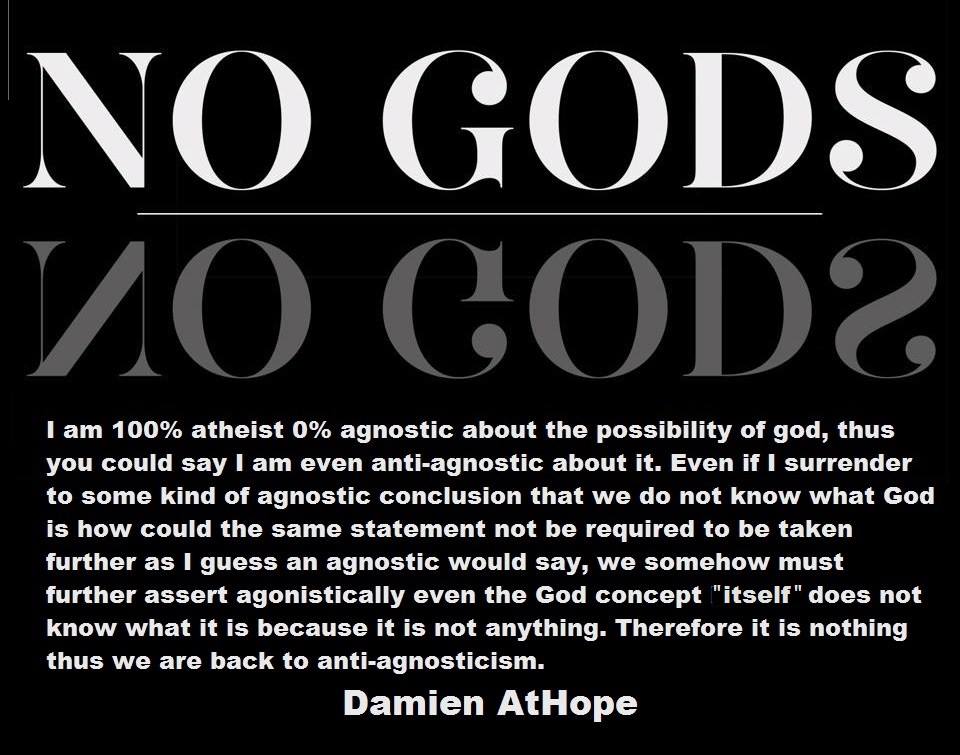 Agnosticism Beliefs Involve "FOLK LOGIC" Thinking?
Well, I have been asked If I am an Atheist can I explain about my anti-agnostic thinking and to explain why I say agnosticism beliefs involve "FOLK LOGIC" thinking.
My anti-agnostic thinking is a challenge to the agnostic thinking not an attack on the people who hold the agnostic thinking. My anti-agnostic thinking is not me trying to tell others they are not atheist enough or not real atheists nor is it trying to say you have no right to believe you are an agnostic.
For me my anti-agnostic thinking is about "The Ethics of Belief" as I see it. http://plato.stanford.edu/entries/ethics-belief/
I don't claim to know what agnostics know or don't, think or don't other than to say I disagree with the "I don't know", "I am not sure" or "I can't be certain" about the god concept question.
I am not against people calling themselves agnostic if they wish I am against the thinking that one would once informed still see value in agnostic thinking.
I see agnostic thinking often even by deep thinkers choosing to hold some foundations built on folk logic as STEVEN D. HALES calls it.
Steven D. Hales is the professor department of philosophy Bloomsburg University, here is an article on that: You Can Prove a Negative.
A PRINCIPLE OF FOLK LOGIC is that you can't prove a negative.
Skeptics and scientists routinely concede the point in debates about the possible existence of everything from Big Foot and Loch Ness to aliens and even God. In a recent television interview on Comedy Central's The Colbert Report, for example, Skeptic publisher Michael Shermer admitted as much when Stephen Colbert pressed him on the point when discussing Weapons of Mass Destruction, the comedian adding that once it is admitted that scientists cannot prove the nonexistence of a thing, then belief in anything is possible. Even Richard Dawkins writes in The God Delusion that "you cannot prove God's non-existence is accepted and trivial, if only in the sense that we can never absolutely prove the non-existence of anything."
There is one big problem with this. Among professional logicians, guess how many think that you can't prove a negative? That's right, zero. http://www.skeptic.com/eskeptic/07-12-05/
I see agnostic as a belief about the ability to have knowledge, it is in that way not following epistemology which is the philosophy of knowledge. Agnostic thinking is stating its own theological seminary of what it sees as abilities to grasp god knowledge. I address agnostic not because I think people cannot choose to believe in this way if they choose. The reason I so often address agnosticism is that I hear so many say it like they have no choice which is simply not true. Most of the beloved statements offered as reasoning to why there is no other choice but a agnostic conclusion hinge on folk logic and folk concepts of knowledge or misunderstood application of philosophy of science. This is true even of scientists who have disbelief as most of them disregard philosophy as well which is a large contributing factor for the confusion. The scientific method which all science largely uses requires an amount of pre belief (a priori) in the not complete knowledge concept of realism philosophy or naturalism philosophy both of which are connected. My point is people don't go around saying they are science agnostic.
Both scientific realism and naturalism reject all supernatural claims and thus would not be agnostic about the possibility of a supernatural being called god. I hold agnostic thinking also as not an professional epistemology thus it is not usable to delineate a professional philosophical knowledge stance it is a personal belief forming a theory of knowledge. knowledge is larly a justified true belief in philosophy. epistemology is the study of knowledge and justified belief. As the study of knowledge, epistemology is concerned with the following questions: What are the necessary and sufficient conditions of knowledge? What are its sources? What is its structure, and what are its limits? As the study of justified belief, epistemology aims to answer questions such as: How we are to understand the concept of justification? What makes justified beliefs justified? Is justification internal or external to one's own mind? Understood more broadly, epistemology is about issues having to do with the creation and dissemination of knowledge in particular areas of inquiry. http://plato.stanford.edu/entries/epistemology/
Philosophical vs. Pragmatic Reasons for Preferring the Term 'Agnostic'A person may call herself an agnostic, as Huxley did, because of questionable philosophical motives. Huxley thought that propositions about the transcendent, though possibly meaningful, were empirically untestable. We have seen that it is unclear that the conclusion of the fine tuning argument is untestable. One can at least compare it with other and non-theistic hypotheses. Thus there are conjectures that there are many universes, so many of them that is not surprising that there should be some among them in which the constants of physics allow for the possibility of life, and if so our universe must be one of them. Some cosmologists give independent grounds for thinking that new universes are spawned out of the back of black holes. Others think that there are independent grounds for thinking of a single huge Universe that has crystallised out into various universe sized regions each with randomly different values for the fundamental constants. Some such speculations get some support (it has been suggested) from string theory. Though such speculations are at present untestable and should be taken with a grain of salt, one or another may well one day be absorbed into a testable theory. It must be left to cosmologists and mathematical physicists to go into the pros and cons here, but they are mentioned here to indicate a grey area between the testable and the untestable.
Some scientists when canvassing these issues of philosophical theology may prefer to call themselves 'agnostics' rather than 'atheists' because they have been over impressed by a generalised philosophical scepticism or by a too simple understanding of Popper's dictum that we can never verify a theory but only refute it. Such a view would preclude us from saying quite reasonably that we know that the Sun consists largely of hydrogen and helium. When we say 'I know' we are saying something defeasible. If later we discover that though what we said was at the time justified, it nevertheless turned out to be false, we would say 'I thought I knew but I now see that I didn't know'. Never or hardly ever to say 'I know' would be to deprive these words of their usefulness, just as the fact that some promises have to be broken does not deprive the institution of promising of its legitimacy.
Another motive whereby an atheist might describe herself as an agnostic is purely pragmatic. In discussion with a committed theist this might occur out of mere politeness or in some circumstances from fear of giving even more offence. Samuel Butler, though a complete unbeliever in the doctrines of Christianity, in the preface to one of his books Erewhon Revisited (Butler 1932) described himself as the broadest of broad churchmen. That is, I take it that broad churchmen often were unbelievers, but treated the doctrine as mere myth suitable for literal consumption by the local yokels in the interests of social stability. It is unclear to me whether or not Butler was sympathetic to a very abstract sort of theism. Some may call themselves 'agnostics' rather than 'atheists' merely because they are equally repelled by the fanaticism associated with some forms of theism and by the boring obsessiveness of what Hilary Putnam has called 'the village atheist'. (Contrast, however, Clifford's view of the matter and also the example of the radical and intellectual tinker, Mr. Shaw, in Butler's powerful novel The Way of All Flesh.) Still, these considerations are perhaps more a matter for sociologists than for philosophers. http://plato.stanford.edu/entries/atheism-agnosticism/
To read more why Agnosticism is a Belief about knowledge Built on Folk Logic: http://damienmarieathope.com/2016/01/12/agnosticism-is-a-belief-about-knowledge-built-on-folk-logic/