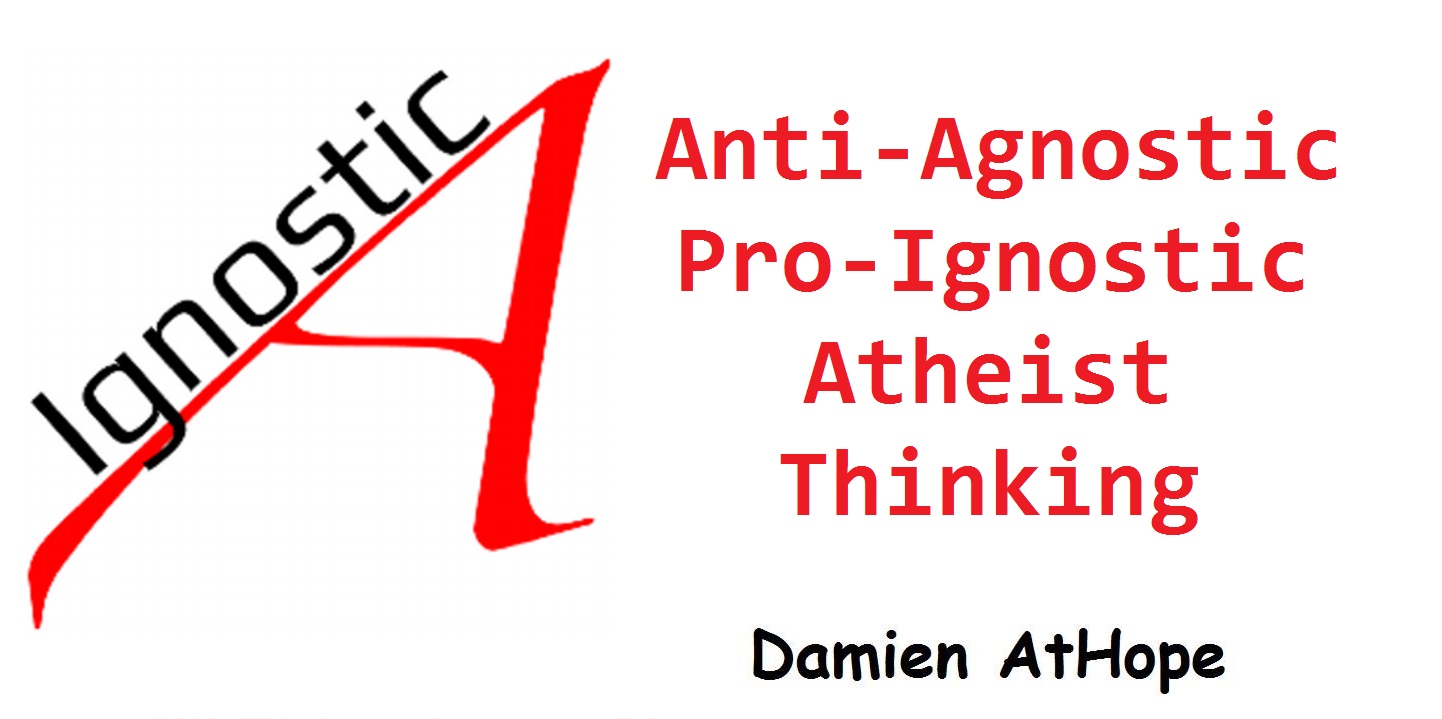 Agnosticism is a belief about knowledge built on folk logic and nonstandard philosophy. 
I am Anti-Agnostic but also Pro-Ignostic in my Atheism Thinking.
I have heard it said, you can't disprove all possible gods, thus, gods are a real possibility! Well, I see your thinking errors. First, no god theory nor god hypnosis ever has been proved at all, not even in some limited way, Let me say it again so you don't miss this crucial point; all proposed god myths, are easily dismissed as baseless. Second, in stating a possible, one needs a reality and evidence starting point with which to even employ what a possibility could entail; and no wishful thinking and wild unfounded claims are not proof of anything then self-delusion or misinformation. Supernatural beliefs and thus religion to me has always been and are still in so many ways aspects of psychological thinking that connects back to fear and misunderstanding as well as just made up lies.
Absolute Knowledge? "No one has absolute knowledge; therefore the Christian God (God of the gaps) must exist." or "No one has absolute knowledge; therefore atheists do not exist." We could attack all kinds of things in this but we need only expose the error in thinking supported by faulty word use. What I am talking about is the biggest error which is the word "absolute", because absolute is a religious philosophy concept no more valid as a thing then the term soul. Knowledge is a epistemic property of beliefs in epistemology, absolute as I am guessing a projection of certainty. but as certainty relates to epistemology it is also a epistemic property of beliefs. Thus it cannot be said to really be absolute anything universally, at best it can only be absolute in a particularly relevant way to a fixed thing, which is not really the nature of a commodity like knowledge. Knowledge is a set of confirmed and justified true beliefs which is constantly cumulative and growing. There are a few valid forms of certainty in epistemology not one is said to be absolute. To me the entire premise of "absolute" is a fallacy that does not really need refuting or should we need refuting even though now you need to, as they are trying to use it as if it's real. it is as real as any lie. The exact point at which one ceases to be certain is the degree of certainty as opposed to the degree of belief measured as a probability function. Probability is quantified as a number between 0 and 1 (where 0 indicates impossibility and 1 indicates certainty). The higher the probability of an event, the more certain we are that the event will occur. The words "certainty" and "probability" do not apply to propositions that are either true or false. These propositions entertained by us with suspended judgment should never be qualified as either certain or probable. In American common law there are degrees of certainty and doubt. Certainty attaches to judgments beyond the shadow of doubt; not certain are judgments made with a reasonable doubt; and less certain still are judgments made by a preponderance of the evidence. The last two are judgments to which some degree of probability must be attached, the former more probable, the latter less probable. The propositions in each of these two cases, when entertained with suspended judgment, are either true or false. Certainty and probability qualify our judgments about the matters under consideration on the propositions entertained with suspended judgment. This statement brings us to consider what happens by chance and what is causally determined. Here we must distinguish between the mathematical theory of probability and the philosophical theory of what happens by chance. In the mathematical theory of probability, which begins with an essay by Blaise Pascal, one can calculate the chances of anything happening by the number of possibilities present; for example, in the toss of a coin, the chance of its being heads or tails on any toss is fifty-fifty, because in the long run, with many tosses, that is how one should wager on the next toss, if we know that the coin being tossed is not affected by an extraneous factors. In the philosophical theory of probability, what happens by chance is what happens without a cause. Consider the coincidence of two individuals who happen to meet on a particular street at a particular time. Why do we call this a coincidental meeting, and regard it as an uncaused event? The answer is that each of the two individuals is caused to be at the spot where the chance meeting occurs by all the causal factors operating in his own past, but nothing in their separate pasts causes them to meet each other there. The coincidence is, therefore, an uncaused or a chance event. Probability can be used to measure degree of belief in two ways: objectively and subjectively. The objective measure is a measure of the rational degree of belief in a proposition given a set of evidential propositions. The subjective measure is the measure of a particular subject's dispositions to decide between options. In both measures, certainty is a degree of belief, however, there can be cases where one belief is stronger than another yet both beliefs are plausibly measurable as objectively and subjectively certain. In ordinary language, we can say that while both beliefs are certain, one belief is more certain than the other. Uncertainty is all around us; we can't expect certainty. But uncertainty can often be "quantified" — that is, we can talk about degrees of certainty or uncertainty. This is the idea of probability: a higher probability expresses a higher degree of certainty that something will happen. Contemporary statistician reiterates and expands on this idea, using the words "randomness" and "variation" instead of uncertainty: Statistics, in a nutshell, is a discipline that studies the best ways of dealing with randomness, or more precisely and broadly, variation. As human beings, we tend to love information, but we hate uncertainty — especially when we need to make decisions. Information and uncertainty, however, are actually two sides of the same coin. Statistical techniques can't eliminate uncertainty, but can help us gain some knowledge despite it. They can help us see patterns through it, and help us quantify the certainty/uncertainty that the patterns are real and not just chance artifacts of our data or of our perception . The following quote from mathematics educator Alan Schoenfeld nicely expresses reasonable expectations in fields where statistics is likely to be applied: Consider the theory of evolution, for example. Biologists are in general agreement with regard to its essential correctness, but the evidence marshalled in favor of evolution is quite unlike the kind of evidence used in mathematics or physics. There is no way to prove that evolution is correct in a mathematical sense; the arguments that support it consist of "patterns of plausible reasoning", along with the careful consideration of alternative hypotheses. In effect, biologists have said the following: "We have mountains of evidence that are consistent with the theory, broadly construed; there is no clear evidence that falsifies the proposed theory, and no rival hypotheses meet the same criteria." In other words, in many areas, we can't expect certainty, or even anything approaching it, from a single study. But an accumulated body of evidence based on high quality research can give us a high degree of certainty. Working well in a field with high degrees of uncertainty requires patience and often humility while the mountains of evidence accumulate — and might not turn out to support our pet theories. Like knowledge, certainty is an epistemic property of beliefs. (In a derivative way, certainty is also an epistemic property of subjects: S is certain that p just in case S's belief that p is certain.) Although some philosophers have thought that there is no difference between knowledge and certainty, it has become increasingly common to distinguish them. On this conception, then, certainty is either the highest form of knowledge or is the only epistemic property superior to knowledge. One of the primary motivations for allowing kinds of knowledge less than certainty is the widespread sense that skeptical arguments are successful in showing that we rarely or never have beliefs that are certain but do not succeed in showing that our beliefs are altogether without epistemic worth. As with knowledge, it is difficult to provide an uncontentious analysis of certainty. There are several reasons for this. One is that there are different kinds of certainty, which are easy to conflate. Another is that the full value of certainty is surprisingly hard to capture. A third reason is that there are two dimensions to certainty: a belief can be certain at a moment or over some greater length of time. There are various kinds of certainty. A belief is psychologically certain when the subject who has it is supremely convinced of its truth. Certainty in this sense is similar to incorrigibility, which is the property a belief has of being such that the subject is incapable of giving it up. Nevertheless, psychological certainty is not the same thing as incorrigibility. A belief can be certain in this sense without being incorrigible; this may happen, for example, when the subject receives a very compelling bit of counterevidence to the (previously) certain belief and gives it up for that reason. Moreover, a belief can be incorrigible without being psychologically certain. For example, a mother may be incapable of giving up the belief that her son did not commit a gruesome murder, and yet, compatible with that inextinguishable belief, she may be tortured by doubt. A second kind of certainty is epistemic. Roughly characterized, a belief is certain in this sense when it has the highest possible epistemic status. Epistemic certainty is often accompanied by psychological certainty, but it need not be. It is possible that a subject may have a belief that enjoys the highest possible epistemic status and yet be unaware that it does. In such a case, the subject may feel less than the full confidence that her epistemic position warrants. I will say more below about the analysis of epistemic certainty and its relation to psychological certainty. Ref Ref Ref Ref Ref Ref
Agnosticism is a belief about knowledge built on folk logic and nonstandard philosophy it is not a true branch of the philosophy of knowledge at all, infact it is more connected to philosophical skepticism which is against asserting any firm knowledge claim. I hear people time and again asserting the 100% knowledge or truth claim that because they believe there is no such thing as asserting the 100% knowledge or truth claim that by default Every atheist is agnostic. Do you see the self contradictory claim which would or I guess if one holds such a belief in the limits of knowledge, should refrain from making global affirming truth claims that one cannot make global affirming truth claims. Some likely have such thinking because of they are using agnosticism's folk philosophy ideology you like it are asserting something about the nature of knowledge and belief which is not how philosophy works. Here is what standard philosophy uses it is called epistemology and it never uses anything called agnosticism. Epistemology is the study of knowledge and justified belief. As the study of knowledge, epistemology is concerned with the following questions: What are the necessary and sufficient conditions of knowledge? What are its sources? What is its structure, and what are its limits? As the study of justified belief, epistemology aims to answer questions such as: How we are to understand the concept of justification? What makes justified beliefs justified? Is justification internal or external to one's own mind? Understood more broadly, epistemology is about issues having to do with the creation and dissemination of knowledge in particular areas of inquiry. A common concept in epistemology is "Knowledge is Justified True Belief." There are various kinds of knowledge: knowing how to do something (for example, how to ride a bicycle), knowing someone in person, and knowing a place or a city. Although such knowledge is of epistemological interest as well, we shall focus on knowledge of propositions and refer to such knowledge using the schema 'S knows that p', where 'S' stands for the subject who has knowledge and 'p' for the proposition that is known. Our question will be: What are the necessary and sufficient conditions for S to know that p? We may distinguish, broadly, between a traditional and a non-traditional approach to answering this question. We shall refer to them as 'TK' and 'NTK'. According to TK, knowledge that p is, at least approximately, justified true belief (JTB). False propositions cannot be known. Therefore, knowledge requires truth. A proposition S doesn't even believe can't be a proposition that S knows. Therefore, knowledge requires belief. Finally, S's being correct in believing that p might merely be a matter of luck. Therefore, knowledge requires a third element, traditionally identified as justification. Thus we arrive at a tripartite analysis of knowledge as JTB: S knows that p if and only if p is true and S is justified in believing that p. According to this analysis, the three conditions — truth, belief, and justification — are individually necessary and jointly sufficient for knowledge. Initially, we may say that the role of justification is to ensure that S's belief is not true merely because of luck. On that, TK and NTK are in agreement. They diverge, however, as soon as we proceed to be more specific about exactly how justification is to fulfill this role. According to TK, S's belief that p is true not merely because of luck when it is reasonable or rational, from S's own point of view, to take p to be true. According to evidentialism, what makes a belief justified in this sense is the possession of evidence. The basic idea is that a belief is justified to the degree it fits S's evidence. NTK, on the other hand, conceives of the role of justification differently. Its job is to ensure that S's belief has a high objective probability of truth and therefore, if true, is not true merely because of luck. One prominent idea is that this is accomplished if, and only if, a belief originates in reliable cognitive processes or faculties. This view is known as reliabilism. Ref
Some thinkers and philosophers deny the validity of agnosticism assertions in general, seeing it as a limitation of man's capacity to know the reality, affirming that "not being able to see or hold some specific thing does not necessarily negate its existence," using gravity, entropy, reason and thought as examples.
Agnosticism is the position of believing that knowledge of the existence or non-existence of god is impossible.
Finally, there is an argument, popular among some who fancy themselves intellectuals, that agnosticism is the only intellectually honest position to take with regard to gods. According to this viewpoint, theism and atheism are arrogant affirmations of being certain about something that is intrinsically unknowable. It is, of course, true that it is possible there is some unknowable being or entity who creates universes, has unimaginable powers, and is like nothing we have any experience of. No atheist that I know of has ever denied such a possibility, nor have we denied the possibility of an unknowable Easter Bunny who lays eggs on Saturn or any other imaginable epistemic improbability. So what? Atheists and theists do not concern themselves with epistemic improbabilities, but with gods about whom stories have been told for millennia. The more we learn about the universe, the less reason there is for believing that any of these gods were not created by human imagination. Agnosticism regarding Zeus or Abraham's god is not an intellectually honest position, as it can be maintained only by a fatuous and dishonest treatment of the available evidence. That evidence shows beyond a reasonable doubt that all gods fashioned thus far in the minds of men are highly improbable. Agnosticism regarding unimaginable, unknowable beings is redundant. Ref
We can sert 100% psychological certainty we do it all the time. What most agnostics likely mean is they don't want to claim epistemic certainty thinking it like knowledge is disconnected from belief. However, like knowledge, certainty is an epistemic property of beliefs. Ref
Sometimes a person who is really an atheist may describe herself, even passionately, as an agnostic because of unreasonable generalised philosophical scepticism which would preclude us from saying that we know anything whatever except perhaps the truths of mathematics and formal logic. Ref
Knowledge and belief?
Knowledge is a intellectual commodity which is true and believed and justified. There are two slightly different meanings of belief that must be distinguished. In the first sense, John might "believe in" his cousin Joe. This may mean that he is willing to lend Joe money, trusting in his paying it back. In this sense, John might say, "I know it is safer to fly than drive, yet I don't believe it," in which case John doesn't trust in the safety of aircraft, even though as a cognitive matter he may understand the pertinent statistics. In the second sense of belief, to believe something just means to think that it is true. That is, to believe P is to do no more than to think, for whatever reason, that P is the case. It isthis sort of belief that philosophers most often mean when they are discussing knowledge. The reason is that, in the view of most philosophers, in order to know something, one must think that it is true—one must believe (in the second sense) it to be the case. Consider someone saying, "I know that P, but I don't think P is true." The person making this utterance seems to have contradicted himself. If one knows that P, then, amongst other things, one thinks that P is indeed true. If one thinks that P is true, then one believes P. Knowledge is usually held to be distinct from belief and opinion. If someone claims to believe something, they are claiming that they think that it is the truth. But of course, it might turn out that they were mistaken, and that what they thought was true was actually false. This is not the case with knowledge. For example, suppose that Jeff thinks that a particular bridge is safe, and attempts to cross it; unfortunately the bridge collapses under his weight. One might say that Jeff believed that the bridge was safe, but that his belief was mistaken. One would not say that he knew that the bridge was safe, because plainly it was not. For something to count as knowledge, it must be true—at least as knowledge is usually understood anyway. Similarly, two people can believe things that are mutually contradictory, but they cannot know (unequivocal) things that are mutually contradictory. For example, Jeff can believe the bridge is safe, while Jenny believes it unsafe. But Jeff cannot know the bridge is safe and Jenny know that the bridge is unsafe. Two people cannot know contradictory things. Ref
Rationality?
If one does not reject rationality, but still wishes to maintain that knowledge claims cannot be or are not justified, one might be termed a non-justificationist. Here philosophers are on firmer philosophical ground; since non-justificationists accept the validity of reason, they can present logical arguments for their case.For instance, the regress argument has it that one can ask for the justification for any statement of knowledge. If that justification takes the form of another statement, one can again reasonably ask for that statement also to be justified, and so forth. This appears to lead to an infinite regress, with every statement justified by some other statement. It would be impossible to check that each justification is satisfactory, and so relying on such a series quickly leads to skepticism. Alternately, one might claim that some knowledge statements do not require justification. Much of the history of epistemology is the story of conflicting philosophical doctrines claiming that this or that type of knowledge statement has special status. This view is known as Foundationalism.One can also avoid the regress if one supposes that the assumption that a knowledge statement can only be supported by another knowledge statement is simply misguided. Coherentism holds that a knowledge statement is not justified by some small subset of other knowledge statements, but by the entire set. That is, a statement is justified if it coheres with all other knowledge claims in the system. This has the advantage of avoiding the infinite regress without claiming special status for some particular sorts of statements. But since a system might still be consistent and yet simply wrong, it raises the difficulty of ensuring that the whole system corresponds in some way with the truth. Ref
My anti-agnostic thinking is a challenge to the agnostic thinking not an attack on the people who hold the agnostic thinking. My anti-agnostic thinking is not me trying to tell others they are not atheist enough or not real atheists nor is it trying to say you have no right to believe you are an agnostic.
For me my anti-agnostic and pro-ignostic thinking is about "The Ethics of Belief" as I see it. Ref "The Ethics of Belief"
Thesis: It is immoral to either form a new belief without sufficient evidence, or to sustain an existing belief by deliberately ignoring doubts and avoiding honest investigation.
I don't claim to know what agnostics know or don't, think or don't other than to say I disagree with the "I don't know", "I am not sure" or "I can't be certain" about the god concept question.
I am not against people calling themselves agnostic if they wish I am against the thinking that one would once informed still see value in agnostic thinking.
I see agnostic thinking often even by deep thinkers choosing to hold some foundations built on folk logic as STEVEN D. HALES calls it.
Steven D. Hales is the professor department of philosophy Bloomsburg University, here is an article on that: You Can Prove a Negative.
A PRINCIPLE OF FOLK LOGIC is that you can't prove a negative.
Skeptics and scientists routinely concede the point in debates about the possible existence of everything from Big Foot and Loch Ness to aliens and even God. In a recent television interview on Comedy Central's The Colbert Report, for example, Skeptic publisher Michael Shermer admitted as much when Stephen Colbert pressed him on the point when discussing Weapons of Mass Destruction, the comedian adding that once it is admitted that scientists cannot prove the nonexistence of a thing, then belief in anything is possible. Even Richard Dawkins writes in The God Delusion that "you cannot prove God's non-existence is accepted and trivial, if only in the sense that we can never absolutely prove the non-existence of anything."
There is one big problem with this. Among professional logicians, guess how many think that you can't prove a negative? That's right, zero. Ref
I see agnostic as a belief about the ability to have knowledge, it is in that way not following epistemology which is the philosophy of knowledge. Agnostic thinking is stating its own theological seminary of what it sees as abilities to grasp god knowledge. I address agnostic not because I think people cannot choose to believe in this way if they choose. The reason I so often address agnosticism is that I hear so many say it like they have no choice which is simply not true. Most of the beloved statements offered as reasoning to why there is no other choice but a agnostic conclusion hinge on folk logic and folk concepts of knowledge or misunderstood application of philosophy of science. This is true even of scientists who have disbelief as most of them disregard philosophy as well which is a large contributing factor for the confusion. The scientific method which all science largely uses requires an amount of pre belief (a priori) in the not complete knowledge concept of realism philosophy or naturalism philosophy both of which are connected. My point is people don't go around saying they are science agnostic.
Both scientific realism and naturalism reject all supernatural claims and thus would not be agnostic about the possibility of a supernatural being called god. I hold agnostic thinking also as not an professional epistemology thus it is not usable to delineate a professional philosophical knowledge stance it is a personal belief forming a theory of knowledge. knowledge is larly a justified true belief in philosophy. epistemology is the study of knowledge and justified belief. As the study of knowledge, epistemology is concerned with the following questions: What are the necessary and sufficient conditions of knowledge? What are its sources? What is its structure, and what are its limits? As the study of justified belief, epistemology aims to answer questions such as: How we are to understand the concept of justification? What makes justified beliefs justified? Is justification internal or external to one's own mind? Understood more broadly, epistemology is about issues having to do with the creation and dissemination of knowledge in particular areas of inquiry. Ref
Philosophical vs. Pragmatic Reasons for Preferring the Term 'Agnostic'A person may call herself an agnostic, as Huxley did, because of questionable philosophical motives. Huxley thought that propositions about the transcendent, though possibly meaningful, were empirically untestable. We have seen that it is unclear that the conclusion of the fine tuning argument is untestable. One can at least compare it with other and non-theistic hypotheses. Thus there are conjectures that there are many universes, so many of them that is not surprising that there should be some among them in which the constants of physics allow for the possibility of life, and if so our universe must be one of them. Some cosmologists give independent grounds for thinking that new universes are spawned out of the back of black holes. Others think that there are independent grounds for thinking of a single huge Universe that has crystallised out into various universe sized regions each with randomly different values for the fundamental constants. Some such speculations get some support (it has been suggested) from string theory. Though such speculations are at present untestable and should be taken with a grain of salt, one or another may well one day be absorbed into a testable theory. It must be left to cosmologists and mathematical physicists to go into the pros and cons here, but they are mentioned here to indicate a grey area between the testable and the untestable.
Some scientists when canvassing these issues of philosophical theology may prefer to call themselves 'agnostics' rather than 'atheists' because they have been over impressed by a generalised philosophical scepticism or by a too simple understanding of Popper's dictum that we can never verify a theory but only refute it. Such a view would preclude us from saying quite reasonably that we know that the Sun consists largely of hydrogen and helium. When we say 'I know' we are saying something defeasible. If later we discover that though what we said was at the time justified, it nevertheless turned out to be false, we would say 'I thought I knew but I now see that I didn't know'. Never or hardly ever to say 'I know' would be to deprive these words of their usefulness, just as the fact that some promises have to be broken does not deprive the institution of promising of its legitimacy.
Another motive whereby an atheist might describe herself as an agnostic is purely pragmatic. In discussion with a committed theist this might occur out of mere politeness or in some circumstances from fear of giving even more offence. Samuel Butler, though a complete unbeliever in the doctrines of Christianity, in the preface to one of his books Erewhon Revisited (Butler 1932) described himself as the broadest of broad churchmen. That is, I take it that broad churchmen often were unbelievers, but treated the doctrine as mere myth suitable for literal consumption by the local yokels in the interests of social stability. It is unclear to me whether or not Butler was sympathetic to a very abstract sort of theism. Some may call themselves 'agnostics' rather than 'atheists' merely because they are equally repelled by the fanaticism associated with some forms of theism and by the boring obsessiveness of what Hilary Putnam has called 'the village atheist'. (Contrast, however, Clifford's view of the matter and also the example of the radical and intellectual tinker, Mr. Shaw, in Butler's powerful novel The Way of All Flesh.) Still, these considerations are perhaps more a matter for sociologists than for philosophers. Ref
To read more why Agnosticism is a Belief about knowledge Built on Folk Logic: http://damienmarieathope.com/2016/01/12/agnosticism-is-a-belief-about-knowledge-built-on-folk-logic/
Allowing that magical thinking or the possibility of magical thinking being real is clearly not supported by any facts in reality. Thus, it is just more a social engineering "indoctrinated belief" connected to learned magical thinking supernaturalism and/or superstitionism. When asked whether they believe in the existence of one or more Gods and/or Goddesses, Theists will say yes; strong Atheists will say no. Agnostics will say I don't know or often cannot give a straight "Yes" or "No" answer but are still either classified as either Weak Theism or Weak Atheism as it's a belief question and no mater how one tries to add or subtract other things the main issue still is, "do you believe in theism" if the answer is anything but yes or some variant of maybe yes then it's a no; thus one is an atheist as all it takes is a lack of believing theism but it can be disbelief even a beliefs there is no god.
Feel you don't know what god is or could be you might be an Ignostic but if so you don't or can't believe in theism. Ignosticism is the idea that the question of the existence of God is meaningless, because the term "god" has no unambiguous definition. Ignosticism requires a good, non-controversial definition of god before arguing on its existence. (So they don't believe theism thus are atheists)
Feel you don't care what god is or could be you might be an Apatheist but if so you don't believe in theism. An apatheist is someone who is not interested in accepting or denying any claims that gods exist or do not exist. An apatheist lives as if there are no gods and explains natural phenomena without reference to any deities. (So they don't believe theism thus are atheists)
Some try and call Atheism a belief or a belief system. Ok, well I will humor you, as it is actually a disbelief system. If atheism is to be thought of as a belief system as religionists like to think, then it's the certification, confirmation, or conclusion of two philosophies Rationalism (reason) and Empiricism (evidence) and in simple terms its the method of only accepting valid as well as reliable reason and evidence. Since god hypothesis claims fail to be substanceate with any "evidence" as well as are exposed to contain thinking errors, logical fallacies and internal contradictions it has no warrant nor justification to support "reason" believing it to be in anyway true. Thus, to your belief that Atheism is a belief but you have it backwards, we have credible belief systems that lead us to the conclusion of Atheism, which is stating I do not have a belief in gods, which because of the facts in evidence is the only rational choice. Alternatively, if I was forced to accept that Atheism was somehow actually a belief system, then for me it is a belief in science, archeology, and philosophy. Not to mention as an atheist I have a belief in supernatural devoid naturalism (as the world presents itself ) as well as a belief in my fellow humans and our ability to solve human problems by human means such as sound reason and proven evidence without resorting to the fallacy of faith or holy books ad their dogmatic propaganda and most importantly a belief in myself as atheism is a solitary mental realization where religion is the group thinking mental servitude.
Ignosticism, or igtheism position?
If followed to its logical end it concludes that the entire question about God's existence is a non-question and that taking a yes, no or even ambivalent position is absurd. It is based on an expectation of strong critical rational analysis of any proposition including the existence of God.
As with any topic, and especially in the realm of the supernatural and woo, the subject of any debate should be coherently defined. If one offers a clear definition of an entity, then in order to take a position whether it exists or not the definition of the entity must be one in which its existence can be falsified (there is a rational and logical method by which we can test the existence of the subject as it has been defined). Few theists ever offer a clear definition of God. The few who do offer a definition almost never offer one in which the existence of that God could be tested. The rare falsifiable definition offered regarding God's existence is easily falsified. And so as with any subject (such as the existence of almost all supernatural entities) debate about the existence of God is, for the far majority of such conversations, pointless.
Ignosticism goes further than agnosticism; while agnosticism states that "you can't really know either way" regarding the existence or non-existence of gOD, ignosticism posits that "you haven't even agreed on what you're discussing, as its nothing". Ref
I am Ignostic not agnostic and you should consider it too…