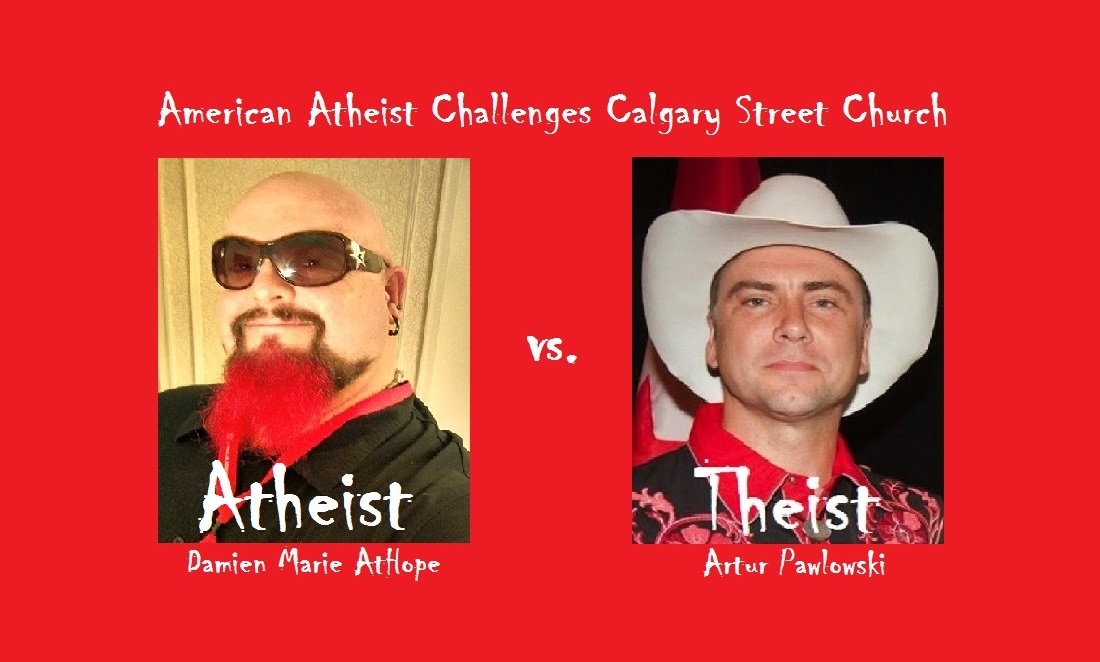 Damien Marie AtHope vs. Artur Pawlowski
Occurred: Calgary, Alberta Wednesday, May 25
American Atheist: why there is no gods and why gods are not needed for morality.
Calgary Street Church: why the Bible God exists and why the Bible God is needed for morality.
Damien Marie AtHope: Atheist, Antitheist, Antireligionist, Humanist, Writer, Artist, Poet, Philosopher & Activist
Artur Pawlowski: is a street preacher in Calgary, Alberta, Canada. He operates a Christian organization and street outreach called Street Church
Artur Pawlowski has also spent much time in court due to charges laid against him by the Calgary Police Department.
On October 24, 2013 he was covered by the National Post stating that Calgary officials have a vendetta against him.
DAVID J. CLIMENHAGA JULY 8, 2012 stated Artur Pawlowski is Calgary's most turbulent priest. Ref
According to Canada for Jesus Christ March 28 Street Church Ministries and Artur Pawlowski, labeled by the media and so many church goers and Canadians as one of the most unloving, intolerant bigot and evil men in Canada lost its tax privilege in 2008 for politicly incorrect preaching against divorce, abortion and homosexuality, month after month is founded by the polish immigrant Artur Pawlowski that fights against dictatorship and abuse of power in the land of Canada and feeds Canadian citizens without any support from the local churches. Ref
Here is my (American Atheist) blog post on my street activism
Here is the Calgary Street Church web page
Here is the Facebook event: American Atheist Challenges Calgary Street Church!