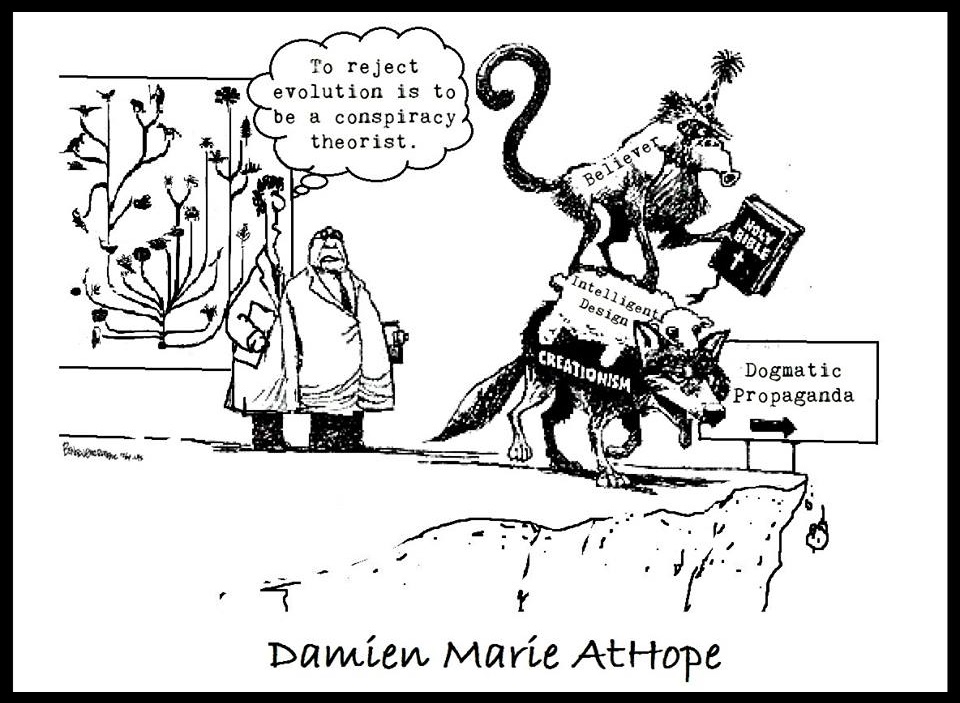 Creationism is a debunked religious conspiracy theory.
Creationism is a debunked religious conspiracy theory, just like its wolf in sheep's clothing cousin, intelligent destine. The theory of evolution originated with Charles Darwin but left hypothesis, when it was supported by study of DNA combined with physical evidence. Creationism debunking examples which support the Theory of Evolution are a universality in the worlds genetic code along with cross species genetic commonalities. While it is scientifically understandable to grasp that we share DNA with great apes including orangutans, chimpanzees, gorillas, and bonobos; which can share up to approximately 98% of human DNA but it does not end there by a long shot. Humans also share DNA with other animals, as we all evolved together in a since or more accurately share common evolutionary ancestors. You may be amazed to learn mice seemingly so different then us can share up to approximately 90% of human DNA, dogs can share up to approximately 80% of human DNA but then all mammals have a DNA similarity; in fact, we share DNA genes with plants and with every other living organism. This is very strong evidence for a common ancestor from which all life descended; because of DNA evidence that appears to be shared by all life on Earth. Then there is the other very strong proof of the fossil record, from the simplest fossils in the oldest rocks to the vast amount of skeletal remains all accumulatively supporting evolution again and again. Therefore, evidence supporting evolution presented must be added with so many other things that could not just fill a book on its own, like common traits in embryos, extra. The terrain of evidence supporting the theory of evolution is so vast it is less like a mountain of evidence, than a mountain range of evidence from multiple areas of science creating a unified whole. Moreover, there is simply so much more valid and reliable reason and evidence confirming the theory of evolution that to reject evolution, is paramount to one accepting that they can be view as a discredited unscientific magical conspiracy theorist.
Ref: http://education.seattlepi.com/animals-share-human-dna-sequences-6693.html
By Damien Marie Athope
Lines of evidence: The science of evolution
At the heart of evolutionary theory is the basic idea that life has existed for billions of years and has changed over time. 
Overwhelming evidence supports this fact. Scientists continue to argue about details of evolution, but the question of whether life has a long history or not was answered in the affirmative at least two centuries ago. The history of living things is documented through multiple lines of evidence that converge to tell the story of life through time. In this section, we will explore the lines of evidence that are used to reconstruct this story. These lines of evidence include:
*Distribution in time and space. 
Ref
---
"Scientific" Creationism as a Pseudoscience
National Center for Science Education, Inc.
Title: "Scientific" Creationism as a Pseudoscience
The highly influential philosopher of science, Sir Karl Popper, in his now classic The Logic of Scientific Discovery(1959), focuses upon one major criterion for distinguishing between legitimate science and pseudoscience. He labels this criterion falsifiability and contends that any theory claiming a legitimate scientific status must be, at least in principle, falsifiable. That is, there must be some conceivable observation that could disprove the theory. It is most relevant to note that Popper explicitly recognizes that a legitimate scientific theory may be falsifiable in principle but, due to limitations of time, space, or technology, unfalsifiable in practice. I think it is safe to say, in light of the extensive references to Popper's work throughout the whole spectrum of the professional literature, that for most modern scientists and philosophers of science Popper's concept of falsifiability has come to completely replace the concept of proof as the major criterion for evaluating the worth of scientific theories. It is now generally recognized that the concept of proof was improperly transferred from the domains of pure mathematics and logic, where it still retains its legitimacy, to the realm of the empirical sciences. We now realize that no legitimate scientific theory can be proven in any kind of absolute sense.
---
– page 26 –
The reason for this is basically a logical one. Given that every theory is a product of human reason and thus potentially fallible, it, therefore, follows that there is always the possibility that someone may develop a superior theory—that is, one that explains more or one that explains better. Hence, as long as there is this logical possibility, we can never say of any existing theory that it has been proven in any absolute sense. (In fact, it is really superfluous to qualify the word proof with the modifier absolute.) Hence, when we do run across the use of the term proof, or some variation on it, either in the older literature or in the current writings of those few who have not been exposed to Popper's influence, we should automatically translate the language into a form consistent with this modern view. For example, the claim that some theory has been "proven" should be read to say no more than that there is "overwhelming evidence" supportive of the theory. In light of the foregoing, it is in a very basic sense illogical or reflective of a deep ignorance of the modern philosophy of science to demand that any theory must be proven before it can be considered legitimately scientific. Yet, one of the most persistent claims to be found in the literature of "scientific" creationism is the contention that the theory of evolution is not a valid scientific theory because it has not been "scientifically proven" (see, for example, Morris et al. 1974:4; Wysong, 1976:44). This contention is, incidentally, quite often framed in a vocabulary that creationists have evidently brought with them from their common grounding in fundamentalist theology. Just as nonfundamentalists are dismissed as not being "true" Christians, so, in a parallel exercise in word magic, evolutionary scientists are held to not be practicing "true" science. The briefest of analyses soon reveals that "true" Christianity and "true" science are simply Christianity and science as defined by fundamentalists and "scientific" creationists, respectively, with a total disregard for any definitions offered by nonfundamentalists and "nonscientific" creationists to the effect that "scientific" creationism enjoys some sort of scientific validity simply because a number of its advocates have earned degrees in various sciences—as if the conferring of such a degree somehow magically transforms one's religious convictions into scientific propositions (see, for example, Morris et al. 1974:8; Wysong, 1976:21). Returning to Popper's concept of falsifiability and its role in the evaluation of scientific theories, it is important to note that Popper pointed out that a theory is to be judged just as much for what it predicts will not occur as for what it predicts will occur. In other words, a legitimately scientific theory not only predicts various allowable observable events but also forbids the occurrence of a whole domain of possible events. While the occurrence of one of the allowable events does not prove the theory (because the same event could have been predicted by other theories as well), the occurrence of one of the forbidden events does falsify it. (It should be pointed out, however, that, when confronted with one or a few such falsifying events, a theory that has withstood numerous attempts at falsification and which has no serious, legitimately scientific competitor, will still be retained, in spite of such anomalies.)
---
– page 27 –
Let us now consider how "scientific" creationism on the one hand and the theory of evolution on the other stand up to the criterion of falsifiability. Here we shall see the most basic reason why "scientific" creationism is forever doomed to remain in the realm of pseudoscience. By definition, "scientific" creationism is irrevocably grounded in an appeal to the existence and operation of an obviously omnipotent supernatural being—that is, a being that by its very nature is capable of virtually anything. It, therefore, follows that there is literally no conceivable observation that cannot be reconciled with the virtually limitless actions of such a being. "Scientific" creationism thus lacks the central defining characteristic of all modern scientific theories. It is absolutely immune to falsification. Literally, any problem confronted by "scientific" creationism as it is applied to the empirical world can be resolved through an appeal to unknown and unknowable supernatural operations. And although "scientific" creationists are extremely fond of pointing out various alleged problems with the theory of evolution (problems that are more often than not the result of their own strawman conceptions of both science and evolution), they appear to remain blissfully ignorant of the fact that any legitimate scientific theory must generate problems. (Apparently, once again under the influence of their theology, "scientific" creationists feel that "true" science is some kind of quest for absolute certainty—a conception of science that is totally rejected by Popper.) It is extremely important to emphasize again that "scientific" creationism is not, as is the case with some legitimately scientific theories, only unfalsifiable in practice; it is also unfalsifiable in principle. The same point can be expressed in another way. Science is concerned with explaining why the world is one way rather than some other way. The introduction of an omnipotent supernatural being into any explanation immediately precludes this possibility. As the scriptures tell us, "With God, all things are possible." This may be fine theology, but it stands in direct opposition to the central goal of all science. This is why "scientific" creationism actually acts as a brake on any valid scientific research. It is really what Gillespie characterizes as an antitheory—a void which has the function of knowledge but which conveys none (1979, p. 8). I will illustrate this diametric difference between legitimate science and the "true" science of "scientific" creationism with an example from the field of biological anthropology.
---
– page 28 –
According to the theory of evolution , s it has been applied to the development of the Primate Order, the chimpanzees represent our closest living relatives. This conclusion was based upon comparative anatomy and the principle that similarities in form reflect evolutionary relationship. Once again, this cannot be said to be a "proof" of the postulated evolutionary relationship. Biologists can cite many instances of parallel evolution in which forms that are only distantly related have developed similarities in structure—for example, the almost identical structures of human and octopus eyes. However, the recently developed techniques for measuring the detailed structure of the most basic molecules of life, DNA and protein molecules, have provided a potential means of falsifying the theory of evolution or at least this particular implication of that theory. Simply consider the two extremely opposed possible research results: on the one hand, it could have conceivably turned out that humans and chimpanzees were totally dissimilar in their molecular structures; on the other hand, it could have been found—as it was—that humans and chimps are practically identical in those structures. (Indeed, in the molecules so far compared, the identity has been found to be over 99 percent.) Had the former situation been found, it would have constituted a falsification of the postulated close evolutionary relationship between humans and chimpanzees. Were there to be similar discoveries throughout the whole range of postulated evolutionary relationships, this would constitute a severe, perhaps even fatal, blow to the entire evolutionary edifice. In point of fact, as now has been well established, the findings of such molecular comparisons have provided overwhelming support for the evolutionary relationships postulated initially on the basis of comparative anatomy. Now consider the alternative responses of "scientific" creationists to these same two possibly opposing research findings. Had the molecular researchers found that human and chimpanzee DNA and protein structures were totally dissimilar, the "scientific" creationists would not have been able to contain themselves. They would have been shouting from the rooftops that this was "proof" positive of the validity of "scientific" creationism—that this finding revealed clear evidence of the creator's intention to keep distinct the "created kinds." As it is, of course, the research results were just the opposite. Now, we may safely anticipate that "scientific" creationists will be arguing that this finding, too, is just as their "model" would have predicted, that what we have here is clear evidence of the creator's grand common design. Heads I win; tails you lose. Now, it can be appreciated why "scientific" creationists, in setting up their debates around the world, are so fond of framing those debates around some variation on the question: "Does evolution or creation provide a better explanation of the scientific evidence?" Invariably, the "scientific" creationists glibly slide over the fact that scientific evidence is only scientific if it is viewed from the framework of science—a framework that, as we have seen, excludes appeals to the supernatural. Thus, in one recent presentation of the creationist position, we are informed of the "fact" that "the Creation Model fits the real facts of science at least as well as the Evolution Model" (Morris and Parker, 1982, xiv; emphasis added). Note, incidentally, the word magic implicit in the use of the qualifier real to imply that any "facts of science" which either do not support creationism or which do support evolution are not "real" scientific facts—the qualifier real is the functional equivalent of true in the writings of fundamentalist "scientific" creationists. Thus, "scientific" creationists consistently argue that creationism provides a better explanation than does the theory of evolution.
---
– page 29 –
And in this, they are in a very limited sense absolutely correct. Given an omnipotent supernatural creator, virtually anything can be "explained" as a result of that creator's actions and desires. The problem is, of course, that such an "explanation" is not a scientific one, and it is totally dishonest to imply that it is by framing the question at issue in terms of "scientific facts." In my own debating experience with Duane Gish of the Institute for Creation Research, when I raised this issue, he neatly slithered away from the point with an observation to the effect that, whenever he came to debate scientists, he wanted to talk about scientific facts while they wanted to talk philosophy (as if the question of what constitutes a scientific fact is totally unrelated to the philosophy of science). Considerations such as these are almost totally ignored in the writings of "scientific" creationists. Indeed, in one of those unintended ironies with which that literature abounds, Sir Karl Popper is actually cited as a scientific authority who is opposed to the theory of evolution. He was never, of course, a "scientific" creationist; he simply once had some reservations about various aspects of general evolutionary theory. Today, Popper is a full-blown evolutionist, a point conveniently and consistently ignored by those "scientific" creationists who cite his earlier statements. Indeed, when Gish, Bliss, and Bird of the ICR cite a later criticism of Popper's regarding natural selection (1981, p. i), they even suppress the full title of the book referred to. They identify it in their bibliography as Objective Knowledge when in fact the full title is Objective Knowledge: An Evolutionary Approach (1975). Also conveniently ignored is the fact that, in this very same book, Popper explicitly rejects his earlier criticisms and frames his description of the nature of science in evolutionary language. He speaks, for example, of competing theories in terms of the survival of the fittest. Unlike legitimate scientists, as Popper conceives of them, "scientific" creationists have a highly developed talent for ignoring and even denying any facts that contradict their preconceptions. Wysong, for example, pays lip service to Popper's criterion of falsifiability (1976, p. 27) and even contends that in evaluating the relative worth of creationism as opposed to the theory of evolution, "each of the propositions must be falsifiable" (1976, p. 49). Lip service having been paid, this is the last we hear of the concept of falsifiability in the remaining 406 pages of his book! Yet, it cannot be denied that "scientific" creationists are enamored of at least the form, if not the substance, of science. One cannot escape the suspicion that if the fundamentalists who provide the overwhelming majority of "scientific" creationists were to adopt a clerical garb it would consist of a lab coat emblazoned with a cross.
---
– page 30 –
At the same time, they are obviously committed to a set of religious dogmas that bring them into direct conflict with one of the most widely accepted theories in all of science: the theory of evolution. Thus, they find themselves in a perpetual double bind. And their attempts to resolve this double bind take the form of an effort to redefine "true" science in such a manner that it no longer conflicts with their cherished fundamentalist dogmas. As a result, they have developed their own little "folk conception" of science, one that is totally subservient to their preconceived fundamentalist theology. Folk conception is a term used by cultural anthropologists to refer to the set of ideas that the people in a particular culture or subculture have about some area of reality. For example, people in different cultures have different folk conceptions of the law, of the proper form of family, of morality, and so forth. However, the folk conception of "true" science developed by "scientific" creationists has about as much resemblance to legitimate science as does astrology to astronomy or witchcraft to medicine. To a great extent it is simply and simplistically an extended exercise in two old debater's tactics: begging the question (that is, seeking to define the point at issue in such a manner so as to win the debate by definition) and the strawman argument (that is, misdefining your opponent's position in such a way as to guarantee its easy destruction) combined with liberal doses of word magic. Word magic is a typical feature of primitive closed thought systems in which it is commonly believed that words have the power to create or affect the things for which they stand (see, Horton, 1967). In coming up with their definitions of "true" science, "scientific" creationists virtually never rely upon the writings of philosophers of science. At best, their definitions began as unjustified extrapolations from dictionary definitions, usually combined with out-of-context quotes gleaned from the writings of evolutionary scientists (see, for example, Gish, 1973, p 2; and, for particularly simple-minded definitions of science and the scientific method, Wysong, 1976, pp. 40-43). One omnipresent characteristic of "scientific" creationists' folk definitions of science is the contention that "true" science cannot address itself to the explanation of any event that occurred before there were any scientists present to observe it (see, for example, Morris et al. 1974, pp. 4-5; Gish, 1973, p. 3; Wysong, 1976, p. 43; Morris and Parker, 1982, xiii). One can see the obvious fundamentalist theological motivations that underlie this particular begging of the question. In one fell swoop, by definition, evolutionary studies, historical geology, and much of astronomy are automatically excluded from the domain of legitimate science.
---
– page 31 –
Before dealing with the shortcomings of this particular attempt to restrict the range of science, it is most significant to note that this tactical maneuver also automatically excludes "scientific" creationism from the realm of "true" science. Surprisingly, in an uncharacteristic display of honesty and humility, this is frequently openly conceded by "scientific" creationists themselves. But, this is really a form of copping a plea to a lesser offense as well as being a kind of diversionary tactic. By pretending that they are guilty of some kind of alleged scientific misdemeanor—that is, dealing with events that occurred prior to the existence of scientific witnesses—the "scientific" creationists draw attention away from their actual scientific felony: the utilization of a completely unfalsifiable appeal to the supernatural. Moreover, as we shall see, the alleged misdemeanor to which they so graciously plead guilty turns out on analysis to be no scientific crime at all. Finally, and here we see the schizophrenic element manifesting itself, this admission of a completely nonscientific status for "scientific" creationism is conveniently forgotten in their persistent use of the term scientific creationism in their articles, books, and, indeed, in the very name by which they identify themselves. The contention that "true" science cannot deal with phenomena that occurred before any scientists were present to observe them is based upon two unvoiced and demonstrably false presuppositions. The first and more general false supposition is that science deals only with that which is directly observable—that is, the empirical world. At best, this is only a half-truth (even this is generous—it would probably be more legitimately characterized as an eighth-truth). Science constantly postulates the existence of theoretical forces and entities that are not directly observable. No one has ever actually seen an atom. No one has ever directly observed either electricity or gravity. To even suggest that science cannot deal with unobservables is to display an ignorance of the nature of the scientific enterprise. This is not to say that such unobservables have no relationship to that which can be observed. The legitimacy of postulated theoretical forces and entities is constantly being tested against the observable world. Such testing constitutes a way of attempting to falsify the postulated theoretical entities and forces. Such testing, so crucial to any legitimate science, is, as we have seen, impossible with respect to the omnipotent supernatural being that constitutes the central "theoretical" entity in "scientific" creationism. Indeed, if we once again turn to the writings that provide the ultimate motivation for "scientific" creationism, we are explicitly told, "Thou shall not test the Lord, thy God." Once again, this may be fine theology, but, if that same God is assigned the function of a theoretical entity in a proposed explanation, this injunction represents a prohibition against the central activity of the scientific enterprise! The second false presupposition that underlies the creationists' restriction against "true" science saying anything about events that occurred prior to the existence of scientific witnesses is the apparent presumption that such postulated past events will have left no record of their occurrence, no evidence by which theories about that alleged occurrence can be tested. This is analogous to arguing that, because there were no actual witnesses, we can never "truly" scientifically know if the bear actually did defecate in the woods—this despite the presence of a steaming pile of bear fecal material and numerous bear footprints. Likewise, we would have to deny, in spite of the superabundant fossil evidence, "true" scientific legitimacy to the claim that vast numbers of new extinct species once roamed the earth, simply because there were no scientists present to directly observe them.
---
– page 32 –
When confronted with such criticisms of their theologically motivated folk conception of science, "scientific" creationists commonly resort to another tactic popular among debaters: equivocation. This is the practice of switching definitions of a key word or concept in mid-argument. By far one of the master practitioners of this art is Henry M. Morris, director of the ICR. Faced with attacks on the scientific legitimacy of "scientific" creationism, Morris invariably ignores the substance of those attacks and argues that "true" science simply means "knowledge" (Morris et al. 1974, p. 1; cf. Morris 1982, p. i; Morris and Parker, 1982, xiii). In a very restricted sense, Morris is correct. If we look up the etymology of the word science, we do indeed find that in the original Greek form it did mean "knowledge." The problem here is that words very often cannot be simplistically defined solely in terms of their etymology. Language itself evolves. Words, in the history of their usage, often undergo radical revisions in their accepted meanings. One would expect that a self-proclaimed biblical expert such as Morris pretends to be would be quite cognizant of this elementary fact. In Darwin's day, for example, the word science referred to philosophy or knowledge derived from nonrevealed sources (Himmelfarb, 1959, p. 36). Scientists were then referred to not as scientists but as natural philosophers. To this day, teachers in the natural sciences in universities are assigned the academic rank of "professor of natural science" (even a number of "scientific" creationists claim this title—although what they advocate is anything but "natural" science). Even the dictionary, the primary source of "scientific" creationists' misconceptions of science, identifies science and natural science as synonyms of one another. All of this is, once again, conveniently ignored when "scientific" creationists accuse scientists of begging the question in denying the mantle of science to claims which invoke the supernatural. Instead, it is held that "scientists are supposed to 'search for truth' wherever that search leads" (Morris and Parker, 1982, xiii). Totally disregarded in this hopelessly naive conception of "true" science is the fact that it would require scientists to spend innumerable hours in the consideration of multitudes of supernaturalistic "explanations" that are intrinsically unfalsifiable. Furthermore, if we were to accept the equation of science with knowledge, then every field of knowledge, from stamp collecting to polishing shoes, would have to be considered a legitimate science. The issue of the proper definition of what constitutes legitimate science, as well as many ether issues in the evolution-creation controversy, boils down in many ways to an argument over proper authority. Confronted with the undeniable fact that the overwhelming majority of scientists in general, and certainly practically all life scientists, do accept the scientific legitimacy of the theory of evolution, "scientific" creationists frequently include in their folk definitions of science the claim that scientific truths are not established through some kind of majority rule or popular vote (see, for example, Wysong, 1976, pp. 20-21). In this claim, they are, as usual, wrong.
---
– page 33 –
If students of the nature of science are in agreement on anything, it is that science is a communal activity. The individual scientist may indeed formulate a particular theory explaining some phenomenon. But that explanation does not really enter the domain of science until it has been scrutinized, criticized, and tested by his or her colleagues in the relevant discipline. And, when the colleagues in a particular scientific discipline are in well-nigh complete agreement on the validity of some given explanation, it comes close to a form of scientific lunacy to proclaim the learned majority opinion wrong and to advocate some explanation that they emphatically reject. This is not to say that the majority is always right. As "scientific" creationists and advocates of other pseudoscientific explanations never tire of pointing out, there have been a number of explanations that at one time have been rejected by the scientific community only to have later been demonstrated to be valid. Invariably ignored by those who make this argument is the fact that the number of such cases is miniscule compared to the number of cases in which the original negative judgment of the scientific community was subsequently and totally corroborated. Indeed, in the twisted logic of this sort of argument, it would seem that the truth value of any idea increases with the degrees to which it is rejected by the scientific community! It is also revealing to note that, in their own fundamentalist educational institutions and in direct contrast to the accepted practice in science, such minority or dissenting opinions are allowed no expression whatsoever. It is difficult to imagine any alternative to a kind of majority rule by experts in the evaluation of the worth of scientific ideas. What better guideline can there be than to at least tentatively accept the authority of a body of experts on any given subject matter? If I go to a thousand auto mechanics and 999 of them tell me I have a cracked engine block while one, who claims to be in contact with aliens from another universe, contends that my problems flow from my having offended Sydney the avocado spirit, whom am I to believe? In a parallel manner, if we follow the lead of the "scientific" creationists regarding their confrontation with evolutionary scientists, I am to reject the authority of the entire scientific community and to accept the claims of a group who openly admit that their ultimate commitment is not to a quest for the truth but to the propagation of an alleged truth already divinely revealed.
---
– page 34 –
Consider the words of Henry Morris on the question of the historicity of the universal flood as it relates to geology:
But the main reason for insisting on the universal Flood as a fact of history and as the primary vehicle for geological interpretation is that God's Word plainly teaches it! No geological difficulties, real or imagined, can be allowed to take precedence over the clear statements and necessary inferences of Scripture. [1970, p. 33; emphasis added)
It would be difficult to formulate a statement that could stand in greater opposition to the central spirit of modern science. But this same Henry Morris actually had the gall, several years ago, to stand at the pulpit of Jerry Falwell's church, after having been introduced as "Mr. Creationism," and proclaim that the media were misrepresenting the conflict between "scientific" creationism and evolution as a conflict between religion and science. The congregation, instead of falling out of their pews with laughter at the blatant incongruity of such a statement in such a context, sat there piously nodding their approval. Comedian George Carlin has observed that there are some words that just don't seem to go together. He gives as examples the terms jumbo shrimp and military intelligence. I think that there can be little doubt that the top honors for such contradictions-in-terms should go to scientific creationism.
References
Gillespie, Neal C. 1979. Charles Darwin and the Problem of Creation. Chicago: The University of Chicago Press.
Gish, Duane T. 1973. Evolution: The Fossils Say No! San Diego: Creation-Life Publishers.
Himmelfarb, Gertrude. 1959. Darwin and the Darwinian Revolution. New York: W. W. Norton and Co., Inc.
Horton, Robin. 1967. "African Traditional Thought and Western Science." In Africa and Change, C. M. Turnbull, editor, New York: Alfred Knopf; pp. 454-519.
Morris, Henry M. May 1982. "Evolution Is Religion, Not Science." Impact, i-iv.
——. 1970. Biblical Cosmology and Modern Science. Nutley, NJ: The Craig Press.
Morris, Henry M., et al. 1974. Scientific Creationism (General Edition). San Diego: Creation-Life Publishers.
Morris, Henry M., and Parker, Gary E. 1982. What Is Creation Science? San Diego: Creation-Life Publishers.
Popper, Karl R. 1975. Objective Knowledge: An Evolutionary Approach. Oxford: Clarendon Press.
——. 1959. The Logic of Scientific Discovery. New York: Basic Books, Inc.
Wysong, R. L. 1976. The Creation-Evolution Controversy. Midland, MI: Inquiry Press.
This version might differ slightly from the print publication.
---
I Hate Religion Just as I Hate Pseudoscience
Some atheists don't like to say they hate religion, may say they hate what religion does, me? I am just cool to say I hate religion just as I hate pseudoscience. Religion is just socially accepted pseudoscience (with tax breaks). After all, the arguments in favor of ghosts, alternative medicine, and ancient aliens, are very similar to the arguments for angels, the "power of prayer" and God. Sleep paralysis and hallucinatory visions are taken to be evidence for ghosts/angels, post-hoc reasoning is used in arguments for alternative medicine/prayer, and "unexplained mysteries" are counted as evidence for aliens/God. Religion is just socially accepted pseudoscience.
The following have broad consensus concerning pseudo-scientific status. See if you can find any religion thinking?
*Astrology refers to any of several systems of understanding, interpreting and organizing knowledge about reality and human existence, based on the relative positions and movement of various real and construed celestial bodies. Planetary alignments are events where two or more planets and the Sun and Moon line up from the perspective of Earth. Much of astrology has been developed around such alignments. Sun signs are astrological signs that are determined by the location of the Sun at a particular moment in time such as an individual's birth.
*Baraminology is an attempt to create a bible friendly version of species without invoking evolution.
Biblical scientific foreknowledge asserts that the Bible makes accurate statements about the world that science verifies thousands of years later. A favorite of kdbuffalo/Conservative. Suffers from the problem that prophesies should predict the future, not the past. Kind of the whole point.
*Creationist cosmologies are ones which, among other things, allow for a universe that is only thousands of years old. Flood geology is the creationist form of geology that advocates most of the geologic features on Earth are explainable by a global flood. Hydroplate theory is an attempt to explain how an earth-wide flood could occur.
Soft-sediment deformation is the idea that rocks can only be deformed if wet and soft. Intelligent Design is a version of creation science stated in secular terms, viz. that "certain features of the universe and of living things are best explained by an intelligent cause, not an undirected process such as natural selection." The Banana fallacy is an argument about how things are designed to suit humans while ignoring other explanations such as artificial selection. Irreducible complexity is the claim that some systems are so complex that they cannot have evolved from simpler systems. It is used by proponents of intelligent design to argue that evolution by Natural selection alone is incomplete or flawed, and that some additional mechanism (an "Intelligent Designer") is required to explain the origins of life. Specified complexity is the claim that when something is simultaneously complex and specified, one can infer that it was produced by an intelligent cause (i.e., that it was designed) rather than being the result of natural processes. Modern geocentrism cites uniform gamma ray bursts distribution as evidence that we are at the center of the universe, and other ideas of this type.
*Creation science is the belief that the origin of everything in the universe is the result of a first cause, brought about by a creator deity, and that this thesis is supported by geological, biological, and other scientific evidence. This "evidence" is either Biblical in nature, or it attacks a tenet of evolution, incorrectly assuming that if any part of evolution is wrong, the whole thing is wrong and creationism is right.
*Crop circles are geometric designs of crushed or knocked-over crops created in a field. Aside from skilled farmers or pranksters working through the night, explanations for their formation include UFOs and anomalous, tornado-like air currents. The study of crop circles is termed "cerealogy" by proponents.
Erich von Däniken's proposal of ancient astronauts.
*Full moon lunacy is the belief that the full moon is correlated with the manifestation of lunacy.
Non-materialist neuroscience is the attempt to scientifically prove the existence of a "mind," and is closely related to dualism.
*Hyperdimensional physics is a concept that has been very vaguely described by Tom Bearden. Mike Bara once summed it up as "a rotating body pulls energy from its higher state." None of the examples he gives are actually valid.
Ufology is the study of unidentified flying objects (UFOs) and frequently includes the belief that UFOs are evidence for extraterrestrial visitors.
*Numerology, is any belief in the divine, mystical relationship between a number and one or more coinciding events. It is often associated with the paranormal, alongside astrology and similar divinatory arts. There is no supporting evidence for the modern practice of numerology in modern science.
*Paranormal beliefs, such as subjects believing they are Channeling, which is the proposed communication of information to or through a person allegedly from a spirit or other paranormal entity. Of things like Dowsing, which refers to practices said to enable one to detect hidden water, metals, gemstones or other objects under the ground. There are also things like Electronic voice phenomenon, which is the alleged communication by spirits through tape recorders and other electronic devices. Or there are things like the so called Extra-sensory perception, which is the paranormal ability (independent of the five main senses or deduction from previous experience) to acquire information by means such as telepathy, clairvoyance, precognition, psychic abilities, and remote viewing. There are also those who believe in the outlandish from Holding back walls of water (Moses in the Jewish faith) walking on water (Jesus in Christianity) to similar things such as flying horses (Muhammad in Islam) or just some other generalized belief in Levitation, which in this sense, is the act of rising up from the ground without any physical aids, usually by the power of thought.
*Psychokinesis is the paranormal ability of the mind to influence matter or energy at a distance.
Spiritualism is a religious movement which holds the belief that communication with the dead can occur through the powers of individuals called mediums. Seances are ritualized attempts to communicate with the dead.
*Torsion field physics is a theory about some new kind of fields that travel much faster than light. Torsion fields are often used to "mathematically describe" other pseudoscientific topics.
*The Face on Mars (in Cydonia Mensae) is a rock formation on Mars asserted to be evidence of intelligent, native life on the planet. Higher resolution images show it to appear less face-like. It features prominently in the pseudoscientific theories of Richard C. Hoagland. Alien abductions are events where people claim to have been taken into a spaceship for medical experiments by aliens before being returned to earth. Close encounters are events where persons witness UFOs, or purportedly meet and/or communicate with alien beings. Immanuel Velikovsky's proposals that ancient texts refer to the collision of astronomical bodies as in Worlds in Collision. Etc.
http://rationalwiki.org/wiki/List_of_pseudosciences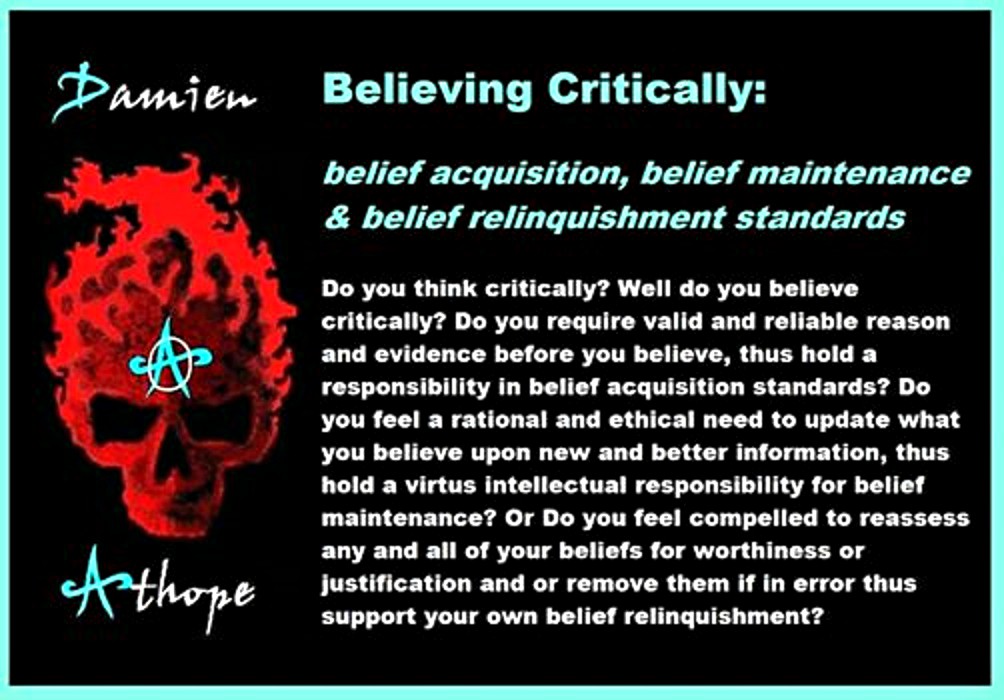 15 Answers to Creationist Nonsense By John Rennie from the magazine:  SCIENTIFIC AMERICAN
Opponents of evolution want to make a place for creationism by tearing down real science, but their arguments don't hold up.
When Charles Darwin introduced the theory of evolution through natural selection 143 years ago, the scientists of the day argued over it fiercely, but the massing evidence from paleontology, genetics, zoology, molecular biology and other fields gradually established evolution's truth beyond reasonable doubt. Today that battle has been won everywhere–except in the public imagination.
Embarrassingly, in the 21st century, in the most scientifically advanced nation the world has ever known, creationists can still persuade politicians, judges and ordinary citizens that evolution is a flawed, poorly supported fantasy. They lobby for creationist ideas such as "intelligent design" to be taught as alternatives to evolution in science classrooms. As this article goes to press, the Ohio Board of Education is debating whether to mandate such a change. Some antievolutionists, such as Philip E. Johnson, a law professor at the University of California at Berkeley and author of Darwin on Trial, admit that they intend for intelligent-design theory to serve as a "wedge" for reopening science classrooms to discussions of God.
Besieged teachers and others may increasingly find themselves on the spot to defend evolution and refute creationism. The arguments that creationists use are typically specious and based on misunderstandings of (or outright lies about) evolution, but the number and diversity of the objections can put even well-informed people at a disadvantage.
To help with answering them, the following list rebuts some of the most common "scientific" arguments raised against evolution. It also directs readers to further sources for information and explains why creation science has no place in the classroom.
1. Evolution is only a theory. It is not a fact or a scientific law.
Many people learned in elementary school that a theory falls in the middle of a hierarchy of certainty–above a mere hypothesis but below a law. Scientists do not use the terms that way, however. According to the National Academy of Sciences (NAS), a scientific theory is "a well-substantiated explanation of some aspect of the natural world that can incorporate facts, laws, inferences, and tested hypotheses." No amount of validation changes a theory into a law, which is a descriptive generalization about nature. So when scientists talk about the theory of evolution–or the atomic theory or the theory of relativity, for that matter–they are not expressing reservations about its truth.
In addition to the theory of evolution, meaning the idea of descent with modification, one may also speak of the fact of evolution. The NAS defines a fact as "an observation that has been repeatedly confirmed and for all practical purposes is accepted as 'true.'" The fossil record and abundant other evidence testify that organisms have evolved through time. Although no one observed those transformations, the indirect evidence is clear, unambiguous and compelling.
All sciences frequently rely on indirect evidence. Physicists cannot see subatomic particles directly, for instance, so they verify their existence by watching for telltale tracks that the particles leave in cloud chambers. The absence of direct observation does not make physicists' conclusions less certain.
2. Natural selection is based on circular reasoning: the fittest are those who survive, and those who survive are deemed fittest.
"Survival of the fittest" is a conversational way to describe natural selection, but a more technical description speaks of differential rates of survival and reproduction. That is, rather than labeling species as more or less fit, one can describe how many offspring they are likely to leave under given circumstances. Drop a fast-breeding pair of small-beaked finches and a slower-breeding pair of large-beaked finches onto an island full of food seeds. Within a few generations the fast breeders may control more of the food resources. Yet if large beaks more easily crush seeds, the advantage may tip to the slow breeders. In a pioneering study of finches on the Galápagos Islands, Peter R. Grant of Princeton University observed these kinds of population shifts in the wild [see his article "Natural Selection and Darwin's Finches"; Scientific American, October 1991].
The key is that adaptive fitness can be defined without reference to survival: large beaks are better adapted for crushing seeds, irrespective of whether that trait has survival value under the circumstances.
3. Evolution is unscientific, because it is not testable or falsifiable. It makes claims about events that were not observed and can never be re-created.
This blanket dismissal of evolution ignores important distinctions that divide the field into at least two broad areas: microevolution and macroevolution. Microevolution looks at changes within species over time–changes that may be preludes to speciation, the origin of new species. Macroevolution studies how taxonomic groups above the level of species change. Its evidence draws frequently from the fossil record and DNA comparisons to reconstruct how various organisms may be related.
These days even most creationists acknowledge that microevolution has been upheld by tests in the laboratory (as in studies of cells, plants and fruit flies) and in the field (as in Grant's studies of evolving beak shapes among Gal¿pagos finches). Natural selection and other mechanisms–such as chromosomal changes, symbiosis and hybridization–can drive profound changes in populations over time.
The historical nature of macroevolutionary study involves inference from fossils and DNA rather than direct observation. Yet in the historical sciences (which include astronomy, geology and archaeology, as well as evolutionary biology), hypotheses can still be tested by checking whether they accord with physical evidence and whether they lead to verifiable predictions about future discoveries. For instance, evolution implies that between the earliest-known ancestors of humans (roughly five million years old) and the appearance of anatomically modern humans (about 100,000 years ago), one should find a succession of hominid creatures with features progressively less apelike and more modern, which is indeed what the fossil record shows. But one should not–and does not–find modern human fossils embedded in strata from the Jurassic period (144 million years ago). Evolutionary biology routinely makes predictions far more refined and precise than this, and researchers test them constantly.
Evolution could be disproved in other ways, too. If we could document the spontaneous generation of just one complex life-form from inanimate matter, then at least a few creatures seen in the fossil record might have originated this way. If superintelligent aliens appeared and claimed credit for creating life on earth (or even particular species), the purely evolutionary explanation would be cast in doubt. But no one has yet produced such evidence.
It should be noted that the idea of falsifiability as the defining characteristic of science originated with philosopher Karl Popper in the 1930s. More recent elaborations on his thinking have expanded the narrowest interpretation of his principle precisely because it would eliminate too many branches of clearly scientific endeavor.
4. Increasingly, scientists doubt the truth of evolution.
No evidence suggests that evolution is losing adherents. Pick up any issue of a peer-reviewed biological journal, and you will find articles that support and extend evolutionary studies or that embrace evolution as a fundamental concept.
Conversely, serious scientific publications disputing evolution are all but nonexistent. In the mid-1990s George W. Gilchrist of the University of Washington surveyed thousands of journals in the primary literature, seeking articles on intelligent design or creation science. Among those hundreds of thousands of scientific reports, he found none. In the past two years, surveys done independently by Barbara Forrest of Southeastern Louisiana University and Lawrence M. Krauss of Case Western Reserve University have been similarly fruitless.
Creationists retort that a closed-minded scientific community rejects their evidence. Yet according to the editors of Nature, Science and other leading journals, few antievolution manuscripts are even submitted. Some antievolution authors have published papers in serious journals. Those papers, however, rarely attack evolution directly or advance creationist arguments; at best, they identify certain evolutionary problems as unsolved and difficult (which no one disputes). In short, creationists are not giving the scientific world good reason to take them seriously.
5. The disagreements among even evolutionary biologists show how little solid science supports evolution.
Evolutionary biologists passionately debate diverse topics: how speciation happens, the rates of evolutionary change, the ancestral relationships of birds and dinosaurs, whether Neandertals were a species apart from modern humans, and much more. These disputes are like those found in all other branches of science. Acceptance of evolution as a factual occurrence and a guiding principle is nonetheless universal in biology.
Unfortunately, dishonest creationists have shown a willingness to take scientists' comments out of context to exaggerate and distort the disagreements. Anyone acquainted with the works of paleontologist Stephen Jay Gould of Harvard University knows that in addition to co-authoring the punctuated-equilibrium model, Gould was one of the most eloquent defenders and articulators of evolution. (Punctuated equilibrium explains patterns in the fossil record by suggesting that most evolutionary changes occur within geologically brief intervals–which may nonetheless amount to hundreds of generations.) Yet creationists delight in dissecting out phrases from Gould's voluminous prose to make him sound as though he had doubted evolution, and they present punctuated equilibrium as though it allows new species to materialize overnight or birds to be born from reptile eggs.
When confronted with a quotation from a scientific authority that seems to question evolution, insist on seeing the statement in context. Almost invariably, the attack on evolution will prove illusory.
6. If humans descended from monkeys, why are there still monkeys?
This surprisingly common argument reflects several levels of ignorance about evolution. The first mistake is that evolution does not teach that humans descended from monkeys; it states that both have a common ancestor.
The deeper error is that this objection is tantamount to asking, "If children descended from adults, why are there still adults?" New species evolve by splintering off from established ones, when populations of organisms become isolated from the main branch of their family and acquire sufficient differences to remain forever distinct. The parent species may survive indefinitely thereafter, or it may become extinct.
7. Evolution cannot explain how life first appeared on earth.
The origin of life remains very much a mystery, but biochemists have learned about how primitive nucleic acids, amino acids and other building blocks of life could have formed and organized themselves into self-replicating, self-sustaining units, laying the foundation for cellular biochemistry. Astrochemical analyses hint that quantities of these compounds might have originated in space and fallen to earth in comets, a scenario that may solve the problem of how those constituents arose under the conditions that prevailed when our planet was young.
Creationists sometimes try to invalidate all of evolution by pointing to science's current inability to explain the origin of life. But even if life on earth turned out to have a nonevolutionary origin (for instance, if aliens introduced the first cells billions of years ago), evolution since then would be robustly confirmed by countless microevolutionary and macroevolutionary studies.
8. Mathematically, it is inconceivable that anything as complex as a protein, let alone a living cell or a human, could spring up by chance.
Chance plays a part in evolution (for example, in the random mutations that can give rise to new traits), but evolution does not depend on chance to create organisms, proteins or other entities. Quite the opposite: natural selection, the principal known mechanism of evolution, harnesses nonrandom change by preserving "desirable" (adaptive) features and eliminating "undesirable" (nonadaptive) ones. As long as the forces of selection stay constant, natural selection can push evolution in one direction and produce sophisticated structures in surprisingly short times.
As an analogy, consider the 13-letter sequence "TOBEORNOTTOBE." Those hypothetical million monkeys, each pecking out one phrase a second, could take as long as 78,800 years to find it among the 2613sequences of that length. But in the 1980s Richard Hardison of Glendale College wrote a computer program that generated phrases randomly while preserving the positions of individual letters that happened to be correctly placed (in effect, selecting for phrases more like Hamlet's). On average, the program re-created the phrase in just 336 iterations, less than 90 seconds. Even more amazing, it could reconstruct Shakespeare's entire play in just four and a half days.
9. The Second Law of Thermodynamics says that systems must become more disordered over time. Living cells therefore could not have evolved from inanimate chemicals, and multicellular life could not have evolved from protozoa.
This argument derives from a misunderstanding of the Second Law. If it were valid, mineral crystals and snowflakes would also be impossible, because they, too, are complex structures that form spontaneously from disordered parts.
The Second Law actually states that the total entropy of a closed system (one that no energy or matter leaves or enters) cannot decrease. Entropy is a physical concept often casually described as disorder, but it differs significantly from the conversational use of the word.
More important, however, the Second Law permits parts of a system to decrease in entropy as long as other parts experience an offsetting increase. Thus, our planet as a whole can grow more complex because the sun pours heat and light onto it, and the greater entropy associated with the sun's nuclear fusion more than rebalances the scales. Simple organisms can fuel their rise toward complexity by consuming other forms of life and nonliving materials.
10. Mutations are essential to evolution theory, but mutations can only eliminate traits. They cannot produce new features.
On the contrary, biology has catalogued many traits produced by point mutations (changes at precise positions in an organism's DNA)–bacterial resistance to antibiotics, for example.
Mutations that arise in the homeobox (Hox) family of development-regulating genes in animals can also have complex effects. Hox genes direct where legs, wings, antennae and body segments should grow. In fruit flies, for instance, the mutation called Antennapedia causes legs to sprout where antennae should grow. These abnormal limbs are not functional, but their existence demonstrates that genetic mistakes can produce complex structures, which natural selection can then test for possible uses.
Moreover, molecular biology has discovered mechanisms for genetic change that go beyond point mutations, and these expand the ways in which new traits can appear. Functional modules within genes can be spliced together in novel ways. Whole genes can be accidentally duplicated in an organism's DNA, and the duplicates are free to mutate into genes for new, complex features. Comparisons of the DNA from a wide variety of organisms indicate that this is how the globin family of blood proteins evolved over millions of years.
11. Natural selection might explain microevolution, but it cannot explain the origin of new species and higher orders of life.
Evolutionary biologists have written extensively about how natural selection could produce new species. For instance, in the model called allopatry, developed by Ernst Mayr of Harvard University, if a population of organisms were isolated from the rest of its species by geographical boundaries, it might be subjected to different selective pressures. Changes would accumulate in the isolated population. If those changes became so significant that the splinter group could not or routinely would not breed with the original stock, then the splinter group would be reproductively isolated and on its way toward becoming a new species.
Natural selection is the best studied of the evolutionary mechanisms, but biologists are open to other possibilities as well. Biologists are constantly assessing the potential of unusual genetic mechanisms for causing speciation or for producing complex features in organisms. Lynn Margulis of the University of Massachusetts at Amherst and others have persuasively argued that some cellular organelles, such as the energy-generating mitochondria, evolved through the symbiotic merger of ancient organisms. Thus, science welcomes the possibility of evolution resulting from forces beyond natural selection. Yet those forces must be natural; they cannot be attributed to the actions of mysterious creative intelligences whose existence, in scientific terms, is unproved.
12. Nobody has ever seen a new species evolve.
Speciation is probably fairly rare and in many cases might take centuries. Furthermore, recognizing a new species during a formative stage can be difficult, because biologists sometimes disagree about how best to define a species. The most widely used definition, Mayr's Biological Species Concept, recognizes a species as a distinct community of reproductively isolated populations–sets of organisms that normally do not or cannot breed outside their community. In practice, this standard can be difficult to apply to organisms isolated by distance or terrain or to plants (and, of course, fossils do not breed). Biologists therefore usually use organisms' physical and behavioral traits as clues to their species membership.
Nevertheless, the scientific literature does contain reports of apparent speciation events in plants, insects and worms. In most of these experiments, researchers subjected organisms to various types of selection–for anatomical differences, mating behaviors, habitat preferences and other traits–and found that they had created populations of organisms that did not breed with outsiders. For example, William R. Rice of the University of New Mexico and George W. Salt of the University of California at Davis demonstrated that if they sorted a group of fruit flies by their preference for certain environments and bred those flies separately over 35 generations, the resulting flies would refuse to breed with those from a very different environment.
13. Evolutionists cannot point to any transitional fossils–creatures that are half reptile and half bird, for instance.
Actually, paleontologists know of many detailed examples of fossils intermediate in form between various taxonomic groups. One of the most famous fossils of all time is Archaeopteryx, which combines feathers and skeletal structures peculiar to birds with features of dinosaurs. A flock's worth of other feathered fossil species, some more avian and some less, has also been found. A sequence of fossils spans the evolution of modern horses from the tiny Eohippus. Whales had four-legged ancestors that walked on land, and creatures known as Ambulocetus and Rodhocetushelped to make that transition [see "The Mammals That Conquered the Seas," by Kate Wong; Scientific American, May]. Fossil seashells trace the evolution of various mollusks through millions of years. Perhaps 20 or more hominids (not all of them our ancestors) fill the gap between Lucy the australopithecine and modern humans.
Creationists, though, dismiss these fossil studies. They argue that Archaeopteryx is not a missing link between reptiles and birds–it is just an extinct bird with reptilian features. They want evolutionists to produce a weird, chimeric monster that cannot be classified as belonging to any known group. Even if a creationist does accept a fossil as transitional between two species, he or she may then insist on seeing other fossils intermediate between it and the first two. These frustrating requests can proceed ad infinitum and place an unreasonable burden on the always incomplete fossil record.
Nevertheless, evolutionists can cite further supportive evidence from molecular biology. All organisms share most of the same genes, but as evolution predicts, the structures of these genes and their products diverge among species, in keeping with their evolutionary relationships. Geneticists speak of the "molecular clock" that records the passage of time. These molecular data also show how various organisms are transitional within evolution.
14. Living things have fantastically intricate features–at the anatomical, cellular and molecular levels–that could not function if they were any less complex or sophisticated. The only prudent conclusion is that they are the products of intelligent design, not evolution.
This "argument from design" is the backbone of most recent attacks on evolution, but it is also one of the oldest. In 1802 theologian William Paley wrote that if one finds a pocket watch in a field, the most reasonable conclusion is that someone dropped it, not that natural forces created it there. By analogy, Paley argued, the complex structures of living things must be the handiwork of direct, divine invention. Darwin wrote On the Origin of Species as an answer to Paley: he explained how natural forces of selection, acting on inherited features, could gradually shape the evolution of ornate organic structures.
Generations of creationists have tried to counter Darwin by citing the example of the eye as a structure that could not have evolved. The eye's ability to provide vision depends on the perfect arrangement of its parts, these critics say. Natural selection could thus never favor the transitional forms needed during the eye's evolution–what good is half an eye? Anticipating this criticism, Darwin suggested that even "incomplete" eyes might confer benefits (such as helping creatures orient toward light) and thereby survive for further evolutionary refinement. Biology has vindicated Darwin: researchers have identified primitive eyes and light-sensing organs throughout the animal kingdom and have even tracked the evolutionary history of eyes through comparative genetics. (It now appears that in various families of organisms, eyes have evolved independently.)
Today's intelligent-design advocates are more sophisticated than their predecessors, but their arguments and goals are not fundamentally different. They criticize evolution by trying to demonstrate that it could not account for life as we know it and then insist that the only tenable alternative is that life was designed by an unidentified intelligence.
15. Recent discoveries prove that even at the microscopic level, life has a quality of complexity that could not have come about through evolution.
"Irreducible complexity" is the battle cry of Michael J. Behe of Lehigh University, author of Darwin's Black Box: The Biochemical Challenge to Evolution. As a household example of irreducible complexity, Behe chooses the mousetrap–a machine that could not function if any of its pieces were missing and whose pieces have no value except as parts of the whole. What is true of the mousetrap, he says, is even truer of the bacterial flagellum, a whiplike cellular organelle used for propulsion that operates like an outboard motor. The proteins that make up a flagellum are uncannily arranged into motor components, a universal joint and other structures like those that a human engineer might specify. The possibility that this intricate array could have arisen through evolutionary modification is virtually nil, Behe argues, and that bespeaks intelligent design. He makes similar points about the blood's clotting mechanism and other molecular systems.
Yet evolutionary biologists have answers to these objections. First, there exist flagellae with forms simpler than the one that Behe cites, so it is not necessary for all those components to be present for a flagellum to work. The sophisticated components of this flagellum all have precedents elsewhere in nature, as described by Kenneth R. Miller of Brown University and others. In fact, the entire flagellum assembly is extremely similar to an organelle that Yersinia pestis, the bubonic plague bacterium, uses to inject toxins into cells.
The key is that the flagellum's component structures, which Behe suggests have no value apart from their role in propulsion, can serve multiple functions that would have helped favor their evolution. The final evolution of the flagellum might then have involved only the novel recombination of sophisticated parts that initially evolved for other purposes. Similarly, the blood-clotting system seems to involve the modification and elaboration of proteins that were originally used in digestion, according to studies by Russell F. Doolittle of the University of California at San Diego. So some of the complexity that Behe calls proof of intelligent design is not irreducible at all.
Complexity of a different kind–"specified complexity"–is the cornerstone of the intelligent-design arguments of William A. Dembski of Baylor University in his books The Design Inference and No Free Lunch. Essentially his argument is that living things are complex in a way that undirected, random processes could never produce. The only logical conclusion, Dembski asserts, in an echo of Paley 200 years ago, is that some superhuman intelligence created and shaped life.
Dembski's argument contains several holes. It is wrong to insinuate that the field of explanations consists only of random processes or designing intelligences. Researchers into nonlinear systems and cellular automata at the Santa Fe Institute and elsewhere have demonstrated that simple, undirected processes can yield extraordinarily complex patterns. Some of the complexity seen in organisms may therefore emerge through natural phenomena that we as yet barely understand. But that is far different from saying that the complexity could not have arisen naturally.
"Creation science" is a contradiction in terms. A central tenet of modern science is methodological naturalism–it seeks to explain the universe purely in terms of observed or testable natural mechanisms. Thus, physics describes the atomic nucleus with specific concepts governing matter and energy, and it tests those descriptions experimentally. Physicists introduce new particles, such as quarks, to flesh out their theories only when data show that the previous descriptions cannot adequately explain observed phenomena. The new particles do not have arbitrary properties, moreover–their definitions are tightly constrained, because the new particles must fit within the existing framework of physics.
In contrast, intelligent-design theorists invoke shadowy entities that conveniently have whatever unconstrained abilities are needed to solve the mystery at hand. Rather than expanding scientific inquiry, such answers shut it down. (How does one disprove the existence of omnipotent intelligences?)
Intelligent design offers few answers. For instance, when and how did a designing intelligence intervene in life's history? By creating the first DNA? The first cell? The first human? Was every species designed, or just a few early ones? Proponents of intelligent-design theory frequently decline to be pinned down on these points. They do not even make real attempts to reconcile their disparate ideas about intelligent design. Instead they pursue argument by exclusion–that is, they belittle evolutionary explanations as far-fetched or incomplete and then imply that only design-based alternatives remain.
Logically, this is misleading: even if one naturalistic explanation is flawed, it does not mean that all are. Moreover, it does not make one intelligent-design theory more reasonable than another. Listeners are essentially left to fill in the blanks for themselves, and some will undoubtedly do so by substituting their religious beliefs for scientific ideas.
Time and again, science has shown that methodological naturalism can push back ignorance, finding increasingly detailed and informative answers to mysteries that once seemed impenetrable: the nature of light, the causes of disease, how the brain works. Evolution is doing the same with the riddle of how the living world took shape. Creationism, by any name, adds nothing of intellectual value to the effort.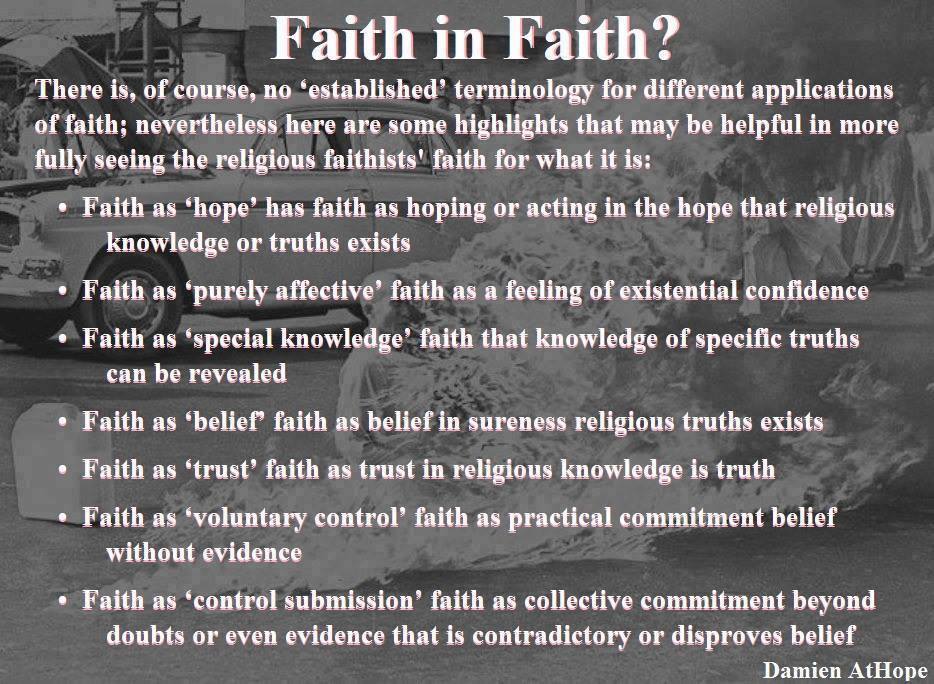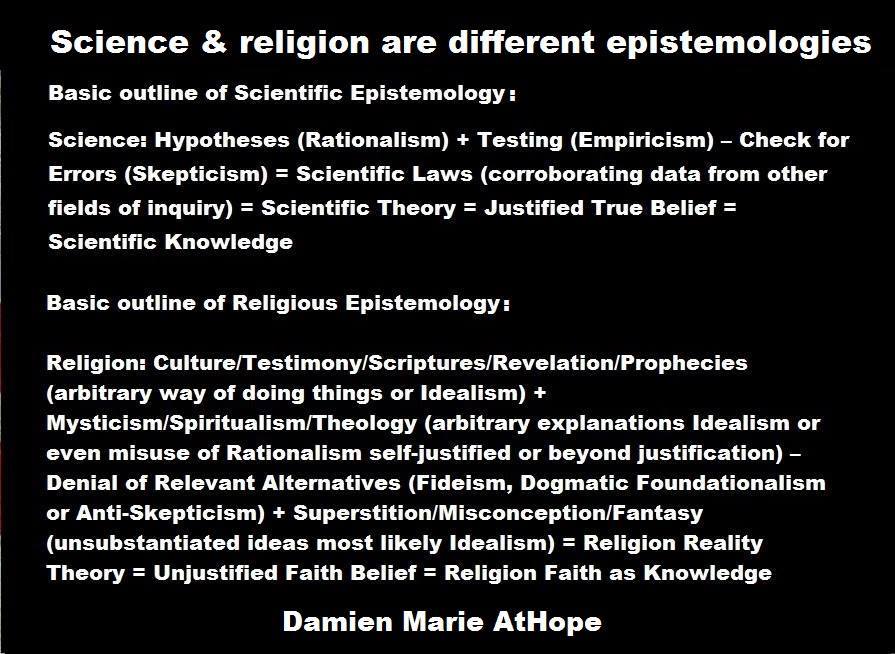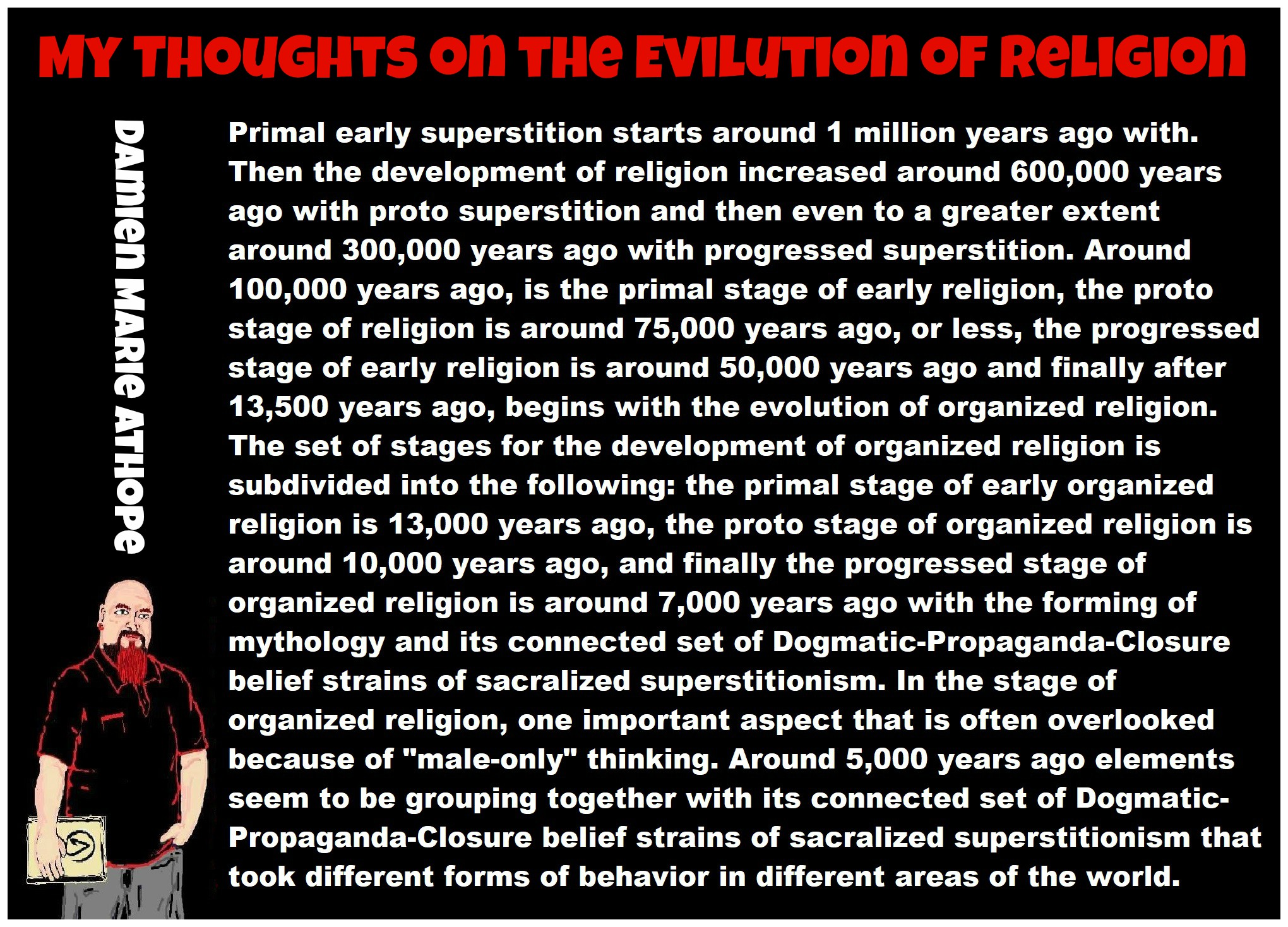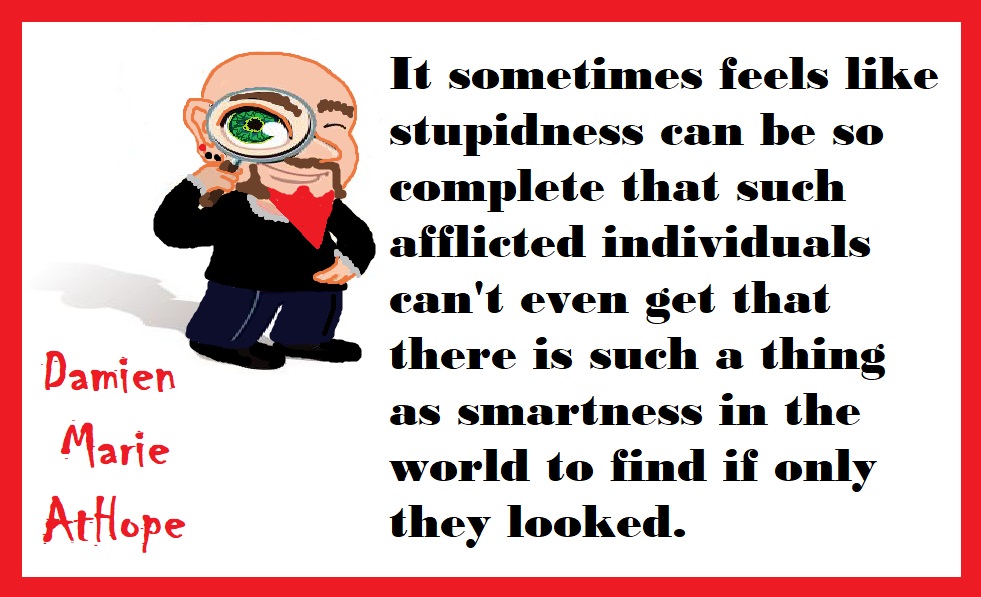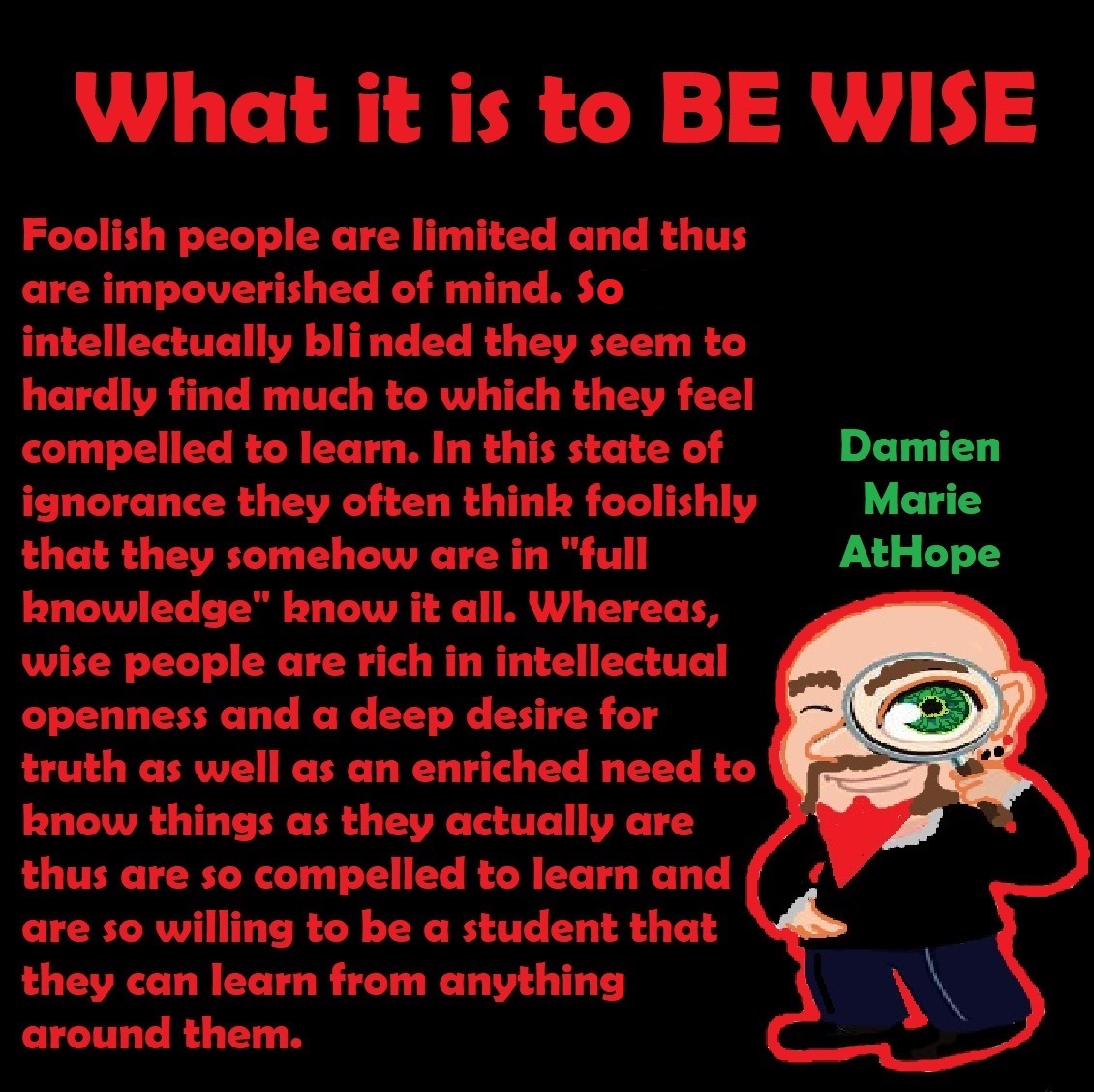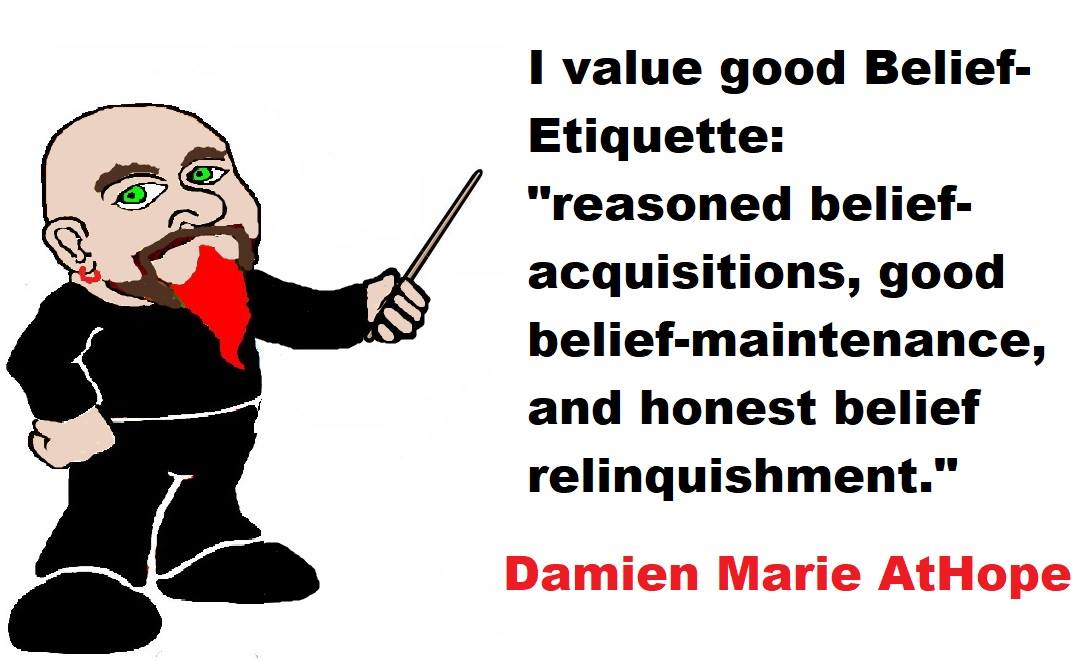 My Blog, My Memes & Short-writing or Quotes
Here is my external pages or content: Facebook Witter Page, My YouTube, My Linkedin, Twitter: @AthopeMarie, Instagram: damienathope, Personal Facebook Page, Secondary Personal Facebook Page, Main Atheist Facebook Page, Secondary Atheist Facebook Page, Facebook Leftist Political Page, Facebook Group: Atheist for Non-monogamy, Facebook Group: (HARP) Humanism, Atheism, Rationalism, & Philosophy and My Email: damien.marie.athope@gmail.com