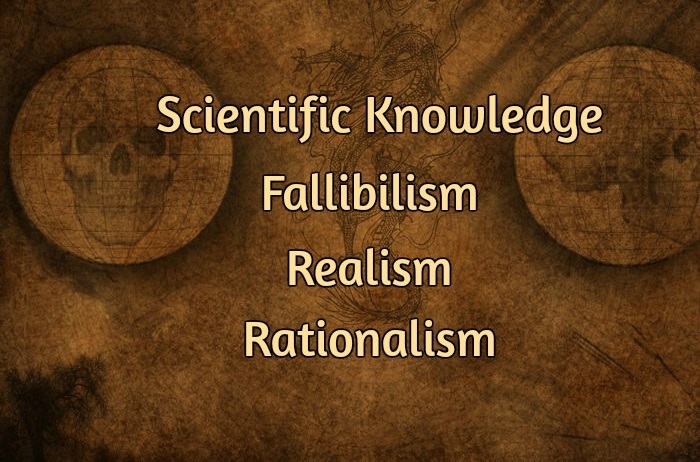 Scientific theories, it has sometimes been maintained enable us to describe precisely how things happen, but cannot really explain why they happen as they do. According to this view (which I shall call 'descriptivism'), the .search for explanation or for explanatory theories is an illegitimate intrusion of metaphysics into science. Descriptivism is related to (but not, as is often supposed, identical with) an even more radical view, which I shall call 'instrumentalism' (following Popper) or 'fictionalism'. The instrumentalist agrees with the descriptivist that scientific theories are not explanatory but goes further, and denies that they are descriptive as well. Theories, according to the instrumentalist, are not descriptions of the world, but mathematical devices or fictions which enable us to classify, systematize and predict descriptions of the world. Opposed to both of these views is realism. My aim is to argue in favor of realism. And in general will favor a fallibilist, realistic, and rationalist position in opposition to the idealistic, antirealism and relativistic viewpoints some champion. From: Essays on Realism and Rationalism by Alan Musgrave
Here is more on fallibilism:
Fallibilism is the epistemological thesis that no belief (theory, view, thesis, and so on) can ever be rationally supported or justified in a conclusive way (that no evidence or reason can ever overturn it). Always, there remains a possible doubt as to the truth of the belief (ie. one is always open to valid and reliable reason and evidence that could disprove or deminish the belief). Fallibilism applies that assessment even to science's best-entrenched claims and to people's best-loved commonsense views. Some epistemologists have taken fallibilism to imply skepticism, though, it is fallibilist epistemologists (which is to say, the majority of epistemologists) who tend not to be skeptics about the existence of knowledge or justified belief. Generally, those fallibilist epistemologists see themselves as thinking about knowledge and justification in a comparatively realistic way — by recognizing the fallibilist realities of human cognitive capacities, even while accommodating those fallibilities within a theory that allows perpetually fallible people to have knowledge and justified beliefs. Epistemologists generally seek to understand knowledge and justification in a way that permits fallibilism to describe a benign truth about how we can gain knowledge and justified beliefs. The difference between fallibilism and skepticism lies in their beliefs about what constitutes knowledge. Fallibilists and skeptics both believe that we can never establish the truth of a proposition with 100% certainty. However, skeptics believe that we don't know what we cannot confirm with 100% certainty, while fallibilists have a more moderate view where 100% certainty is not required for knowledge. When I state "fallibilists and skeptics both believe that we can never establish the truth of a proposition with 100% certainty."", what I as a thinker using Fallibilism, believe that we can never establish the truth of a proposition with 100% certainty is referring to how it could be later found to be in error and may need adapting to the increase in epistemic accuracy tempered with Epistemic Humility. We are 100% certain all the time (certainty is a belief state), what most who doubt 100% certainty, likely are referring to is our ability to validate a kind of certainty or level of certainty as there is not one universal thinking on certainty with the two main types being psychological certainty or Epistemic Certainty. Certainty is connected to a belief state or level of sureness, so we can be 100% psychologically certain of things we state normatively. As in If I or you take a piece of text and know things about it as in is it written in a language legible to the general group of english only speakers to know it is written in english, as well as many other things with 100% logically certain belief. But I am open to new information to prove some thinking could be found in error in some way need updating to a more accurate view as a general epistemic persuasion. Ref Ref
---
If I made the statement that the following proposition was 100% true and certain today and for all time that,
"There is a chance that Damien AtHope will either reply or not reply to his posts on FB"
I think people like to only talk as if there is one type of certainty as a universal true class. When I hold that there are different kinds of certainty such as first needing to know what type of certainty that I am referring, as in what is expressed in this statement:
"There is a chance that Damien AtHope will either reply or not reply to his posts on FB"
This is a kind of normative statement so to me normative thinking standards apply. As such, we can know that I proposed an "hedge one's bets trying to keep from being wrong by saying you believe two contrary propositions at the same time which could be an unintentional oddity but just as likely is used as a form of intellectual dishonesty involving a rhetoric claim used as a red herring evasion." Moreover, with further understanding we can also know that by accepting such an openness to all possibilities, what it is telling us, beyond its not making an open strong opinion on one side in its options, other than the thinking logically certain that accepting all possible outcomes of a being's behavior is also maybe unwittingly confirming a stance to all, the possible presuppositions hidden in that, or that it seems "hedge one's bets" possibly trying to avoid the possibility of making a claim that offers a thinking that is outside of challenge may not work that well unless you accept the belief in the reality of a world with free agents or even unthinking agents doing the choosing. But believing in as well as epistemically certain about the reality of a world, is not doing anything that strange assuming a lot a we all do all the time. But that's the only thing we can do in a sense is unwittingly confirm a stance for the possible presuppositions hidden in much that we think or say as it seems we often express a belief in the reality of a world presupposition (which I believe we have extensive epistemic certainty, thus deserves 100% psychological certainty until shown otherwise.
Wisdom as Epistemic Humility?
---
According to Sharon Ryan with The Stanford Encyclopedia of Philosophy, Socrates' view of wisdom, as expressed by Plato in The Apology (20e-23c), is sometimes interpreted as an example of a humility theory of wisdom (see, for example, Ryan 1996 and Whitcomb, 2010). In Plato's Apology, Socrates and his friend Chaerephon visit the oracle at Delphi. As the story goes, Chaerephon asks the oracle whether anyone is wiser than Socrates. The oracle's answer is that Socrates is the wisest person. Socrates reports that he is puzzled by this answer since so many other people in the community are well known for their extensive knowledge and wisdom, and yet Socrates claims that he lacks knowledge and wisdom. Socrates does an investigation to get to the bottom of this puzzle. He interrogates a series of politicians, poets, and craftsmen. As one would expect, Socrates' investigation reveals that those who claim to have knowledge either do not really know any of the things they claim to know, or else know far less than they proclaim to know. The most knowledgeable of the bunch, the craftsmen, know about their craft, but they claim to know things far beyond the scope of their expertise. Socrates, so we are told, neither suffers the vice of claiming to know things he does not know, nor the vice of claiming to have wisdom when he does not have wisdom. In this revelation, we have a potential resolution to the wisdom puzzle in The Apology. 
Although the story may initially appear to deliver a clear theory of wisdom, it is actually quite difficult to capture a textually accurate and plausible theory here. One interpretation is that Socrates is wise because he, unlike the others, believes he is not wise, whereas the poets, politicians, and craftsmen arrogantly and falsely believe they are wise. This theory, which will be labeled Humility Theory 1 (H1), is simply (see, for example, Lehrer & Smith 1996, 3): Humility Theory 1 (H1): 
S is wise iff S believes s/he is not wise. 
This is a tempting and popular interpretation because Socrates certainly thinks he has shown that the epistemically arrogant poets, politicians, and craftsmen lack wisdom. Moreover, Socrates claims that he is not wise, and yet, if we trust the oracle, Socrates is actually wise. Upon careful inspection, (H1) is not a reasonable interpretation of Socrates' view. Although Socrates does not boast of his own wisdom, he does believe the oracle. If he was convinced that he was not wise, he would have rejected the oracle and gone about his business because he would not find any puzzle to unravel. Clearly, he believes, on some level, that he is wise. The mystery is: what is wisdom if he has it and the others lack it? Socrates nowhere suggests that he has become unwise after believing the oracle. Thus, (H1) is not an acceptable interpretation of Socrates' view. Moreover, (H1) is false. Many people are clear counterexamples to (H1). Many people who believe they are not wise are correct in their self-assessment. Thus, the belief that one is not wise is not a sufficient condition for wisdom. Furthermore, it seems that the belief that one is not wise is not necessary for wisdom. It seems plausible to think that a wise person could be wise enough to realize that she is wise. Too much modesty might get in the way of making good decisions and sharing what one knows. If one thinks Socrates was a wise person, and if one accepts that Socrates did, in fact, accept that he was wise, then Socrates himself is a counterexample to (H1). The belief that one is wise could be a perfectly well justified belief for a wise person. Having the belief that one is wise does not, in itself, eliminate the possibility that the person is wise. Nor does it guarantee the vice of arrogance. We should hope that a wise person would have a healthy dose of epistemic self-confidence, appreciate that she is wise, and share her understanding of reality with the rest of us who could benefit from her wisdom. Thus, the belief that one is not wise is not required for wisdom. (H1) focused on believing one is not wise. Another version of the humility theory is worth considering. When Socrates demonstrates that a person is not wise, he does so by showing that the person lacks some knowledge that he or she claims to possess. Thus, one might think that Socrates' view could be better captured by focusing on the idea that wise people believe they lack knowledge (rather than lacking wisdom). That is, one might consider the following view: Humility Theory 2 (H2): S is wise iff S believes S does not know anything. Unfortunately, this interpretation is not any better than (H1). It falls prey to problems similar to those that refuted (H1) both as an interpretation of Socrates, and as an acceptable account of wisdom. Moreover, remember that Socrates admits that the craftsmen do have some knowledge. Socrates might have considered them to be wise if they had restricted their confidence and claims to knowledge to what they actually did know about their craft. Their problem was that they professed to have knowledge beyond their area of expertise. The problem was not that they claimed to have knowledge. Before turning to alternative approaches to wisdom, it is worth mentioning another interpretation of Socrates that fits with the general spirit of epistemic humility. One might think that what Socrates is establishing is that his wisdom is found in his realization that human wisdom is not a particularly valuable kind of wisdom. Only the gods possess the kind of wisdom that is truly valuable. This is clearly one of Socrates' insights, but it does not provide us with an understanding of the nature of wisdom. It tells us only of its comparative value. Merely understanding this evaluative insight would not, for reasons similar to those discussed with (HP1) and (HP2), make one wise. Humility theories of wisdom are not promising, but they do, perhaps, provide us with some important character traits associated with wise people. Wise people, one might argue, possess epistemic self-confidence, yet lack epistemic arrogance. Wise people tend to acknowledge their fallibility, and wise people are reflective, introspective, and tolerant of uncertainty. Any acceptable theory of wisdom ought to be compatible with such traits. However, those traits are not, in and of themselves, definitive of wisdom."
Ref
My Methodological Skepticism Style
Philosophical Skepticism, Solipsism and the Denial of Reality or Certainty
---
"String theory, the multiverse and other ideas of modern physics are potentially untestable. At a historic meeting in Munich, scientists and philosophers asked: should we trust them anyway? And, as many in Munich were surprised to learn, falsificationism is no longer the reigning philosophy of science. Massimo Pigliucci, a philosopher at the Graduate Center of the City University of New York, pointed out that falsifiability is woefully inadequate as a separator of science and nonscience, as Popper himself recognized. Astrology, for instance, is falsifiable — indeed, it has been falsified ad nauseam — and yet it isn't science. Physicists' preoccupation with Popper "is really something that needs to stop," Pigliucci said. "We need to talk about current philosophy of science. We don't talk about something that was current 50 years ago." Nowadays, as several philosophers at the workshop said, Popperian falsificationism has been supplanted by Bayesian confirmation theory, or Bayesianism, a modern framework based on the 18th-century probability theory of the English statistician and minister Thomas Bayes. Bayesianism allows for the fact that modern scientific theories typically make claims far beyond what can be directly observed — no one has ever seen an atom — and so today's theories often resist a falsified-unfalsified dichotomy. Instead, trust in a theory often falls somewhere along a continuum, sliding up or down between 0 and 100 percent as new information becomes available. "The Bayesian framework is much more flexible" than Popper's theory, said Stephan Hartmann, a Bayesian philosopher at LMU. "It also connects nicely to the psychology of reasoning." Gross concurred, saying that, upon learning about Bayesian confirmation theory from Dawid's book, he felt "somewhat like the Molière character who said, 'Oh my God, I've been talking prose all my life!'" Another advantage of Bayesianism, Hartmann said, is that it is enabling philosophers like Dawid to figure out "how this non-empirical evidence fits in, or can be fit in."" Ref