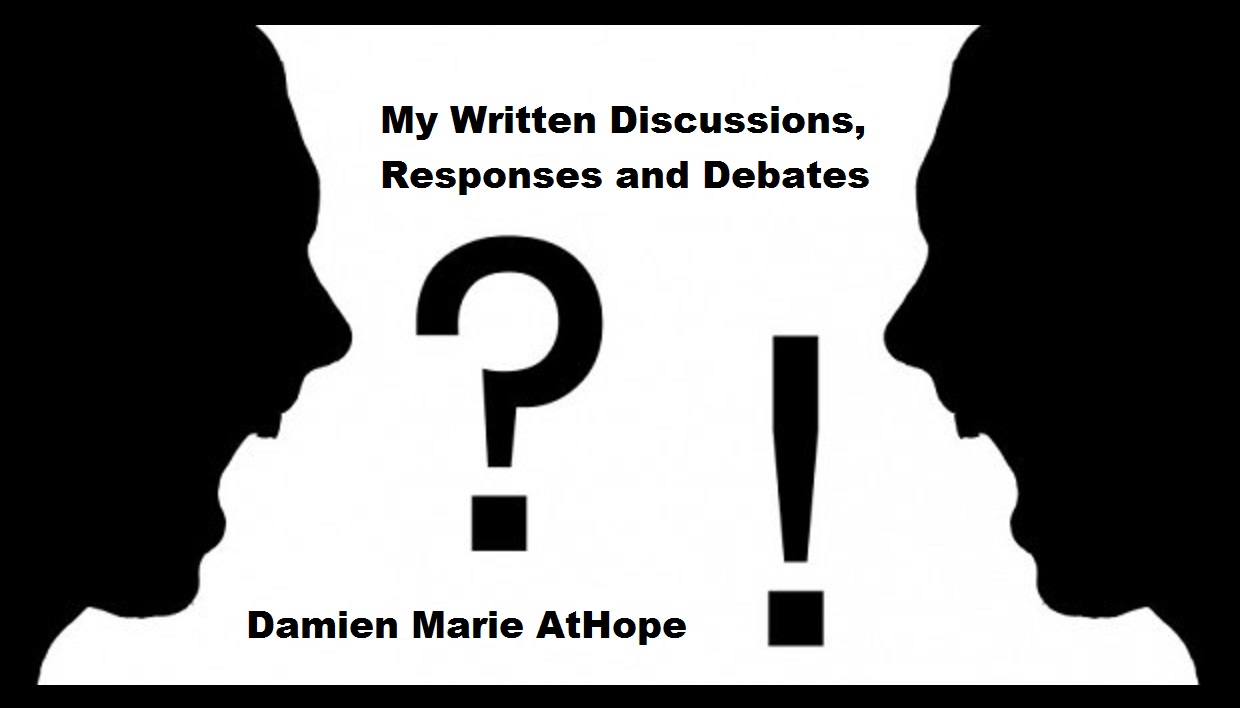 My Written Discussions, Responses and Debates
Secular Sunday School Atheist (Accommodationist Atheist): Good to see you Saturday. Glad you got out to an event. Thought you'd be around to talk, but you left early. We'll get our chance to talk soon enough. Damien Marie AtHope: I realize I don't fit there and so I left and also left the group. Others have the right to do atheism their way. I am just not into that style I feel out of place an so I need to do my own thing not disrupt the rights of others. I am just to firebrand atheist and that is not against others just my style. I see I will not fit in here and do not feel here needs to change for me nor am I going to change for here. I have tried to make it work and still wish others well but I felt out of place. I don't want to argue or feel I don't fit and I see others do and that's good but I felt I needed to go. Accommodationist Atheist: I wouldn't have guessed, but I understand, and I'm sorry to hear it. I thought I was the one that didn't fit in there. I think atheists sometimes put too much emphasis on being individualistic and independent and not enough on being connected personally to a group. Of course you need to do what's right for you. Good luck with your book. Damien Marie AtHope: Thanks most of the people I talked to are accomodationism atheists so many are more like you then me. And I appreciate your thoughtful words and wish you well…
Damien Marie AtHope vs. Artur Pawlowski Occurred: Calgary, Alberta Wednesday, May 25 American Atheist: why there is no gods and why gods are not needed for morality. Calgary Street Church: why the Bible God exists and why the Bible God is needed for morality. Damien Marie AtHope: Atheist, Antitheist, Antireligionist, Humanist, Writer, Artist, Poet, Philosopher & Activist Artur Pawlowski: is a street preacher in Calgary, Alberta, Canada. He operates a Christian organization and street outreach called Street Church Artur Pawlowski has also spent much time in court due to charges laid against him by the Calgary Police Department. On October 24, 2013 he was covered by the National Post stating that Calgary officials have a vendetta against him. DAVID J. CLIMENHAGA JULY 8, 2012 stated Artur Pawlowski is Calgary's most turbulent priest. Ref According to Canada for Jesus Christ March 28 Street Church Ministries and Artur Pawlowski, labeled by the media and so many church goers and Canadians as one of the most unloving, intolerant bigot and evil men in Canada lost its tax privilege in 2008 for politicly incorrect preaching against divorce, abortion and homosexuality, month after month is founded by the polish immigrant Artur Pawlowski that fights against dictatorship and abuse of power in the land of Canada and feeds Canadian citizens without any support from the local churches. Ref Here is my (American Atheist) blog post on my street activism Here is the Calgary Street Church web page Here is the Facebook event: American Atheist Challenges Calgary Street Church…
"Damien, how is Trump a threat to human rights, equality, and dignity, or the environment? He hasn't done anything but build an empire and created jobs. What do you mean? A threat?"   This person was responding to my quote: "People have EVERY right to be outraged over Trump. This is a threat to human rights, equality, and dignity, not to mention the environment. So, this is very important and it is very serious."  Here is what I mean by a threat to:   * Environment * Anti-abortion * Anti-LGBT * Racism * Sexism * Xenophobia * Anti union * Anti free speech * Threat of Economic Recession * Threat to health care * Violent rhetoric * Embolden White Hate Groups: KKK, Nazis, and Fascists * Threat of War and torture * Nuclear Threats   ETC. ETC. ETC. Trump's real assault on free speech isn't his rhetoric at rallies but his frequent attempts to use authority to silence critics. Ref Trump once said (about a contested GOP convention) I think you'd have riots, if you disenfranchise millions of people, and you say, 'I'm sorry, you're votes short'…I think you'd have problems like you've never seen before. I think bad things would happen. Ref "Riots"? It's hard to say whether this is intended as a threat or a prediction. #notmypresident I oppose Fascism but what is Fascism? Donald Trump is our next president. What do we tell the children? "A Dream Dissolved" I once had a dream of America as a place charging hard to virtuous aspersions of human dignity, justice, equality, and freedom. But no, I was only dreaming, as the hope I so endeared,…
I am often amazed, sometimes frustrated, and even at times horrified by fideists, theists, and religionists because of their wild beliefs and similarly wild arguments trying to defend them. They will challenge every proof science can demonstrate that is not in line with what they want to believe or outright contradicts their wishfully thinking and yet believe wild accounts, magical thinking, or some book of fables with nothing but proof devoid empty claims that either have no demonstration or that fail when a demonstration is attempted. Anyone who likes bible fairytales should really let them go as we have The Lord of the Rings. Damien, I have made many hard-core atheists admit god is possible.   Well cool you can try. Before you get started trying to get me to concede to some possibility in reality that connects to the term god, if you think you can. To me you must say what is a god. And not some made up term found in uncredible holy books or some wishful thinking somethingness. Likewise, you mist say how you establish the term gods beingness and attributes or definition, its place in space and or time and how you know this or have good reason to think this with some valid and reliable reason and evidence that only points to the reported beingness and attributes or definition of what you say the term god entails. Damien, if atheism is supposed to be based on pure rational thought, meaning that only things which are tangible to the 5 senses are to be considered real and valid, then how do you reconcile that actual fact…
The Principles of Body Sovereignty   1. Every individual owns his body.   2. As owner of his body each individual has the right to decide:   (a) where it is located (b) how it is housed or clothed (c) how it is nourished (d) how it is maintained. (e) how it is trained or disciplined.   3. As owner of his body each individual has the right to determine what goes into it (food, drugs, organs) and the disposition of what comes out of it (tissue, excrement, work.)   4. As owner of his body each individual has the right to decide what is done to and with his body (sexual relations, medical procedures, physical contact.) Every individual owns the products of his body (work, ideas, organs, tissue, waste.) Ref Damien, I support your atheism and I believe in a Godless universe, I do support tradition. Going against circumcision is like trying to restrict woman's right to choose by those who oppose you. They want the government out of your business, but inside your pants. What you are advocating here has the smell of the same kind of intervention. Let them do it if they believe it's important, if this is what they view as their religious obligation. The kid will not remember the single moment of pain. I don't, and I bet, you don't. There is no long term damage in consequence. So don't fight it; let it go. My Response, what about child's body sovereignty rights? What matters more to you violation of ethics or tradition, and if you think a violation of rights is ok…
How I come across?   Here is how I was told I come across:   "you come across so strongly with your ideas that it feels like you don't care about anyone else in the room. And if you ask about others' ideas, it is to compare them to your own. You don't seem genuinely curious about other people, just focused on axiology, your book, etc. If you are interested in other people for their own sakes, they respond better. If people get the idea that you're just in the room to tell people about yourself, that's a turn-off. You might see it differently, but that's how it looks to others."   Here is my response:   I do like hearing ideas other than my own but also like telling what I think. I left a local atheist event before it was over (because it was mainly geared for weak atheists, accommodationist atheists and religious atheists) as I wanted to respect that others have the right to be different than me. I do have strong opinions and a strong personality, but do strive to respect the self rights of others. This means I realize I am not a good fit for every type of group or type of people atheist or otherwise. I do say even if I do not agree with others style of atheism, I do not think there is a right style of atheism. neither others atheism style or mine, as the type that works for others is good for them, just as the one I like works for me. I believe people own themselves and…
The Attack *Damien, shut the fuck up…. Just cause your atheist doesn't mean you need to advertise it! Have fun condemned after death. I must admit I don't know how to explain god , but I also don't know how to explain , gravity,dark matter,the universe,where it came from ? Closed minded piece of shit. My response: You are a victim of arcane fear and the control dynamic that emerged from it called the belief in gods and I am both sorry for you as well as glad you reached out as you then have an opportunity to learn some real truth. I am not your enemy, in fact I am your champion willing to fight the odds and believe in your power of self mastery to see beyond the prison of lies that keep you bound. Are you willing to see the truth I lay at your feet, the open doorway to a life in the beauty of the godless natural reality, to often tarnished by the conspiracies of reality that are so prominent in religions and god beliefs. A closed mind is one talking about made up fairy tales that they were indoctrinated in as a child and not learning real facts about the world. Are you as open minded as you think? Or are you already to see what is actually true? The question is how open are you really. I will guess you are some version of christain likely believing in jesus. So I will give you this blog post I made that could change your life if you read it with an open mind. Debunking Jesus…
In America Christbots be like "god and country" where Atheists be like "world fucking peace!" (Anonymous: not my quote) but I did post the meme on my page and received the following response: Damien, that's why north Korea is an atheist country. World would be better if everyone practices their faith in its true form and ignore the falsehood stuff written in some of scriptures as far as I know Guru granth sahib is the only scientifically correct and peace promoting religious scripture. My response, No, North Korea has the religion of "Juche", North Korea states, is a "man-centered ideology" in which the "man is the master of everything and decides everything". Religion in North Korea: Juche (64.3%), Korean shamanism (16%), Chondoism (13.5%), Buddhism (4.5%), and Christianity (1.7%). Juche, usually translated as "self-reliance", is the official political ideology of North Korea, described by the regime as Kim Il-Sung's "original, brilliant and revolutionary contribution to national and international thought". One more a kind of political ideology is now today no longer just an ideology, but a full-fledged religion that worships Kim Il Sung as god, and his son, Kim Jong Il as the son of god. Whether or not Kim Jong Un is now worshipped as the grandson of god remains to be seen. Besides this the sole organized religion that has an official status is Chondoism, which is represented in politics by the Party of the Young Friends of the Heavenly Way, and is regarded by the government as Korea's "national religion" because of its identity as a minjung (popular) and "revolutionary anti-imperialist" movement but still religious. Moreover, Guru…
I was chastised in a private message on my page Axiological Atheist, here is my responses:   "religion in general isn't all bad"   …. this is not a justification for anything, it's more an excuse. Poison, taken in small amounts in general isn't all bad, that does not make it good nor does it somehow remove it from the need to be critical of its use….   "your page and it seemed Christianity"   …. So what if it was only about challenging one religion? But this page in general anti-fideism, anti-all-religions, strong-atheist: anti all gods, anti-agnostic/pro-ignostic, anti-pseudo-science, anti-pseudo-history, and anti-pseudo-morality. Secular Humanist, rationalist, as well as promotes science, philosophy, realism, and axiology….   "I'm still researching multiple religions and historical texts"   …. Want to know a little on religions? Here is my blog post: *Evolution of Religion & Religious Sexism* http://damienmarieathope.com/2015/10/30/speech-on-the-evolution-of-religion-religious-sexism/   "the subject of Christianity, especially derived from the Old Testament but the New Testament translated multiple times these messages, or "letters" as most of the book is composed of, are misconstrued."   …. I know a lot on Christianity the religion of my upbringing which I was until age 36 when Ii became an atheist in college; I am 45 now. There are only 21 letters in the New Testament most written by Paul. The Old Testament (also known as the Jewish Tanakh) is the first 39 books in most Christian Bibles. Christian Bibles range from the 66 books of the Protestant canon to the 81 books in the Ethiopian Orthodox Church canon. Here is a link to a side by side literal translation…
Taxonomy of Race? A Social construct? A biological reality? Or is it both? *Challenger, sorry, Damien, but "We" didn't separate ourselves – different continents and evolution that took place upon them, did. Damien, all people are 99.9 genetically identical in our genetic makeup. https://www.genome.gov/19016904/faq-about-genetic-and-genomic-science/ There is no taxonomy of races, race is an informal rank in the taxonomic hierarchy. https://www.scientificamerican.com/article/race-is-a-social-construct-scientists-argue/ *Challenger, read a book called, 'A Troublesome Inheritance' by Nicholas Wade. It's about evolution so I know you'll find it interesting. Damien, I will look into it. *Challenger, check out this link https://www.youtube.com/watch?v=Tb2iFikOwYU&feature=youtu.be Damien, I looked into it and I am not interested in the book as it's not supported by science. http://www.americanscientist.org/bookshelf/pub/a-troubling-tome *Challenger, it is supported by science. Read the preface and you'll find out why so many people came out so strongly against it. Here's a good doc that will ease you into the genetics of race without going full race realist on race differences in cognitive ability. "Aarathi Prasad sets out to challenge the science of racial purity and examines provocative claims that there are in fact biological advantages to being mixed race." https://www.youtube.com/shared?ci=jhCuuw0vF64 Damien, did you check out the link I gave it rejects his claim and the same is true for the first link I gave. If He thinks different ok. Here is another link Science Says: There Is No Such Thing As Race! https://www.youtube.com/shared?ci=4OPrLZ8pjOU *Challenger, it's a form of religious thinking. If something doesn't conform with our kumbaya world view, deny it. I grant her, that it might be helpful for human comradely to think in these terms, but just because these views…
I posted a video: Atheist in a Wheelchair challenges a street preacher: https://www.youtube.com/watch?feature=share&v=_P7voWUkJnA&app=desktop Challenger, The atheist in the wheelchair looks like he ate his former Christian self. He is against Jesus because Jesus commanded his followers to fast. God doesn't exist because that fat piece of shit ate him. My response, I am the Atheist in the video so you are talking directly to me and I feel ashamed for your lack of intellectual integrity with your comments attacking the person like an inferior quality person. Bring it on then. Lol Challenger, You are a social justice warrior, I find that to be enough comedy. My response, I would laugh at your shamefulness but it's quite immoral so all I can do is see we have such lack of moral standards as thinkers and hope one day you respect yourself more. Challenger, There is nothing immoral in stating facts. Prove I said anything immoral. My response, immoral: violating moral principles; not conforming to the patterns of conduct usually accepted or established as consistent with principles of personal and social ethics. "Intellectually honest" means you make arguments you think are true, as opposed to making the arguments you are "supposed" to make and/or avoiding making arguments that you think are true that you aren't "supposed" to make. Yes, can't stand the message and cannot defend or challenge a belief without shaming your character. People of honor would challenge me not you. You desecrate you trying to shame me. Good going.  🙂 Challenger, I just hate Brian Fields, and this picture was funny. My response, lie as you did nothing different…
I wrote a post, then received a challenger this is our diologe: "Forget it, I am not that concerned with how my truth hurts your beliefs as I am at how your beliefs hurt the truth…" Challenger, Subjective or objective truth? Damien Marie AtHope, What about it are you asking, please restate your question? Thanks. Here is my blog post, "Grasping the status of truth (ontology of truth)" http://damienmarieathope.com/2016/09/18/grasping-the-status-of-truth-ontology-of-truth/ Challenger, Questioning your meaning of the word "truth" that you used above. The second mention of the word to be exact, as the first mention is obviously suggestive. Damien Marie AtHope, I posted my blog on the ontology of truth. Challenger, I don't care to read your blog, thanks anyway. I'm aware of the different types of "truth". Damien Marie AtHope, Cool. Challenger, You're good at shrugging people off, btw, experienced your talent at the Reason Rally also. Damien Marie AtHope, Is that meant as a compliment or an Insite you feel should show me where I can improve as a person? Challenger, I honestly wondered then, and I'm wondering again now if you're just a billboard for yourself or an atheist activist. Just being perfectly honest, nothing more. Damien Marie AtHope, Well I always welcome true correction if it is needed. And I will consider what you said and hear how you felt experiencing me. I always with to improve do thanks for bringing it to my attention. Challenger, Simple questions can have simple answers. And it's good to know who your fellow activists are. Damien Marie AtHope, I hope to demonstrate with my life that I want to…
A Challenger responded to,  "Sending women dick pics is for amateurs. real men get out there and disappoint women in real life." (So, don't send unsolicited sexual pleasures, ask.) Challenger, vaginas are disappointing… Damien Marie AtHope, Are you being helpful? Are you saying the ones in your life? Are you saying all the ones in your personal sexual relationships? Are you saying this, to me, someone else, or your belief about the entire world. I need more information please. Like, is that expression what makes men send the pics or just your personal preference or where who just wanting the attention of saying someone will say your sexist I would not say that as the comment was to disappointing to not just respond to it directly. Challenger, i am getting people's goats damien shhhh Damien Marie AtHope, ok Challenger, Ha Ha and I got your this is fun and I am quite unstable as well as in a dark mood right not so mean sound interesting really I am not saying I am good at it so please teach me. Challenger, honestly though, i am pointing out the double standard in the comments as to saying mens sexual organs are disappointing and that being laughable, but saying something about women's sexual organs is usually deemed sexist especially if it is derogatory. Challenger, but then again, we dont hear about the epidemic of vagina pics because it likely doesn't exist. Challenger, not to victim blame, but guys probably bring this on themselves. Challenger, ive never sent a dick pick, and i honestly love vaginas… they are leaps and bounds more…
Two Atheists philosophers: Damien AtHope (Autodidact Philosopher) and Challenger (with a MA. Philosophy) debate "spiritual" Challenger, A lot of philosophers discuss "spiritual" things that have nothing to do with the supernatural. "Hadot acknowledges his use of the term "spiritual exercises" may create anxieties, by associating philosophical practices more closely with religious devotion than typically done (Nussbaum 1996, 353-4; Cooper 2010). Hadot's use of the adjective "spiritual" (or sometimes "existential") indeed aims to capture how these practices, like devotional practices in the religious traditions (6a), are aimed at generating and reactivating a constant way of living and perceiving in prokopta, despite the distractions, temptations, and difficulties of life. For this reason, they call upon far more than "reason alone."" http://www.iep.utm.edu/hadot/#H5 Damien Marie AtHope, God has many definitions yet lack epistemic justification, If there is some "spiritual" I want to hear a clear and evidence rich offering with valid and reliable reason one evidence full with adherence to epistemic rationality. Challenger, Hadot's concept of spiritual exercise is based on ancient philosophy and is quite secular in nature. It has been adopted quite a bit by a lot of cognitive behavior therapy as well. There is something to be said against viewing philosophy as a mere handmaiden to science, though. So, cognitive behavioral therapy is not necessarily needed to think there's a philosophical point to spiritual exercises. I wrote a bit about this issue a long time ago here. https://www.facebook.com/notes/ethical-realism/what-it-really-means-to-be-spiritual/215937618383 Damien Marie AtHope, here are two of my blogs Spiritual Woo Woo, Trying to Make Magic of Reality  and Addressing The Ethics of Belief Challenger, The second link you posted right now is not…
Challenger, You seem to put a great deal of faith in atheism. It must be difficult in proving that God doesn't exist. Damien Marie AtHope, I seem to have a rational standard to what I believe. I am epistemically rational and value the ethics of belief. Addressing The Ethics of Belief: http://damienmarieathope.com/2016/02/29/addressing-the-ethics-of-belief/ Challenger, How do you scientifically prove that randomness is your creator? Even physicists believe in a theory of everything, which means there is a divine stability of the universe. Damien Marie AtHope, You would be redefining what you accept as the term creator to that which is only saying everything is natural world connected. Yes, there is only natural world or it's a non-real world claims to try and add magic god status when it has never even been shown to be anything supernatural. Challenger, The natural world is governed by a set of rules. Damien Marie AtHope, And? Don't be Boxed in by Abstraction: http://damienmarieathope.com/2016/12/15/dont-be-boxed-in-by-abstraction/ Challenger, My suspicion is that you suffer from pride. Damien Marie AtHope, Challenger and if I have all the pride in the world what does that have to do with my truth? Challenger, God hates pride. Damien Marie AtHope, Challenger what is a god? What is a god? Just an Empty Label: http://damienmarieathope.com/2016/11/16/what-is-a-god-just-a-empty-label/ Challenger, When you pass into the next stage of life with such pride, you're going to regret it. The beginning of wisdom is the fear of the Lord. Damien Marie AtHope, what is a Lord? I Am a Strong Atheist: "I am psychologically certain god(s) don't exist": http://damienmarieathope.com/2016/11/05/i-am-a-strong-atheist-i-am-psychologically-certain-gods-dont-exist/ Challenger, According to the Bible, there is coming a day…
What you are about to read regards "love", A correspondence between two thinkers, Jersey Flight and Damien Marie AtHope *I, Damien offer that love is not one thing, but is definable even in romantic love. Six Types of Love Eros: is romantic, passionate, love. In this type of relationship, love is life's most important thing. A search for physical beauty or an ideal type also typifies this type of love. Ludus: is a game-playing or uncommitted love. Lying is part of the game. A person who pursues ludic love may have many conquests but remains uncommitted. Storge: is a slow developing, friendship-based loved. People with this type of relationship like to participate in activities together. Often storge results in a long-term relationship in which sex might not be very intense or passionate. Pragma: is a pragmatic, practical, mutually beneficial relationship. It may be somewhat unromantic. A person who leans toward this type of relationship may look for a partner at work or where the person is spending time. Sex is likely to be seen as a technical matter needed for producing children, if they are desired. Mania: is an obsessive or possessive love, jealous and extreme. A person in love this way is likely to do something crazy or silly, such as stalking. Agape: is a gentle, caring, giving type of love, brotherly love, not concerned with the self. It is relatively rare. One study found that men were more likely to show the ludic type of love, while women were more likely to be storgic or pragmatic. Another study conducted in two American introductory psychology classes of over 250…
I will comment on me and then gender diversity: I consider my gender genderqueer, intersex, male Let me give you more background on me if you are interested in understanding me more. I am mildly intersex meaning I have biological and physical differences. Few of the obvious physical ones are I have female size nipples, hidden penis, and a non-closed internal pelvic opening. At birth, the underside of my penis had a small opening like a pseudo vagina which was surgically closed at birth. Therefore, I had "severe hypospadias" of my penis or specifically "Penile/urethral hyospadia". http://www.nature.com/nrg/journal/v4/n6/images/nrg1083-f2.gif Severe hypospadias a very mild form of intersex (under-virilization of a genetic male). Hypospadias is the most common anomaly of the penis affecting approximately one in 250 males born. Biologically, I had my testosterone checked and it is so low that it is less than some women. Mentally and emotionally, I am often more attracted to feminine things such as watching a play than playing sports, being creative than working on a car. I enjoy cooking, shopping, clothes styalist, decorating, getting manicure and pedicures, painting my nails, I have tattooed eye liner as well, and when around a group of women, I often forget I am male. I have always felt offended when women are put down and not valued since it feels like it is against me. Even in one of my counseling courses in a brick school for my bachelors, the class was 20 students and I did not realize I was the only male until the professor asked me how does it feel to be the only male in…
Atheist for Equality I am not shy with what I think is right, especially about equality. I have strong opinions when it comes to women's equality, LGBTQIA equality, race equality, as well as class equality and it amazes me how many atheists are still not on the same page. What the hell is up with that? Here is one of my blog posts: Atheism and LGBTQI rights or support? And yeah, I am a feminist. I am not cool with the so called Men's rights movement is mostly an anti feminism movement. Here is an article about: 5 Uncomfortable Truths Behind the Men's Rights Movement. As a humanist and a secularist I also have a hard time getting how other that see value in such labels don't hold equality as a must in any aware humanity; now I know many do but why not all? Also as a one who is found of socialist anarchism which I know almost all are supporters of equality as well as often feminist, maybe not in some specific feminist movement (though they may be anarcha-feminists), I too am in this anarcha-feminist line of thinking so for me and many others its about the no gods no masters and women should not be seen as equal, they are actually equal and should never been treated as less than equal. And just as we still have racism today we still have sexism. To me we all should see a reason to be feminist just as we all should see a reason to be for LGBTQIA equality, race equality, as well and yes to me, the so called Men's rights…
Think there is no objective morality?   So, if I can show one simple objective morality fact then there is at least the possibility of objective morality right? Humans/feeling beings/life are to be protected over dirt/garbage/non-life, and to care for the harm of dirt/garbage/non-life over the harm of Humans/feeling beings/life is unethical and of course a possibility of objective morality right? Are there objective facts about or in the world? Yes, then we indeed can evaluate them objectively. So yes, then we can say what is a better or worse choice objectively in relation to the objective facts. "Morality Confusion" doesn't start at the dilemma but the value judgments of the parts. Morality is not just the final conclusion reached or offered but all the parts that are involved and the most responsible and reasonable based on the assumption that there are a set of things not just one thing involved and this an assessment of the "value" of what's involved and thus what would be a "most responsible and reasonable choice. So, are there objective facts? Is there such thing as objective methods? Can we objectively conclude the value of objective facts with objective methods to conclude objective conclusions of value of or in relation to objective facts? To me it is an answer of yes and thus morality is not a special thing it to can involve objective facts and objective methods and thus can involve objectively conclusions about the value of objective facts with the objective methods to conclude objective conclusions of value of or in relation to objective facts.
"Damien, For a writer and claimed atheist you really are not very logical." – Challenger "I have no beliefs", is a nonsense statement I hear some atheists say that is not just inaccurate, it is a harmful confusion hindering the value of accurate beliefs over inaccurate, misleading beliefs or false beliefs. So here is a conversation with an atheist that to me clearly demonstrates this thinking error that "I have no beliefs." Challenger, "Believe" is not the correct word for showing support in evolution. Belief is a word that should be reserved for things that people hold to be true without evidence or despite evidence to the contrary. When debating creationists we must choose our words carefully so that they don't say "you believe what you believe, and I believe what I believe" as if it's on a scale with equal weights. My response, here are my blogs on this topic: "Critical or Analytical Thinking and Suspension of Judgment, Disbelief or Belief" http://damienmarieathope.com/2016/03/24/critical-or-analytical-thinking-and-suspension-of-judgment-disbelief-or-belief/ "Addressing The Ethics of Belief" http://damienmarieathope.com/2016/02/29/addressing-the-ethics-of-belief/ "Yes, We All Have Beliefs; But What Does That Mean" http://damienmarieathope.com/2015/12/23/yes-we-all-have-beliefs-but-what-does-that-mean/ Challenger, I hold NO beliefs. I have reasonable expectations based on evidence. My response, so you disagree with cognitive/neurological science, psychology and philosophy, ok… Challenger, I gave my own perspective. My response, yes and its empirically wrong Challenger, give me an example of a belief you think I hold and I'll tell you why I don't. My response, what is belief? (philosophy): "belief" to refer to the attitude we have, roughly, whenever we take something to be the case or regard it as true.
Naturalism and Logical Positivism? *Questioner, Damien, what's the difference between naturalism and Logical Positivism? My responce, Well, to try and explain it at the simplest; to me naturalism is "what is" in discernible reality and Logical Positivism can be thought as kind of about the "limit of what is believed as available" to be true in a naturalism world. It's more complicated but that is kind of what is different to me. *Questioner, how do we respond to people who say that Logical Positivism is dead and therefore scientism is a self-refuting claim? Logical Positivism, Naturalistic Epistemology, and the Foundations of Psychology: "According to the standard account, logical positivism was the philosophical foundation of psychological neo-behaviorism. However, this interpretation has been questioned, suggesting that neo-behaviorism drew its philosophical inspiration from a different tradition, one more in keeping with naturalistic epistemology. Smith does not deny, however, the traditional interpretation of the philosophy of logical positivism, which sets it apart from naturalistic epistemology. Richard F. Kitchener suggests (following recent historical scholarship) that a more careful reading of the leading figure of logical positivism, Rudolph Carnap, shows an important naturalistic component in his philosophy. Hence, we must reevaluate our standard interpretation of the philosophy of logical positivism and its relation to psychological neo-behaviorism." https://www.jstor.org/stable/27759470?seq=1#page_scan_tab_contents "Neobehaviorism is a school of thought that posits that the study of learning and a focus on rigorous objective observational methods form the key to scientific psychology. Neobehaviorism is the second phase of behaviorism. In contrast to behaviorists, neobehaviorists tried to formalize behavioral laws and drew influence from positivists.
What's Wrong Believer? When I see, a believer complaining, I think, "What is wrong? Did prayer not work?" or "I thought everything happens for a reason?" The most fundamental believers seem to almost completely rely on pseudo-intuition for everything good feeling god is guiding you give him the glory but are sometimes practical in realizing things are going wrong but instead of blaming god or their reliance on pseudo-intuition think it's just life being unfair or hard. Moreover, even though fundamental believers sometimes are practical in realizing things are going wrong they do not connect that some of the things going wrong are directly because of them relying on pseudo-intuition. Intuition will work at times but it will also mislead you or may partially deviate from facts or reason, or even wholly pervert accusation of facts in giving deliverance to exaggerations or extravagances, impossibilities, or delusions. Consequently, at the very time when you suppose that you are being infallibly guided by intuition, you may in fact be strongly guided by pseudo-intuition which is something quite different. You may believe that you are honoring higher guidance when in actuality you are dishonoring facts or reason and choosing deceptions and unreason. Prayer: "a Useless Action Some Wrongly Think is Useful" Well, prayer often is used as a self-serving tool. In fact, many times, I have had prayer used against me as a threat and the ones who are threat or force praying against me believe by doing it supports their position in superiority and truth. Why would a religionist/fideist threat or force pray for as an atheist?
I was asked if I had heard of the "Aquatic Ape Theory/Hypothesis"? The aquatic apes theory/hypothesis (AAH) to me is more like the stuff of unsupported myth like: humans come from or were created by aliens, intelligent design, creationism, and not proven evolution. Standard evolutionary models suggest and supporting evidence shows the different features that make humans different appeared at separate times and for many different reasons. The AAH argues they all occurred because our ancestors decided to live in or near water. There are several problems with this bad idea… Here Are objections to the ridiculous hypothesis listed on RationalWiki The first is that convergent evolution predicts adaptations serving similar function, not necessarily similar structure. A platypus bill looks like a duck bill because it solves the precise same problem (sucking bugs out of mud); but the wings of a bat, a bird, and a bumblebee are products of convergent evolution in solving the problem of flight, but are structurally very different. Morgan's convergent evolution adaptations focus on structure. The second problem is that evidence provided for the AAH is equally well accounted for by savannah-based adaptations without needing to posit an aquatic phase of human development. Loss of body hair: lower parasite load (early hominids appear to have been disgusting skanks) and maintenance through sexual selection. Furthermore, many aquatic mammals have actually kept their body hair. Several other savannah species have also lost much of their hair including elephants, rhinoceroses, and naked mole rats. Although it is interesting to note that both elephants and rhinoceroses are theorised to have evolved from aquatic ancestors so they may not…
According to Jonathan Jenkins Ichikawa at The Stanford Encyclopedia of Philosophy, a correct analysis of knowledge would do more than pick out the actual extension of knowledge; even if, in actual fact, all cases of S knowing that p are cases of j, and all cases of the latter are cases of the former, j might fail as an analysis of knowledge. For example, it might be that there are possible cases of knowledge without j, or vice versa. A proper analysis of knowledge should at least be a necessary truth. Consequently, hypothetical thought experiments provide appropriate test cases for various analyses, but even a necessary biconditional linking knowledge to some state j would probably not be sufficient for an analysis of knowledge, although just what more is required is a matter of some controversy. Ref Knowledge without Belief? Justified beliefs or disbeliefs worthy of Knowledge? I wrote this and a challenger responded, " Atheism and the traditional laws of logic? Three traditional laws of logic: Law of Identity, Law of non-contradiction, Law of excluded middle. Law of Identity: 'Whatever is, is.' Thus, Atheism is Atheism, it is not theism nor agnosticism. Law of non-contradiction: 'Nothing can both be and not be.' Thus, Atheism is either only Atheism and cannot be also theism nor agnosticism. Law of excluded middle: 'Everything must either be or not be." Thus, Atheism must either be or not Atheism and only then can there be theism or agnosticism. And, thus because of the three traditional laws of logic the term agnostic atheism can be logically rejected for just Atheism by itself. Ref *Challenger, "Except theism and atheism are the subject…
"Atheist Reality TV" Here are the videos, part of a series I thought up, about doing a reality TV show like style or whatever someone would call this; because of responses I have had from many of my friends on Facebook who either don't get to go to atheist groups very much or not at all do to where they live and the lack of available meetings or groups to go to. My thinking is that it may be fun to watch and feel like you're involved in an atheist community or at least the next best thing. I thought of doing like a reality TV show style where a I point a camera at me when I am at atheist meetups, talking, developing ideas, giving my ideas, learning things or arguing with other atheists. (not scripted, not debate or not intentionally educational, just a real atheist group get together, like you are at an atheist meeting hearing what is being said) But only having the camera pointed at me to give others atheists privacy since many may not want their face to be made public. Many of us know how outing one 's self as atheist can bring issues depending on where you live or the culture or family you're from. Sadly being an atheist for some may carry a stigma. It is a shame that there are so many atheists that live their lives in secret but I am doing this so in a small way they don't have to be disconnected. There is many other venues and I hope to add this to that more alternatives the better.