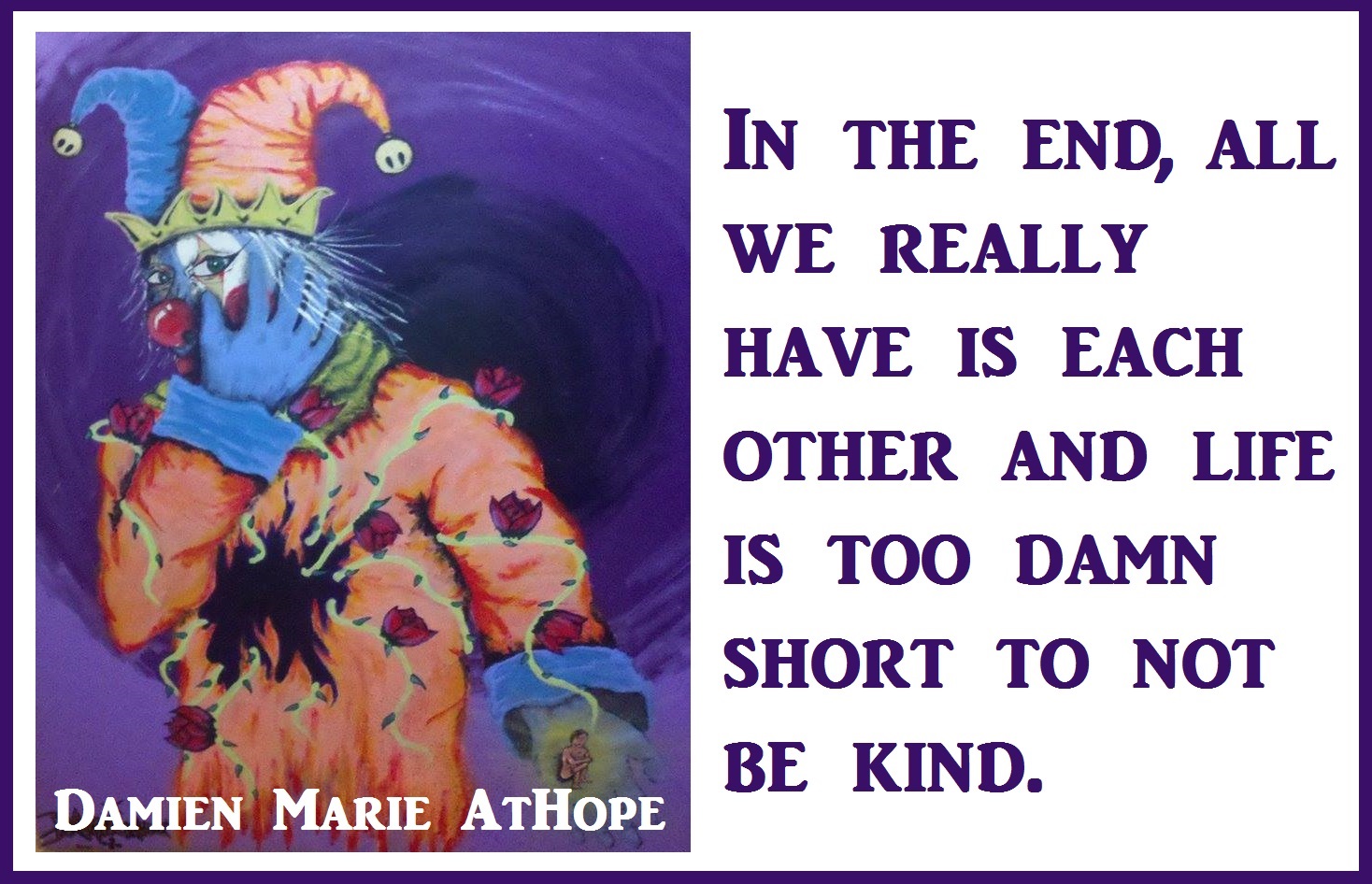 Dignity Enrichment: 1. acceptance of thinking or behavior, 2. show understanding, and 3. offer support for who and what they are.
Dignity Attacks: 1. critical challenge of thinking or behavior, 2. expose confution or irrationalism, and 3. offer rebuttal or rebuke of who and what they are.
Attacking the Person?
I strive to attack thinking and not people but I sometimes may use dignity attacks or character attacks about behavior or thinking people are doing. I only say things they can quickly fix or change. Then I will pressure them to change it. My point in doing this is help mirror the bad or errored thinking or behavior so they can change if they wish I try to never do it to hurt anyone as I see this as not a productive and potentially abusive.
However, if I only spend my time pointing fingers have I not wasted times I could have also offered helping hands. Thus, even though somethings things need to be harshly pointed out so to is there a need to be involved in the benefit of helping where we can. May my drive to help not be somehow silenced just because there is a need to fight all that is wrong. I want to thank everyone throughout my life that have treated me with compassion and kindness. From something as simple as a smile or comforting word, to things that create impacts so big they were life altering; you have written with the pen of love across my heart and have helped me be a person who strives to also show and treat others with compassion as well as kindness. I do not respect faith, I respect people. I value the sanctity of "rights" of every person to self define their beliefs and do not attack people because of what they believe. I say, attack thinking not people. We who truly value ourselves and others can and do make a better world. May we together fill the world with this shining example of humanity.
*Axiological Dignity Being Theory*
An "Axiological assessment of human beings" shows with an axiological awareness a logic of values is clear which takes as its basic premise that "all persons always deserve positive regard regard." – Progressive Logic by William J. Kelleher, Ph.D. And the reason why we should are is because we are Dignity Beings.
 "Dignity is an internal state of peace that comes with the recognition and acceptance of the value and vulnerability of all living things." – Donna Hicks (2011). Dignity: The Essential Role It Plays in Resolving Conflict
— Why care? Because we are Dignity Beings. —
Just Another Fellow Being of Dignity
I once thought no one is friendly, so, I decided to start trying to be a friend to others. No one even seemed to care, so, I realized, I needed to care. No one really made "you" feel as if you mattered, so, I started valuing others, I see the world I wish to live in starts with me. After all other people are just fellow beings of dignity like me…
I am inspired by philosophy, enlightened by archaeology and grounded by science that religious claims, on the whole, along with their magical gods, are but Dogmatic-Propaganda, myths and lies. Kindness beats prayers every time, even if you think prayer works, you know kindness works. Think otherwise, do both without telling people and see which one they notice. Aspire to master the heavens but don't forget about the ones in need still here on earth. You can be kind and never love but you cannot love and never be kind. Therefore, it is this generosity of humanity, we need the most of. So, if you can be kind, as in the end some of the best we can be to others is to exchange kindness. For too long now we have allowed the dark shadow of hate to cloud our minds, while we wait in silence as if pondering if there is a need to commiserate. For too long little has been done and we too often have been part of this dark clouded shame of hate. Simply, so many humans now but sadly one is still left asking, where is the humanity?
Why Ought We Care?
Because kindness is like chicken soup to the essence of who we are, by validating the safety needs of our dignity. When the valuing of dignity is followed, a deep respect for one's self and others as dignity beings has become one's path. When we can see with the eyes of love and kindness, how well we finally see and understand what a demonstrates of a mature being of dignity when we value the human rights of others, as we now see others in the world as fellow beings of dignity. We need to understand what should be honored in others as fellow dignity beings and the realization of the value involved in that. As well as strive to understand how an attack to a person's "human rights" is an attack to the value and worth of a dignity being. Yes, I want to see "you" that previous being of dignity worthy of high value and an honored moral weight to any violation of their self-ownership. And this dignity being with self-ownership rights is here before you seeking connection. what will you do, here you are in the question ever present even if never said aloud, do you see me now or are you stuck in trying to evaluate my value and assess worth as a fellow being of dignity. A violation of one's dignity (Which it the emotional, awareness or the emotional detection of the world) as a dignity being can be quite harmful, simply we must see how it can create some physiological disturbance in the dignity being its done to. I am a mutualistic thinker and to me we all are in this life together as fellow dignity beings. Therefore, I want my life to be of a benefit to others in the world. We are natural evolutionary derived dignity beings not supernatural magic derived soul/spirit beings. Stopping lying about who we are, as your made-up magic about reality which is forced causing a problem event (misunderstanding of axiological valuations) to the natural wonder of reality. What equals a dignity worth being, it is the being whose species has cognitive awareness and the expense of pain. To make another dignity being feel pain is to do an attack to their dignity as well as your own. What equals a dignity worth being, it is the being whose species has cognitive awareness and the expense of pain. When I was younger I felt proud when I harmed those I did not like now I find it deserving even if doing it was seen as the only choice as I now see us for who we are valuable beings of dignity. I am not as worried about how I break the box you believe I need to fit as I am worried about the possibility of your confining hopes of hindering me with your limits, these life traps you have decided about and for me are as owning character attacks to my dignity's needs which can be generalized as acceptance, understanding, and support. As I see it now, how odd I find it to have prejudice or bigotry against other humans who are intact previous fellow beings of dignity, we too often get blinded by the external packaging that holds a being of dignity internally. What I am saying don't judge by the outside see the worth and human value they have as a dignity being. Why is it easier to see what is wrong then what is right? Why do I struggle in speaking what my heart loves as thorough and as passionate as what I dislike or hate? When you say "an act of mercy" the thing that is being appealed to or for is the proposal of or for the human quality of dignity. May my lips be sweetened with words of encouragement and compassion. May my Heart stay warm in the arms kindness. May my life be an expression of love to the world. Dignity arises in our emotional awareness depending on cognition. Our dignity is involved when you feel connected feelings with people, animals, plants, places, things, and ideas. Our dignity is involved when we feel an emotional bond "my family", "my pet", "my religion", "my sport's team" etc. Because of the core sensitivity of our dignity, we feel that when we connect, then we are also acknowledging, understanding, and supporting a perceived sense of dignity. Even if it's not actually a dignity being in the case of plants, places, things, and ideas; and is rightly interacting with a dignity being in people and animals. We are trying to project "dignity developing motivation" towards them somewhere near equally even though human and animals don't have the same morality weight to them. I am anthropocentric (from Greek means "human being center") as an Axiological Atheist. I see humans value as above all other life's value. Some say well, we are animals so they disagree with my destination.  But how do the facts play out? So, you don't have any difference in value of life? Therefore, a bug is the same as a mouse, a mouse is the same as a dolphin, a dolphin is the same as a human, all to you have exactly the same value? You fight to protect the rights of each of them equally? And all killing of any of them is the same crime murder? I know I am an animal but you also know that we do have the term humans which no other animal is classified. And we don't take other animals to court as only humans and not any other animals are like us. We are also genetically connected to plants and stars and that still doesn't remove the special class humans removed from all other animals. A society where you can kill a human as easily as a mosquito would simply just not work ethically to me and it should not to any reasonable person either. If you think humans and animals are of equal value, are you obviously for stronger punishment for all animals to the level of humans? If so we need tougher laws against all animals including divorce and spousal or child support and we will jail any animal parent (deadbeat animal) who does not adequately as we have been avoiding this for too long and thankfully now that in the future the ideas about animals being equal we had to create a new animal police force and animal court system, not to mention are new animal jails as we will not accept such open child abuse and disregard for responsibilities? As we don't want to treat animals as that would be unjust to some humans, but how does this even make sense? To me it doesn't make sense as humans a different from all other animals even though some are similar in some ways. To further discuss my idea of *dignity developing motivation" can be seen in expressions like, I love you and I appreciate you. Or the behavior of living and appreciating. However, this is only true between higher cognitive aware beings as dignity and awareness of selfness is directly related to dignity awareness. The higher the dignity awareness the higher the moral weight of the dignity in the being's dignity. What do you think are the best ways to cultivate dignity? Well, to me dignity is not a fixed thing and it feels honored or honoring others as well as help self-helping and other helping; like ones we love or those in need, just as our dignity is affected by the interactions with others. We can value our own dignity and we can and do grow this way, but as I see it because we are a social animals we can usually we cannot fully flourish with our dignity. Thus, dignity is emotionally needy for other dignity beings that is why I surmise at least a partially why we feel empathy and compassion or emotional bonds even with animals is a dignity awareness and response. Like when we say "my pet" cat one is acknowledging our increased personal and emotional connecting. So, when we exchange in experience with a pet animal what we have done is we raze their dignity. Our dignity flourishes with acceptance, understanding and support. Our dignity withers with rejection, misunderstanding, and opposition. Dignity: is the emotional sensitivity of our sense of self or the emotional understanding about our sense of self. When you say, they have a right to what they believe, what I hear is you think I don't have a right to comment on it. Dignity is the emotional sensitivity of our sense of self or the emotional understanding about our sense of self. To me when we say it's wrong to kill a human, that person is appealing to our need to value the dignity of the person.' The person with whom may possibly be killed has a life essence with an attached value and moral weight valuations. And moral weight,' which is different depending on the value of the dignity being you are addressing understanding moral weight as a kind of liability, responsibility, or rights is actualized. So, it's the dignity to which we are saying validates the right to life. But I believe all living things with cognitively aware have a dignity. As to me dignity is the name I home to the emotional experience, emotional expression, emotional intelligence or sensitivity at the very core of our sense of self the more aware the hire that dignity value and thus worth. Dignity is often shredded similar to my thinking: "Moral, ethical, legal, and political discussions use the concept of dignity to express the idea that a being has an innate right to be valued, respected, and to receive ethical treatment. In the modern context dignity, can function as an extension of the Enlightenment-era concepts of inherent, inalienable rights. English-speakers often use the word "dignity" in prescriptive and cautionary ways: for example, in politics it can be used to critique the treatment of oppressed and vulnerable groups and peoples, but it has also been applied to cultures and sub-cultures, to religious beliefs and ideals, to animals used for food or research, and to plants. "Dignity" also has descriptive meanings pertaining to human worth. In general, the term has various functions and meanings depending on how the term is used and on the context." Dignity, authenticity and integrity are of the highest value to our experience, yet ones that we must define for ourselves. People of hurt and harm, you are not as free to attack other beings of dignity without any effect on you as you may think. So, I am sorry not sorry that there is no such thing in general, as hurting or harming other beings of dignity without psychological destruction to the dignity being in us. This is an understanding that once done hunts and harm of other beings of dignity emotionally/psychologically hurts and harms your life as an acceptance needy dignity being, as we commonly experience moral discuss involuntary as on our deepest level as dignity beings. Disgust is deeply related to our sense of morality.
Using Axiological Awareness to Assist in Argumentation
I hear some saying that the universe does not care and thus no one matters. However, the universe is not aware to make any thought or judgment of any kind. Just as a tree or rock, not understanding love does nothing to devalue love. Therefore, the universe not caring about humans is an invalid argument because it cannot be said to assess humans' value. Because of this fact, it is disqualified to provide any valid rebuke of value or what matters. Let me make this clearer, the universe can make no assessment at all and this means nothing to the truth status of anything, such as I could say the universe does not know I exist but that expresses nothing about me existing or not.
The Axiology of Knowing Others, the World and Oneself
Axiology (theory of value) Knowing Others and the World
1. INTRINSICALLY = empathy thinking: value who others and the world are
2. EXTRINSICALLY = practical thinking: what value others and the world have
3. SYSTEMICALLY = structured thinking: other-definition / world-definition and expectations
Axiology (theory of value) Knowing Oneself
4. INTRINSICALLY = empathy thinking: inner self value who I am
5. EXTRINSICALLY = practical thinking: outer value what I am to others and the world
6. SYSTEMICALLY = structured thinking: self-definition and expectations
Smith, B. (2011). Axiology for human behavior professionals. Dallas, TX: Clear Direction.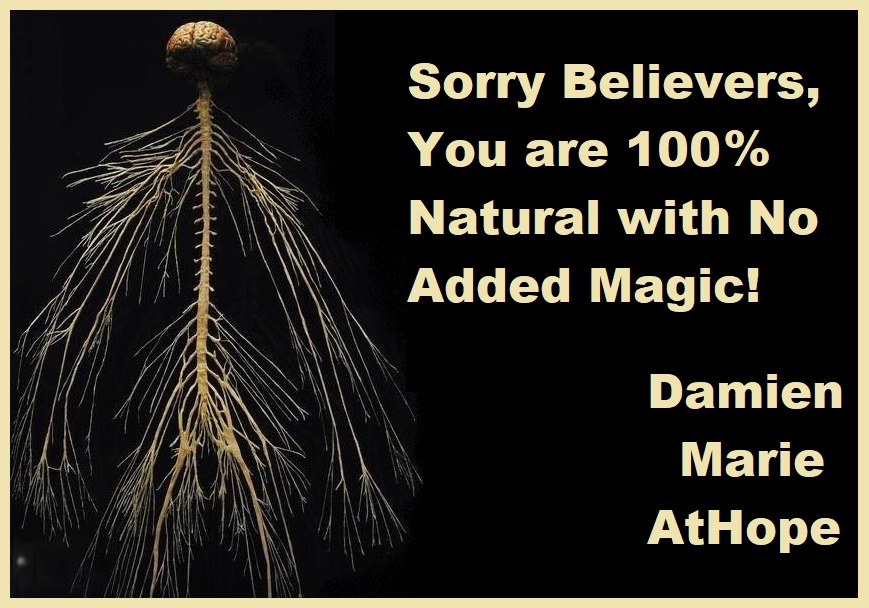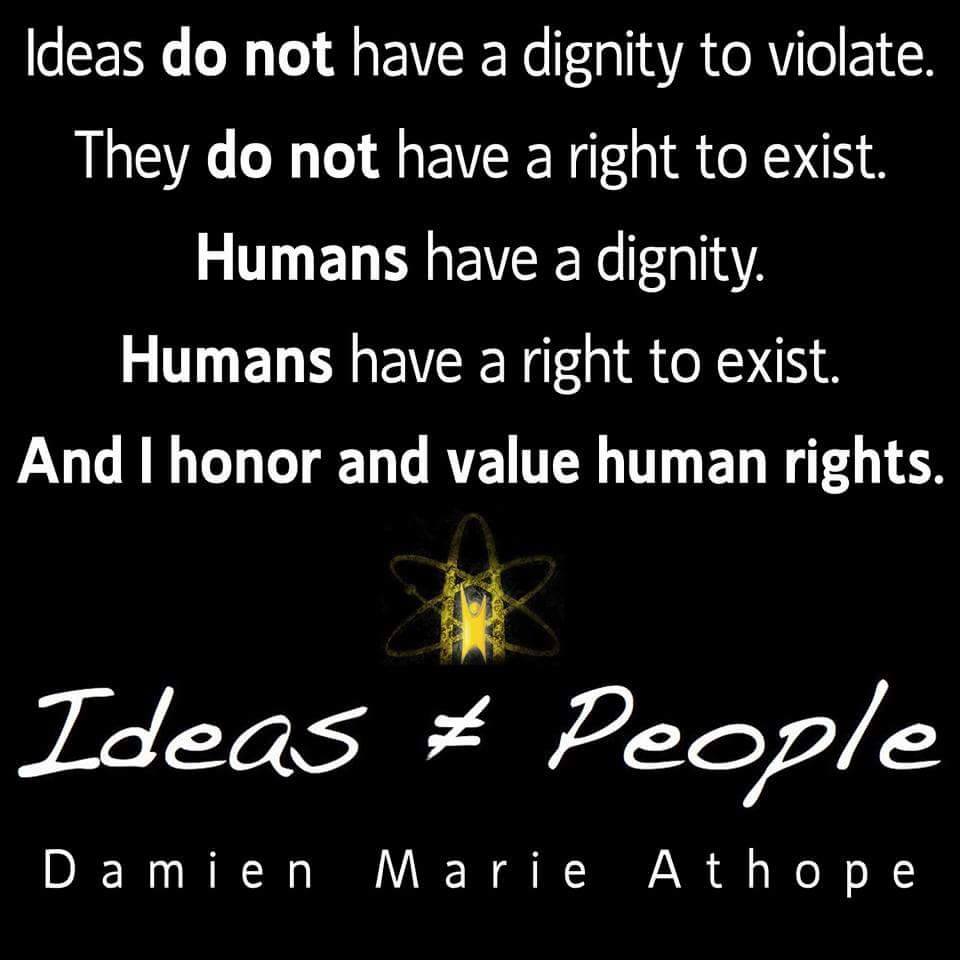 My Blog, My Memes & Short-writing or Quotes
Here is my external pages or content: Facebook Witter Page, My YouTube, My Linkedin, Twitter: @AthopeMarie, Instagram: damienathope, Personal Facebook Page, Secondary Personal Facebook Page, Main Atheist Facebook Page, Secondary Atheist Facebook Page, Facebook Leftist Political Page, Facebook Group: Atheist for Non-monogamy, Facebook Group: (HARP) Humanism, Atheism, Rationalism, & Philosophy and My Email: damien.marie.athope@gmail.com