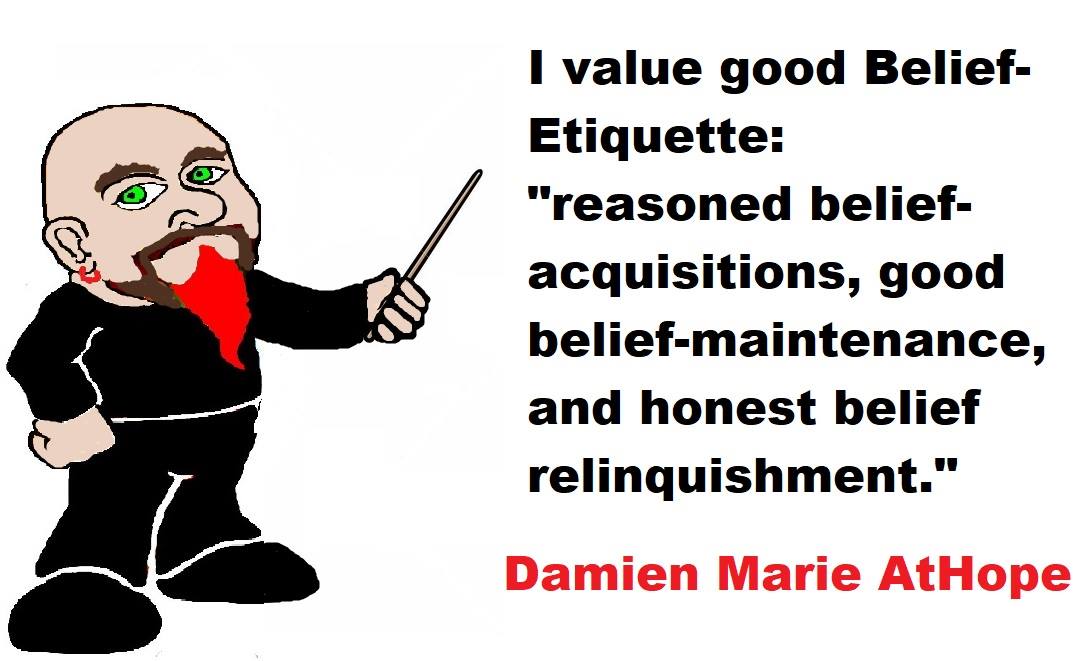 You don't like my truth? Well to be honest I didn't care much for your lies. In the honest search for truth there is no sides, only the actual truth. I must strive to embrace the truth the way it actually is. To me, there simply is and rightly must be an intellectual "ethical-responsibility" to justify the believed truth that is claimed as actually being true when stated as such. Such as how my thinking expressed or my behavior engaged in holds consequences as well as the unavoidable architecture or "ethical values" like responsibilities. Love and kindness are all we have in the end that makes life sense toward the psychological well being of almost everyone. I am no better than anyone, I too am just a fragile body alone in the world, if not for the kindness of others. Want to change the way I think? Fine. I let evidence lead my beliefs. So then where is your evidence, please. Impress me with your evidence and not your evidence devoid options. I am a mental nightmare walking to that which is false expressed as truth and radical thinker ever willing to be persuaded by valid and reliable reason and evidence. Thus, beliefs to me ethically demand a sound justification aka Truth as well as to be believed or acceptable as true. I am so free it's like a psychopath taking, king of my jungle, just a mental gainster stalking the menus of unchecked flawed thinking. Religion is not about truth, it's about indoctrinated faith. Do you really believe that even if clear documents demonstrate that Jesus had said he was not god, that they would stop all Belief, not hardly as it's not about truth. Just like if clear documents proved Mohammed had said he was not really a prophet of Allah but just made it up, that they would stop all Belief, not hardly. So again I say it's all about indoctrinated faith not truth. 
---
When do we start lying? Studies show that at around 2 years of age 30% will lie. At 3 years of age 50% will lie. And by 7-8 years of age 100% will lie. – (Through the Wormhole TV show)
"And still the world runs on the shoulder of truth…..at least we are all pretending very well everyday like cowards and liars…..there's no truth!" – Challenger
My response, you should rethink what you said about truth. You don't seem to get if there was no truth, that includes your statement that there is no truth. Because if it were then there would be some truth exposing your statement's internal contradiction.
---
---
I use a kind of Dialectical Rhetoric = truth persuasion (motivational teaching)
---
 Theists like to claim I cannot see the truth of theism, because I don't have faith. 
This just sounds like a fideist, they think faith is better than reason or possibly even evidence. But faith is strong belief either without evidence or contrary to reason or evidence. Thus, in the acquisition of knowledge faith is not worth believing in and furthermore if it takes faith to see a thing as real you're admitting such a thing has nothing to do with reality. The term "Fideism" itself derives from fides, the Latin word for faith, and can be rendered literally as faith-ism. Ref
---
I am not just an Atheist (disbelieving claims of gods), an Antitheist (seeing theism as harmful) and an Antireligionist (seeing religion as untrue and/or harmful). I am also a Rationalist, valuing and requiring reason and evidence to support beliefs or propositions as well as am against all pseudohistory, pseudoscience, and pseudomorality.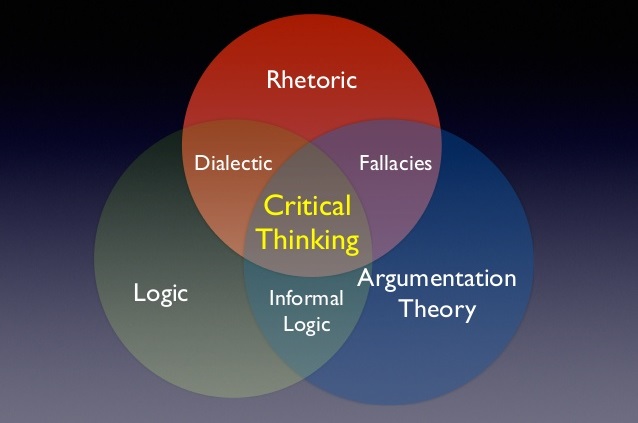 I don't really follow the socratic method, as I feel it is limited for me, it mainly is a dialectical only approach, seeking truth without persuasion. Like most dialectical approaches, It is a form of cooperative dialogue to stimulate critical thinking and to draw out ideas and underlying presumptions.
Religions have undialectical rhetoric = non-truth persuasion
I use a kind of Dialectical Rhetoric = truth persuasion (motivational teaching)
Aristotelian Rhetoric as Proof-Centered and Pertinent
"Aristotle joins Plato in criticizing contemporary manuals of rhetoric. But how does he manage to distinguish his own project from the criticized manuals? The general idea seems to be this: Previous theorists of rhetoric gave most of their attention to methods outside the subject; they taught how to slander, how to arouse emotions in the audience, or how to distract the attention of the hearers from the subject. This style of rhetoric promotes a situation in which juries and assemblies no longer form rational judgments about the given issues, but surrender to the litigants. Aristotelian rhetoric is different in this respect: it is centered on the rhetorical kind of proof, the enthymeme (see below §6), which is called the most important means of persuasion. Since people are most strongly convinced when they suppose that something has been proven (Rhet. I.1, 1355a5f.), there is no need for the orator to confuse or distract the audience by the use of emotional appeals, etc. In Aristotle's view an orator will be even more successful when he just picks up the convincing aspects of a given issue, thereby using commonly-held opinions as premises. Since people have a natural disposition for the true (Rhet. I.1, 1355a15f.) and every man has some contribution to make to the truth (Eudemian Ethics I.6, 1216b31,) there is no unbridgeable gap between the commonly-held opinions and what is true. This alleged affinity between the true and the persuasive justifies Aristotle's project of a rhetoric that essentially relies on the persuasiveness of pertinent argumentation; and it is just this argumentative character of Aristotelian rhetoric that explains the close affinity between rhetoric and dialectic. Aristotle's point of view: Even those who just try to establish what is just and true need the help of rhetoric when they are faced with a public audience. Aristotle tells us that it is impossible to teach such an audience, even if the speaker had the most exact knowledge of the subject. Obviously he thinks that the audience of a public speech consists of ordinary people who are not able to follow an exact proof based on the principles of a science. Further, such an audience can easily be distracted by factors that do not pertain to the subject at all; sometimes they are receptive to flattery or just try to increase their own advantage. And this situation becomes even worse if the constitution, the laws, and the rhetorical habits in a city are bad. Finally, most of the topics that are usually discussed in public speeches do not allow of exact knowledge, but leave room for doubt; especially in such cases it is important that the speaker seems to be a credible person and that the audience is in a sympathetic mood. For all those reasons, affecting the decisions of juries and assemblies is a matter of persuasiveness, not of knowledge. It is true that some people manage to be persuasive either at random or by habit, but it is rhetoric that gives us a method to discover all means of persuasion on any topic whatsoever."1
I value good Belief-Etiquette​: 
"reasoned belief-acquisitions​, good belief-maintenance, and honest belief relinquishment."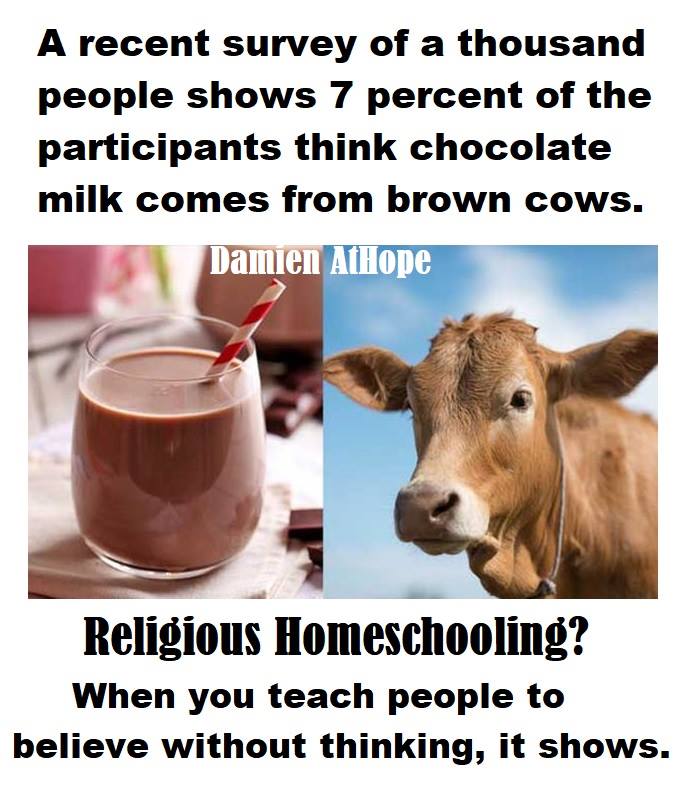 Here is an example of the problem
"Ever heard of a band called Tool? Personally it's hard believing we don't have souls or something with music like that. And as god is the highest spirit then god exists." -Challenger
My response, "are you serious? I like Tool but there are no souls, gods, or magic. As to your question and statement, we can add passion as we are emotional being, we are feeling and connecting to is our social needs, such as personal and social expression as well as being inspired with the passion others create, no god needed. There are no spirits or gods whatsoever to be involved, even if needed. Belief in such things as souls, god, or magic, are seemingly the embodiment of fears from the fanciful, the indoctrinated or the duped."
To me, most theists need our help thinking (Dialectical Rhetoric = truth persuasion/motivational teaching), as many only do it for the first time because of us atheists challenge them. We must not stop challenging them as it is a public service.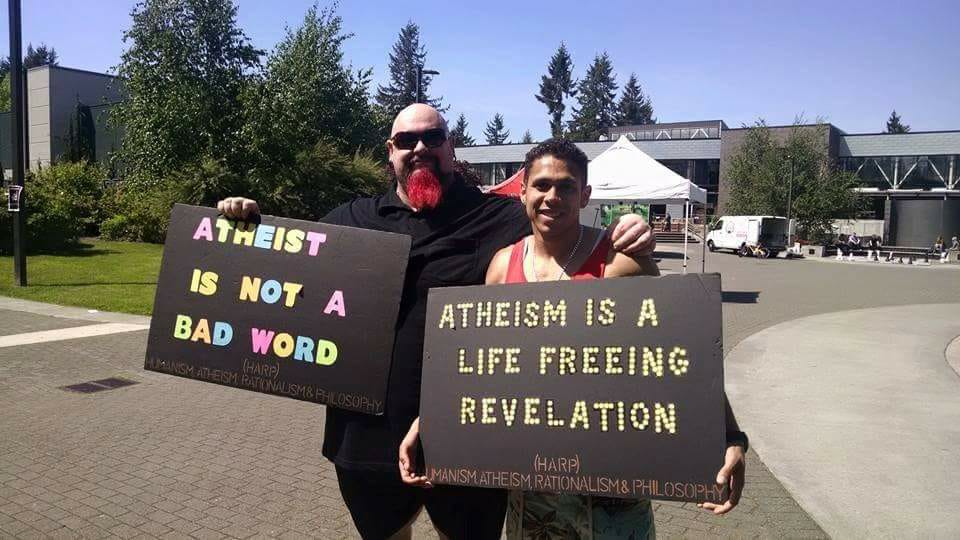 ---
Rise and Support Truth in a World of Lies
Yes, rise my friend, come to the defense of truth. This charge is required of all honest thinkers. I repeat, rise and let your voice be heard, as this not a time of slumber. No, this is a time of fighting for truth and a time where the truth is in much need as we are literally in a post truth nation. Yes, truth mixed with lies offered as full truth is still lies.
Some truth is married to untruth, thus it is hidden in lies. But some may think the truth is just to hard to take for some people so they seem to welcome lies, even if its laid before our eyes. It is this truth we fear that often becomes the fear that may motivate us to only wish to take that which requires no change, no need to reason and understand or emotionally adapt. We too often seem to like easy truth or comfortable lies that become like a mental trap. So then, we often end up marrying our desired truth with some untruth to not see that which is real but unpleasant so to us it stays a lie. Please, join me and become a protector of truths not a supporter of lies.
Rise, become a truth crusader and support truth in a world of lies.
---
Real Truth Seekers?
---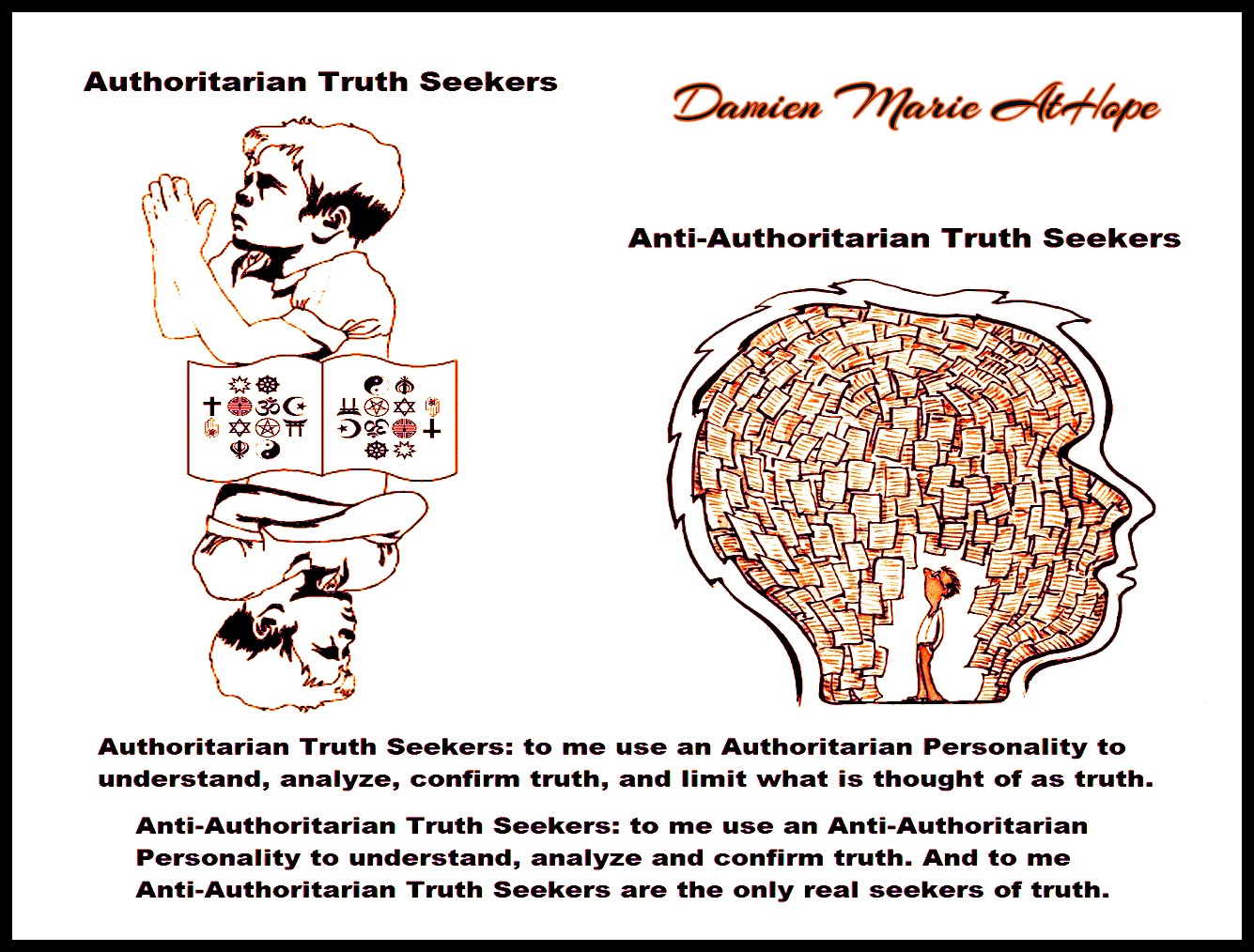 This philosopher first claims to not know if his beliefs are true and states it in a kind of knowledge claim. lol
Ok well, I don't believe you. Now let me explain my thinking a bit more, if he would wish to make me have a justified stance then I may start to believe him. Until then, I realize even he claims to not know and he at least errors in this as he "knows" this in fact and this expressed in the proclamation itself. Which is being offered as a kind of truth-claim about his epistemic thinking and its belief assurance epistemic responsibility concerning beliefs and knowledge, which he likewise seems to infer as some offered fact (the claim of what he can or cannot know if anything he believes) and that includes the many epistemic beliefs that are stated are thus to this philosopher I must disagree, even while his statment may contain some parts to ponder.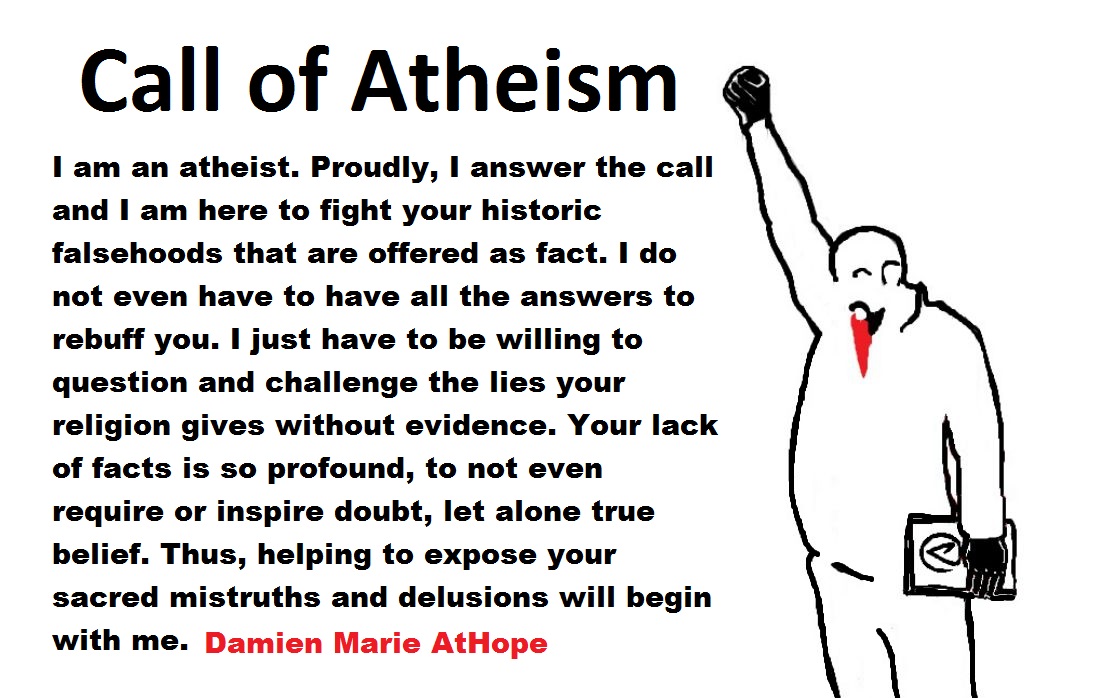 But Why do I Hate Religion?
I was asked why I openly and publicly am so passionate in my hate of religion. further asking what specifically in your life contributed to this outcome.
I hate harm, oppression, bigotry, and love equality, self-ownership, self-empowerment, self-actualization and self-mastery, as well as truth and not only does religion lie, it is a conspiracy theory of reality. Moreover, not only is religion a conspiracy theories of reality, it is a proud supporter of pseudohistory and or pseudoscience they also push pseudomorality. Religion on the whole to me deserves and earns hate, or at least disfavor when you really analyze it. Not to mention the corruption it has on politics or laws. As well as how destructive this unworthy political influence has and creates because of these false beliefs and the harm to the life of free adults but to the lives of innocent children as well (often robbed of the right to choose and must suffer indoctrination) as the disruption of educated even in public schools. Etc…
I as others do have the right to voice our beliefs, just as I or others then have the right to challenge voiced beliefs.
Long live mental freedom…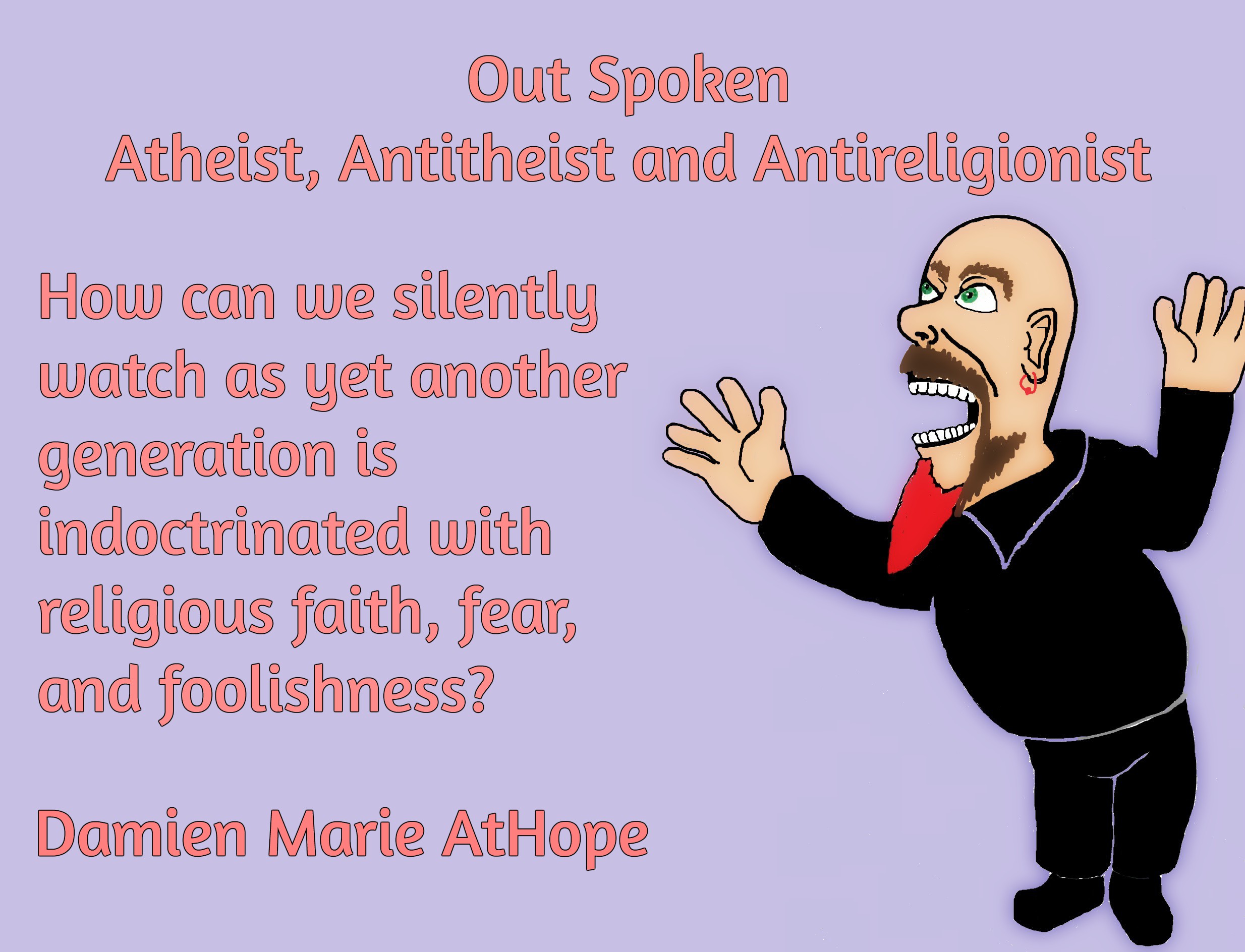 My Blog, My Memes & Short-writing or Quotes
Here is my external pages or content: Facebook Witter Page, My YouTube, My Linkedin, Twitter: @AthopeMarie, Instagram: damienathope, Personal Facebook Page, Secondary Personal Facebook Page, Main Atheist Facebook Page, Secondary Atheist Facebook Page, Facebook Leftist Political Page, Facebook Group: Atheist for Non-monogamy, Facebook Group: (HARP) Humanism, Atheism, Rationalism, & Philosophy and My Email: damien.marie.athope@gmail.com