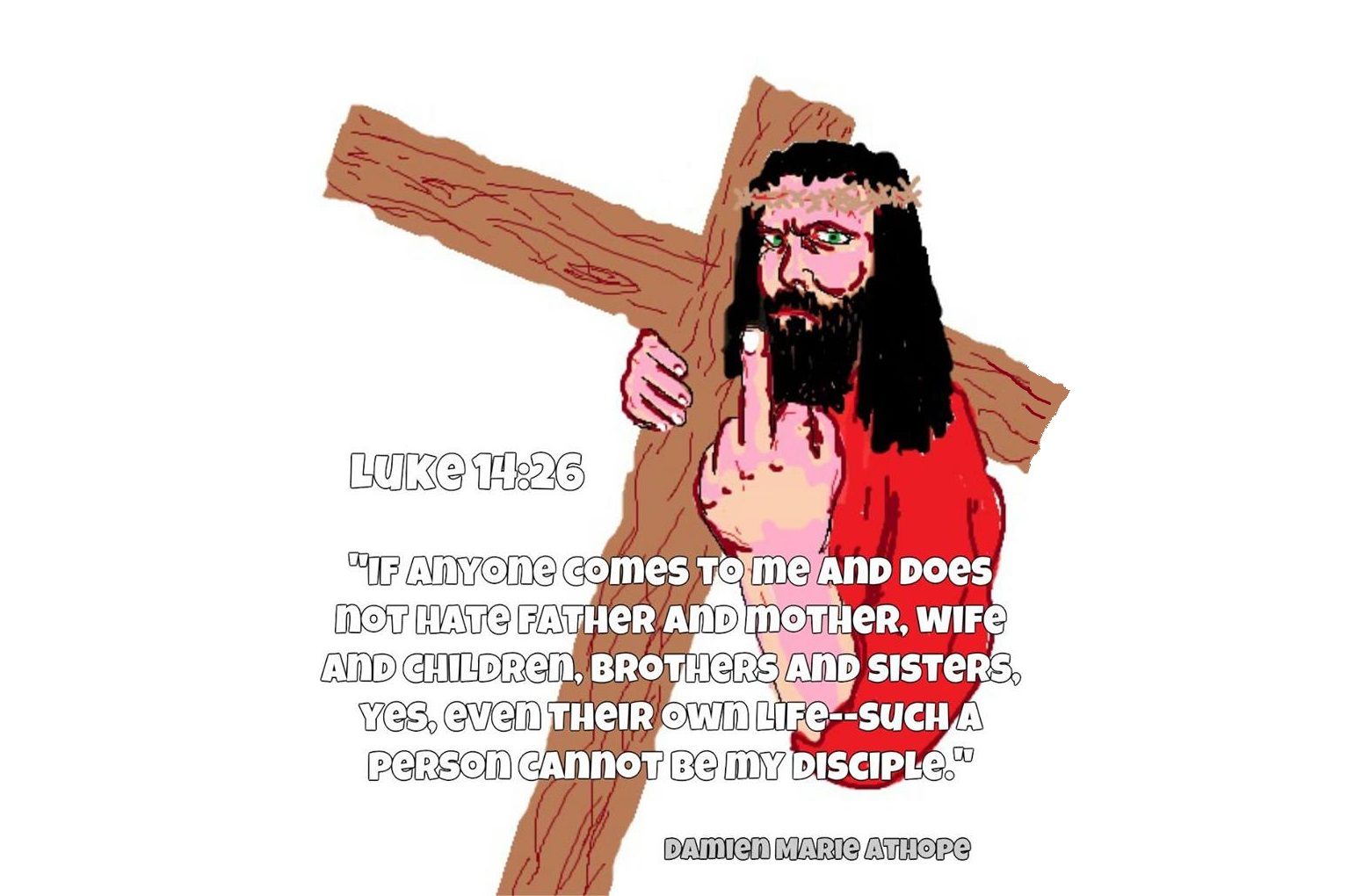 Jesus Christ Wanted for producing the hate and fear literature, the so-called "Holy Bible?"
"Cmon Damien. You know yahua the man had nothing to do with old testament." – Challenger
My response, So juses is not god? Is not jesus and god the same person so he is one of three avatars of the bible god there for is responsible for reportedly inspiring the old testament and the human avatar jesus (yahua the man) that fully condoned and supported the old testament too, right?
If jesus was god, he would have sought worship for himself would he not? Since he didn't, instead he sought worship for god in the heavens, therefore, he was not god. Verses in the bible say jesus is not god The bible says that Jesus denied he is god. Jesus spoke to a man who had called him 'good,' asking him, 'Why do you call me good? No one is good except god alone.' (Luke 18:19) And he said to him, 'Why are you asking me about what is good? There is only One who is good; but if you wish to enter into life, keep the commandments.' (Matthew 19:17) So jesus is not good? Therefore, if jesus did not know "good" then why trust his teachings?
Jesus did not teach people that he was God. If Jesus had been telling people that he was God, he would have complimented the man. Instead, Jesus rebuked him, denying he was good, that is, Jesus denied he was God.
The Bible says that God is greater than Jesus.
'My Father is greater than I' (John 14:28)
'My father is greater than all.' (John 10:29)
Jesus cannot be God, if God is greater than him. The Christian belief that the Father and son are equal is in direct contrast to the clear words from Jesus. Jesus never instructed his disciples to worship him.
'When you pray, say Our Father which art in heaven.' (Luke 11:2)
'In that day, you shall ask me nothing. Whatsoever you ask of the Father in my name.' (John 16:23)
'The hour cometh and now is, when the true worshippers shall worship the Father in spirit and in truth; for the Father seeketh such to worship him.' (John 4:23)
Is Jesus equal to or lesser than god?
JOH 10:30 I and my Father are one.
JOH 14:28 I go unto the Father: for my Father is greater than I.
How did Simon Peter find out that Jesus was the Christ?
By a revelation from heaven (Matthew 16:17)
His brother Andrew told him (John 1:41)
Jesus' last words?
MAT 27:46,50: "And about the ninth hour Jesus cried with a loud voice, saying, "Eli, eli, lama sabachthani?" that is to say, "My God, my God, why hast thou forsaken me?" …Jesus, when he cried again with a loud voice, yielded up the ghost."
LUK 23:46: "And when Jesus had cried with a loud voice, he said, "Father, unto thy hands I commend my spirit:" and having said thus, he gave up the ghost."
JOH 19:30: "When Jesus therefore had received the vinegar, he said, "It is finished:" and he bowed his head, and gave up the ghost."
Jesus' first sermon plain or mount?
MAT 5:1,2: "And seeing the multitudes, he went up into a mountain: and when he was set, his disciples came unto him: And he opened his mouth, and taught them, saying…."
LUK 6:17,20: "And he came down with them, and stood in the plain, and the company of his disciples, and a great multitude of people…came to hear him.. And he lifted up his eyes on his disciples and said…"
Whom did they see at the tomb?
MAT 28:2 And, behold, there was a great earthquake: for the angel of the Lord descended from heaven, and came and rolled back the stone from the door, and sat upon it.
MAT 28:3-5 His countenance was like lightning, and his raiment white as snow: and for fear of him the keepers did shake, and became as dead men. And the angel answered and said unto the women, Fear not ye: for I know that ye seek Jesus, which was crucified.
MAR 16:5 And entering into the sepulchre, they saw a young man sitting on the right side, clothed in a long white garment; and they were affrighted.
LUK 24:4 And it came to pass, as they were much perplexed thereabout, behold, two men stood by them in shining garments:
JOH 20:12 And seeth two angels in white sitting, the one at the head, and the other at the feet, where the body of Jesus had lain.
Jesus descended from which son of David?
Solomon (Matthew 1:6)
Nathan(Luke3:31)
Would Jesus inherit David's throne?
Yes. So said the angel (Luke 1:32)
No, since he is a descendant of Jehoiakim (see Matthew 1: I 1, I Chronicles 3:16). And Jehoiakim was cursed by God so that none of his descendants can sit upon Davids throne (Jeremiah 36:30)
When Jesus met Jairus was Jairus daughter already dead?
Yes. Matthew 9:18 quotes him as saying, My daughter has just died.
No. Mark 5:23 quotes him as saying, My little daughter is at the point of death.
Did Herod think that Jesus was John the Baptist?
Yes (Matthew 14:2; Mark 6:16)
No (Luke 9:9)
Did John the Baptist recognize Jesus before his baptism?
Yes (Matthew 3:13-14)
No (John 1:32,33)
Did John the Baptist recognize Jesus after his baptism?
Yes (John 1:32, 33)
No (Matthew 11:2)
I could go on there is much more but some will say I am using man's wisdom not god's mysterious ways. So, is the bible in favour of wisdom? Is it folly to be wise or not?
PRO 4:7 Wisdom is the principal thing; therefore get wisdom: and with all thy getting get understanding.
ECC 1:18 For in much wisdom is much grief: and he that increaseth knowledge increaseth sorrow.
1CO 1:19: "For it is written, I will destroy the wisdom of the wise, and will bring to nothing the understanding of the prudent."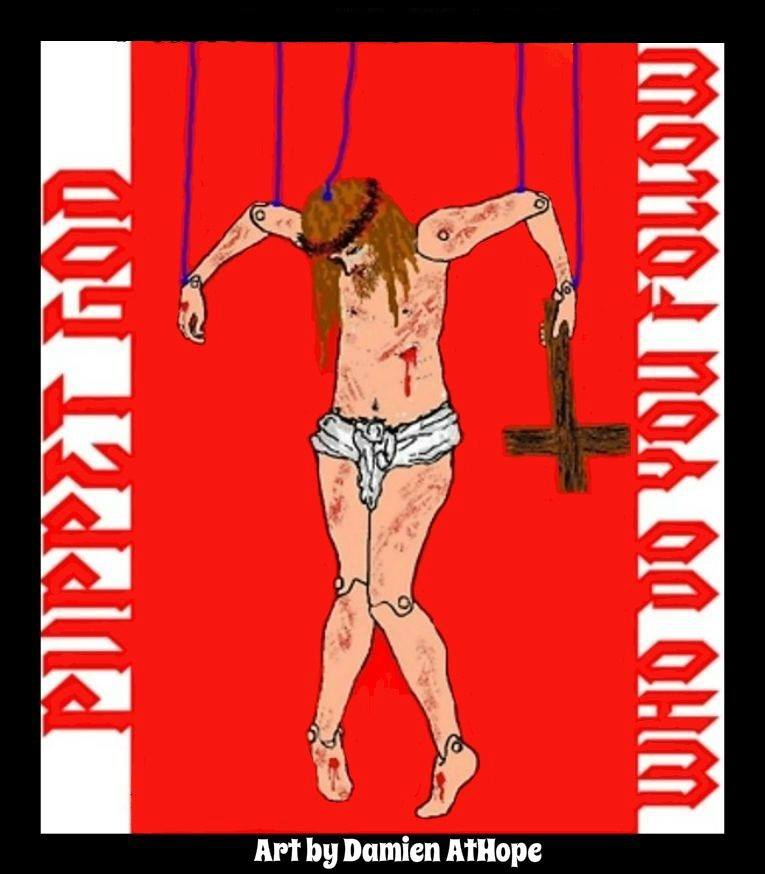 Beliefs should be open to revision, have been scrutinized befor believing needing valid and reliable reason and evidence.
But then you have most religious believers who accept belie with no proof at all jut empty faith. Stubbornly they adhere to religious beliefs, which are either compleatly insufficiently proven beliefs at best and outright myths and lies otherwise. Such religious believers beliefs are not at all open to revision,either they are shallow thinkers that are quite flexible, and just how the beliefs were acquired so to the current religious go unscrutinized, just as the did befor believing. And faith, the mental infection of clear thinking continues over requiring a scrutinizing of all things befor believing, needing valid and reliable reason and evidence.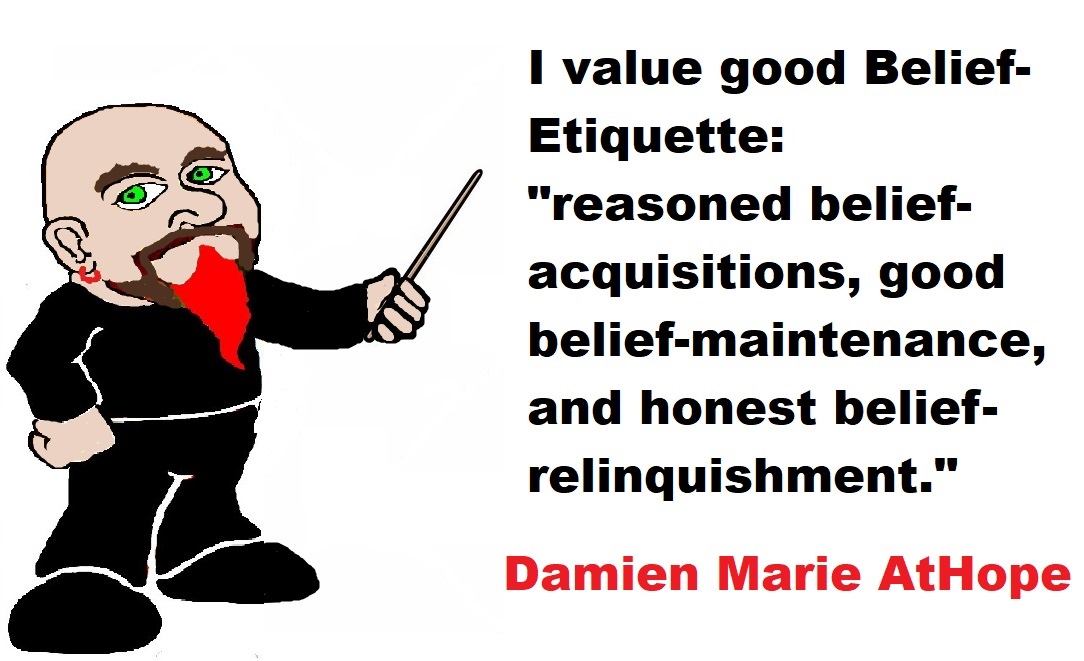 My Blog, My Memes & Short-writing or Quotes
Here is my external pages or content: Facebook Witter Page, My YouTube, My Linkedin, Twitter: @AthopeMarie, Instagram: damienathope, Personal Facebook Page, Secondary Personal Facebook Page, Main Atheist Facebook Page, Secondary Atheist Facebook Page, Facebook Leftist Political Page, Facebook Group: Atheist for Non-monogamy, Facebook Group: (HARP) Humanism, Atheism, Rationalism, & Philosophy and My Email: damien.marie.athope@gmail.com