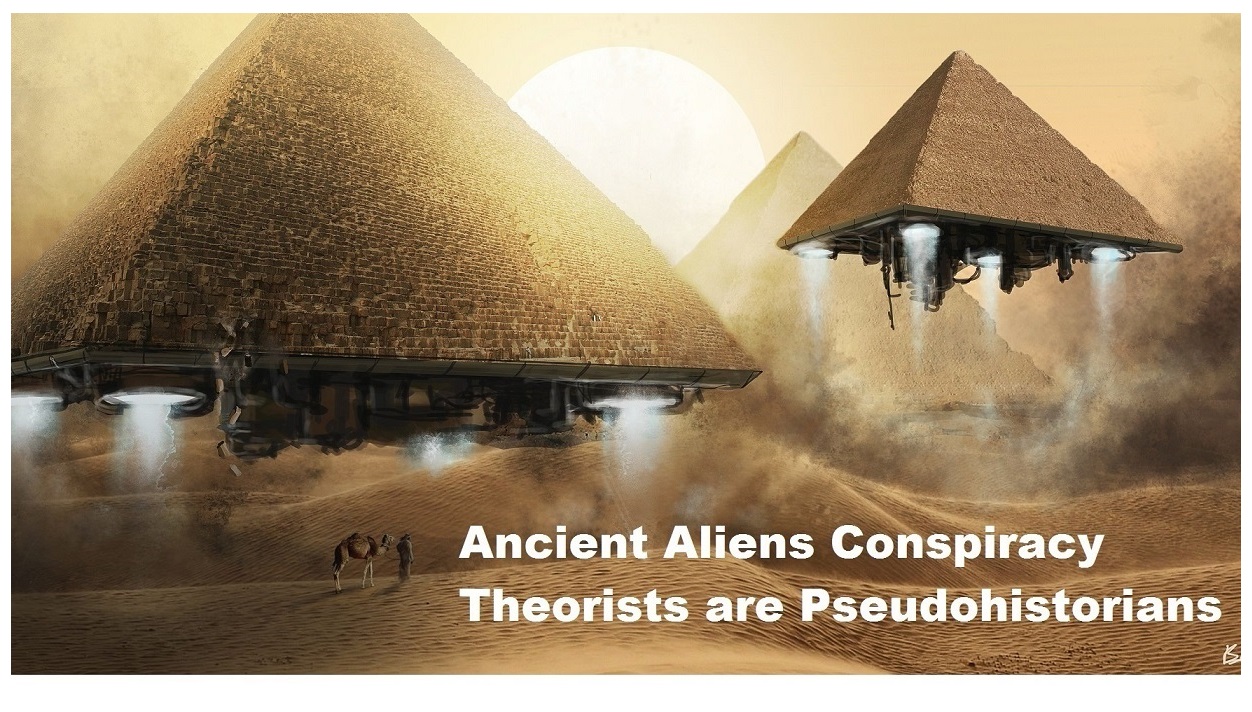 Ancient aliens theories are just idiocy, fabrications and lies. Ancient Aliens Conspiracy Theorists are Pseudohistorians. We are just earth tourists, hopeful bursts of light and joy, that flicker on and off too quickly not to hold reverent the wonder of today.
Ancient Aliens the tv show, is some of the most noxious sludge in television's bottomless chum bucket. Actual experts are brought in to deliver sound bites that are twisted and taken out of context while fanatics are given free reign. Fiction is presented as fact, and real scientific research is so grossly misrepresented that I can only conclude that the program is actively lying to viewers. To present the show as a documentary, on a non-fiction network, is a loathsome move by the History Channel spinoff. (Technically, Ancient Aliens airs on an offshoot of the History Channel called H2.) If the network and the show's creators want to present Ancient Aliens as a light survey of fringe ideas and make it clear that the ideas aren't meant to be taken seriously, I can't quarrel with that. But Ancient Aliens and shows like it winnow away at actual scientific understanding by promoting absolute dreck. Ancient Aliens is worse than bad television. The program shows a sheer contempt for science and what we really know about nature.
Zecharia Sitchin, along with Erich von Däniken and Immanuel Velikovsky, make up the holy trinity of pseudohistorians. Each begins with the assumption that ancient myths are not myths but historical and scientific texts. Sitchin's claim to fame is announcing that he alone correctly reads ancient Sumerian clay tablets. [Of course, he didn't announce this by taking out an ad in the New York Times but by implying it with his "translations" that do not jibe with the work of legitimate scholars in the field.] If Sitchin is right, then all other scholars have misread these tablets, which, according to Sitchin, reveal that gods from another planet (Nibiru or Niburu, which orbits our Sun every 3,600 years) arrived on Earth some 450,000 years ago and created humans by genetic engineering of female apes. Niburu orbits beyond Pluto and is heated from within by radioactive decay, according to Sitchin. No other scientist has discovered that these descendants of gods blew themselves up with nuclear weapons some 4,000 years ago (The War of Gods and Men, p. 310).* Sitchin alone can look at a Sumerian tablet and see that it depicts a man being subjected to radiation. He alone knows how to correctly translate ancient terms allowing him to discover such things as that the ancients made rockets (ibid., p. 46).* Yet, he doesn't seem to know that the seasons are caused by the earth's tilt, not by its distance from the sun.
One of the archaeologists at Bad Archaeology lambastes the History Channel for its series Ancient Aliens and treating its nonsense as though it were fact.
I find it incredible and frightening that a worldwide distributed television channel that bills itself as 'The History Channel' can broadcast such rubbish as Ancient Aliens. If it were an entertainment programme, I'd have fewer worries (although it would still make me cross); it is the implied authority of the channel ('The History Channel', not just any old 'History Channel') that makes the broadcast of this series so potentially damaging, as we saw in the reaction of the forum poster quoted above. A channel that is making claims for its authoritative status, which offers educational resources, has a responsibility not to mislead its viewers (no doubt its executives think of them as 'customers'). That responsibility is one that all makers and broadcasters of supposedly factual television have, but one that few of them take seriously: the responsibility to check facts.
Do read the whole post, as it's a nice one-stop shop for debunking the "ancient astronaut" nonsense that's been peddled around for as long as I can remember. And I'm in agreement that ideally, the History Channel shouldn't run stuff like this and instead devote itself to more stuff about, say, history. At least, the parts of history that don't involve alien visitors.
Ps, I am not saying there could not be any possible life out there, I don't know, it does seem likely at some point in our universe's history or some time in the future. Though I do not believe that we have been visited by other beings.
The links that were used:
http://www.smithsonianmag.com/science-nature/the-idiocy-fabrications-and-lies-of-ancient-aliens-86294030/?no-ist
http://skepdic.com/sitchin.html
http://www.forbes.com/sites/alexknapp/2011/09/19/an-archaeologist-watches-the-history-channel-and-questions-the-part-about-the-aliens/s