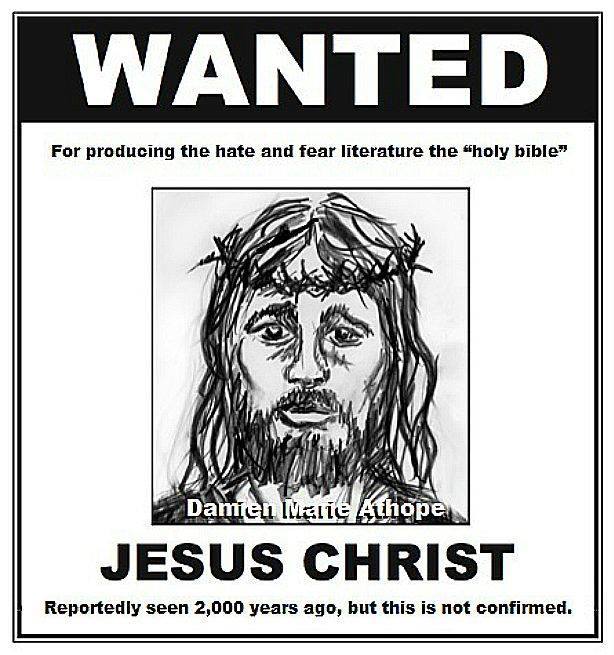 Jesus Christ Wanted for producing the hate and fear literature, the so-called "Holy Bible?"
"Cmon Damien. You know yahua the man had nothing to do with old testament." – Challenger
My response, So juses is not god? Is not jesus and god the same person so he is one of three avatars of the bible god there for is responsible for reportedly inspiring the old testament and the human avatar jesus (yahua the man) that fully condoned and supported the old testament too, right?
"Damien, this is like blaming Frankenstein's monster for Mary Shelley writing Frankenstein. He had nothing whatsoever to do with the bible, even according to the traditional Christian account." – Challenger
"The NT was not written by the time he allegedly died, so you can't be referring to the NT. But just the Tanakh is not what people usually mean when they say "holy bible," but rather Tanakh + NT, so this meme is inaccurate regardless of whether the historical Jesus supported the Tanakh. – Challenger
My response, and the Tanakh is rich with hate and fear literature, so yes he is indeed responsible for that so try again.
"You're just repeating yourself now. I already specified why this meme is inaccurate. If you want to keep it up, that's on your intellectual integrity to share false information, but I would delete it because I have intellectual integrity. And anyway, you didn't say "WANTED: for SUPPORTING the Holy Bible," but rather for "producing" it, which is just ridiculous. He did not write any of it either. This meme is just all kinds of falseness wrapped in a bundle. I see you criticize theists all the time for not being truthful. Do you not hold yourself to the same standard?" – Challenger
My responce, see you still are the one inaccurate as the bible contains the old testament and jesus in only found in the new testament so your argument is beyond odd to say one cannot refer to the new testament the only place we would even know about the jesus character and in which it is claimed to have not stayed dead and thus returned to the god-state which was then claimed to continue to influence the bible so yes he is responsible by the bible itself. So, I need to hear a better argument from you than jesus id not responsible for the bible.
"Jesus could not have supported or "produced" the NT because every shred of it was written AFTER he allegedly died. That should be obvious, but your typo-filled run-on sentences do not establish the contrary. For someone who doesn't think Jesus is god, this is just a dumb argument to suppose that he is in order to criticize him. It's like giving something with one hand and taking it away with the other. Anyhow, you are not coming off as very intelligent here. Honestly, quite the contrary. Is it too much to ask that if you are going to produce antitheist memes, that you don't inject the belief in god into them first (a very strange stance to take, but then you defend it)? You are a muddled mess, and it's like you've never even pondered what it is you're trying to accomplish on a pragmatic level." – Challenger
My response, so no good argument to support your claim that the bible is not influenced by god/jesus?
Produce a meme against the belief in god, but then inject the belief in god into it, so that it's only construed to be accurate if god exists? That is one of the dumbest things I've ever heard of in the atheist community, FYI. Yes, god and Jesus don't exist. No need to have fictional characters produce or support or influence anything. If that's not enough, then I have nothing more to offer." – Challenger
My response, don't you know you need more than empty claims that don't prove your point that the general believers do not think the bible is not inspired by god/jesus?
"My estimation of your IQ just dropped by 35 points. How is it an empty claim if you also don't believe god exists. Are you going to tell me that I need to somehow argue to you that god does not exist for this post to be inaccurate?" – Challenger
My response, this is one of the oddest things I have heard that someone would try to say that the general believers do not think the bible is not inspired by god/jesus. The meme is to address what bible believers believe its a visual added critique as one who talks of IQ would seem to be likely to know but here you are, asking how, "is it an empty claim if you also don't believe god exists" trying to act as if you dont get what is being offered in the meme. Rather it makes you mad because of some other reason than actually claiming Jesus believers don't think he influenced most if not all of the bible. To jesus believers jesus is god and influenced almost everything in the bible. I have a BA in Psychology with some sociology/addictions therapy as well as an Autodidact in Science, Archeology, Anthropology, and Philosophy.
"That is correct in terms of what Christians believe. They are, furthermore, comfortably ensconced in those beliefs in Jesus and god and the bible. The point of an atheist producing a meme against Christianity is to influence believers to not believe in Christianity as much, or otherwise it's a circle-jerk between atheists, if atheists are the only intended audience. But an atheist producing a meme which takes fundamental Christian tenets to be pre-suppositionally true is not going to be effective because it does not push Christians to go outside their comfort zones. Before the meme, they thought Jesus is god and god exists and the bible is true. And the meme MAKES this same argument and so after the meme they are going to think Jesus is god and god exists and the bible is true. This is basic pragmatics, which obviously Damien has not studied via his auto-didacticism. So, yes, it is just a big atheist circle-jerk. I guess it's too much to ask for an atheist to create and share memes which don't take fundamental Christian beliefs as accurate. I mean, what would the world have to come to for that obvious point to have to be implemented?" – Challenger
My response, it was to point out two truths you are seemingly not wishing to address, like how it's a wanted poster so it's pointing out jesus is missing and the intellectual joke in that if you miss it is that the jesus character is not coming back and the other if you missed it was to attach the remainder of the bible's hate and fear and connecting t to the jesus character. And as we stand is you tried to do a red herring logical fallacy trying to turn it to my education, then your ad hominem attack just for fun I guess and yet with all your believed superior to me talk are inferior in argument where it counts my friend. I must wonder if you now see you were wrong as still have not addressed your continual weak argument that is not yet supported as you still don't have support that jesus/god is not responsible for inspiring the bible.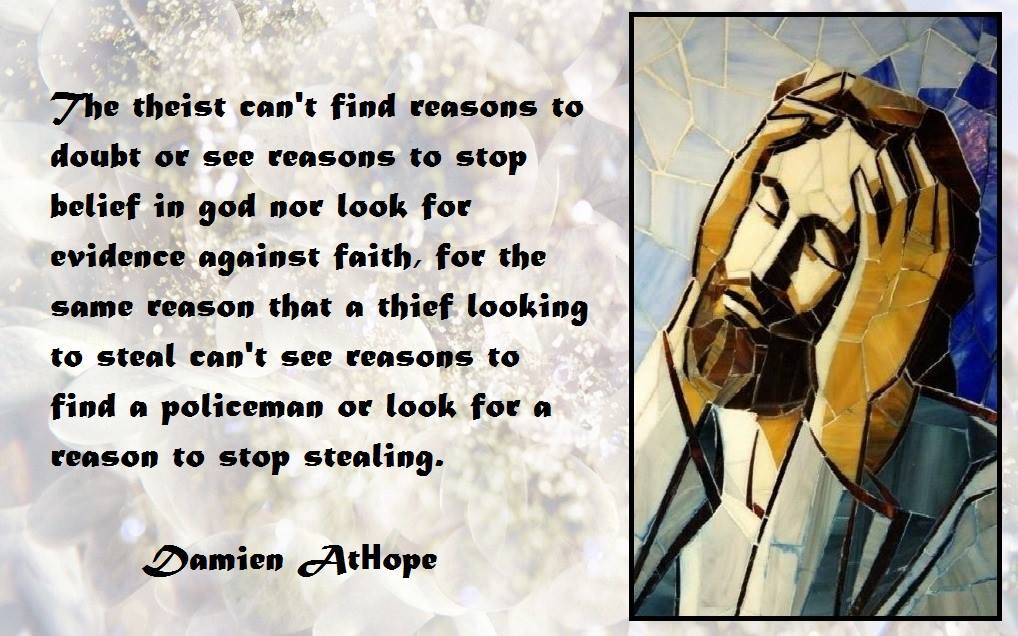 jESUS (a fake story) explained as a real bigot but not a gOD
Matthew 15:21-28 "Proves the bible stories character jESUS who was not god but was a bigot"
21 Leaving that place, jESUS withdrew to the region of Tyre and Sidon. 22 A Canaanite woman from that vicinity came to him, crying out, "lord,(yahweh) son of david, have mercy on me! My daughter is demon-possessed and suffering terribly." 23 jESUS did not answer a word. So his disciples came to him and urged him, "Send her away, for she keeps crying out after us." 24 He answered, "I was sent only to the lost sheep of Israel." 25 The woman came and knelt before him. "lord, help me!" she said. 26 He replied, "It is not right to take the children's bread and toss it to the dogs." 27 "Yes it is, Lord," she said. "Even the dogs eat the crumbs that fall from their master's table." 28 Then jESUS said to her, "Woman, you have great faith! Your request is granted." And her daughter was healed at that moment.
Ps. elohim occurs frequently as well as the later creation name yahweh, both are used throughout the Torah to mean gOD.
*My Commentary Matthew 15:21-28
jESUS all good? Some try to say this is a bad example. Read the next few passages. She pleads more and he then heals the girl. Wrong, this is a great example he does not heal the child out of love or because its ethical and demonstrates a lack of willingness because of different race of the child and does not do it when asked even gives a hate speech response its only after the woman's continued begging after the hate response that he agrees to heal the child again not because children in need should be cared for or because he loves all children of the world nor because it's the moral thing to do instead it's because she had faith he could heal someone. A truly moral person would have simply healed the child the first time and not threw a racial slur at her. I do find it amusing that after she begs him, he conceded and referenced her faith for it? As opposed to her use of reason as she did. Jesus the so-called god or love for everyone was very disrespectful in his statement for no other reason than to be at the least thoughtless to the suffering of a child no evidence of love there. It was looking down on her as if she is a lowly sub-human and the child never mattered not even as a factor when he is said to finally become persuaded to heal the child. So, if we are gracious jESUS was heartless to the suffering of some but if we take it for what it looks like he was a hateful bigot that in no way cared about all the people of the world not even the children.
Here are some more great examples of how jESUS is not all good, nor all loving neither does he care about everyone on earth other than the jews.
Luke 14:26 "If anyone comes to me and does not hate father and mother, wife and children, brothers and sisters—yes, even their own life—such a person cannot be my disciple." – jESUS
Matthew 10:34 "Do not suppose that I have come to bring peace to the earth. I did not come to bring peace, but a sword." – jESUS
Yes you heard that right jesus only came for the israelites stated in his own words as stated undeniably already. Matthew 15:24 He answered, "I was sent only to the lost sheep of Israel." –
You believe you know jESUS. The lie called the bible is full of contradictions thousands of them so what you think you know depends on which lie you choose to remember. You do not know, you believe because of faith and think that feeling is knowing, but you are mistaken. You need to learn how to form justified beliefs, and faith is not it.
If jESUS was gOD, he would have sought worship for himself would he not? Since he didn't, instead he sought worship for God in the heavens, therefore, he was not gOD. Verses in the bible say Jesus is not gOD The bible says that Jesus denied he is gOD.
jESUS spoke to a man who had called him 'good,' asking him, 'Why do you call me good? No one is good except gOD alone.' (Luke 18:19)
And he said to him, 'Why are you asking me about what is good? There is only One who is good; but if you wish to enter into life, keep the commandments.' (Matthew 19:17)
jESUS did not teach people that he was gOD. If Jesus had been telling people that he was gOD, he would have complimented the man. Instead, Jesus rebuked him, denying he was good, that is, Jesus denied he was gOD.
*The Bible says that gOD is greater than jESUS?
'My Father is greater than I' (John 14:28)
'My father is greater than all.' (John 10:29)
*Jesus cannot be gOD, if gOD is greater than him. The christian belief that the father and son are equal is in direct contrast to the clear words from jESUS. jESUS never instructed his disciples to worship him.
'When you pray, say our father which art in heaven.' (Luke 11:2)
'In that day, you shall ask me nothing. Whatsoever you ask of the Father in my name.' (John 16:23)
'The hour cometh and now is, when the true worshippers shall worship the Father in spirit and in truth; for the Father seeketh such to worship him.' (John 4:23)
*Is jESUS equal to or lesser than gOD?
JOH 10:30 I and my Father are one.
JOH 14:28 I go unto the Father: for my father is greater than I.
How did Simon Peter find out that Jesus was the christ?
By a revelation from heaven (Matthew 16:17)
His brother Andrew told him (John 1:41)
MAT 27:46,50: "And about the ninth hour Jesus cried with a loud voice, saying, "Eli, eli, lama sabachthani?" that is to say, "My gOD, my gOD, why hast thou forsaken me?" …jESUS, when he cried again with a loud voice, yielded up the ghost."
LUK 23:46: "And when jESUS had cried with a loud voice, he said, "Father, unto thy hands I commend my spirit:" and having said thus, he gave up the ghost."
JOH 19:30: "When jESUS therefore had received the vinegar, he said, "It is finished:" and he bowed his head, and gave up the ghost."
*jESUS' first sermon plain or mount?
MAT 5:1,2: "And seeing the multitudes, he went up into a mountain: and when he was set, his disciples came unto him: And he opened his mouth, and taught them, saying…."
LUK 6:17,20: "And he came down with them, and stood in the plain, and the company of his disciples, and a great multitude of people…came to hear him.. And he lifted up his eyes on his disciples and said…"
*Whom did they see at the tomb?
MAT 28:2 And, behold, there was a great earthquake: for the angel of the lord descended from heaven, and came and rolled back the stone from the door, and sat upon it.
MAT 28:3-5 His countenance was like lightning, and his raiment white as snow: and for fear of him the keepers did shake, and became as dead men. And the angel answered and said unto the women, Fear not ye: for I know that ye seek jESUS, which was crucified.
MAR 16:5 And entering into the sepulchre, they saw a young man sitting on the right side, clothed in a long white garment; and they were affrighted.
LUK 24:4 And it came to pass, as they were much perplexed thereabout, behold, two men stood by them in shining garments:
JOH 20:12 And seeth two angels in white sitting, the one at the head, and the other at the feet, where the body of jESUS had lain.
*jESUS descended from which son of David?
*Would jESUS inherit David's throne?
Yes. So said the angel of god (Luke 1:32)
No, since he is a descendant of Jehoiakim (see Matthew 1: I 1, I Chronicles 3:16). And Jehoiakim was cursed by God so that none of his descendants can sit upon Davids throne (Jeremiah 36:30)
*When jESUS met Jairus was Jairus daughter already dead?
Yes. Matthew 9:18 quotes him as saying, My daughter has just died.
No. Mark 5:23 quotes him as saying, My little daughter is at the point of death.
*Did Herod think that jESUS was John the Baptist?
Yes (Matthew 14:2; Mark 6:16)
*Did John the Baptist recognize jESUS before his baptism?
*Did John the Baptist recognize Jesus after his baptism?
*I could go on there is much more but some will say I am using man's wisdom not god's mysterious ways. So, is the bible in favour of wisdom? Is it folly to be wise or not?
PRO 4:7 Wisdom is the principal thing; therefore get wisdom: and with all thy getting get understanding.
ECC 1:18 For in much wisdom is much grief: and he that increaseth knowledge increaseth sorrow.
1CO 1:19: "For it is written, I will destroy the wisdom of the wise, and will bring to nothing the understanding of the prudent."
*I hear all the time but did you read the bible?*
Read the bible, you mean the book of dogmatic propaganda. Yes sadly I have. I read two versions of the bible,the King James and the NIV. I have read history, anthropology and archeology of world religions and understood right thinking because of philosophy. I know a lot, I dont claim to know everything but certainly enough to firmly know religion and gods are myths. I could list countess scriptures to contradict the bible's credibility (it has none) as I have listed some but true believers will believe as they wish (blind faith). The male god is an invented idea no more than 5,000 years the female goddess at least 12,000 but the first worship was and the world's oldest ritual was of a large stone python 70,000 years ago.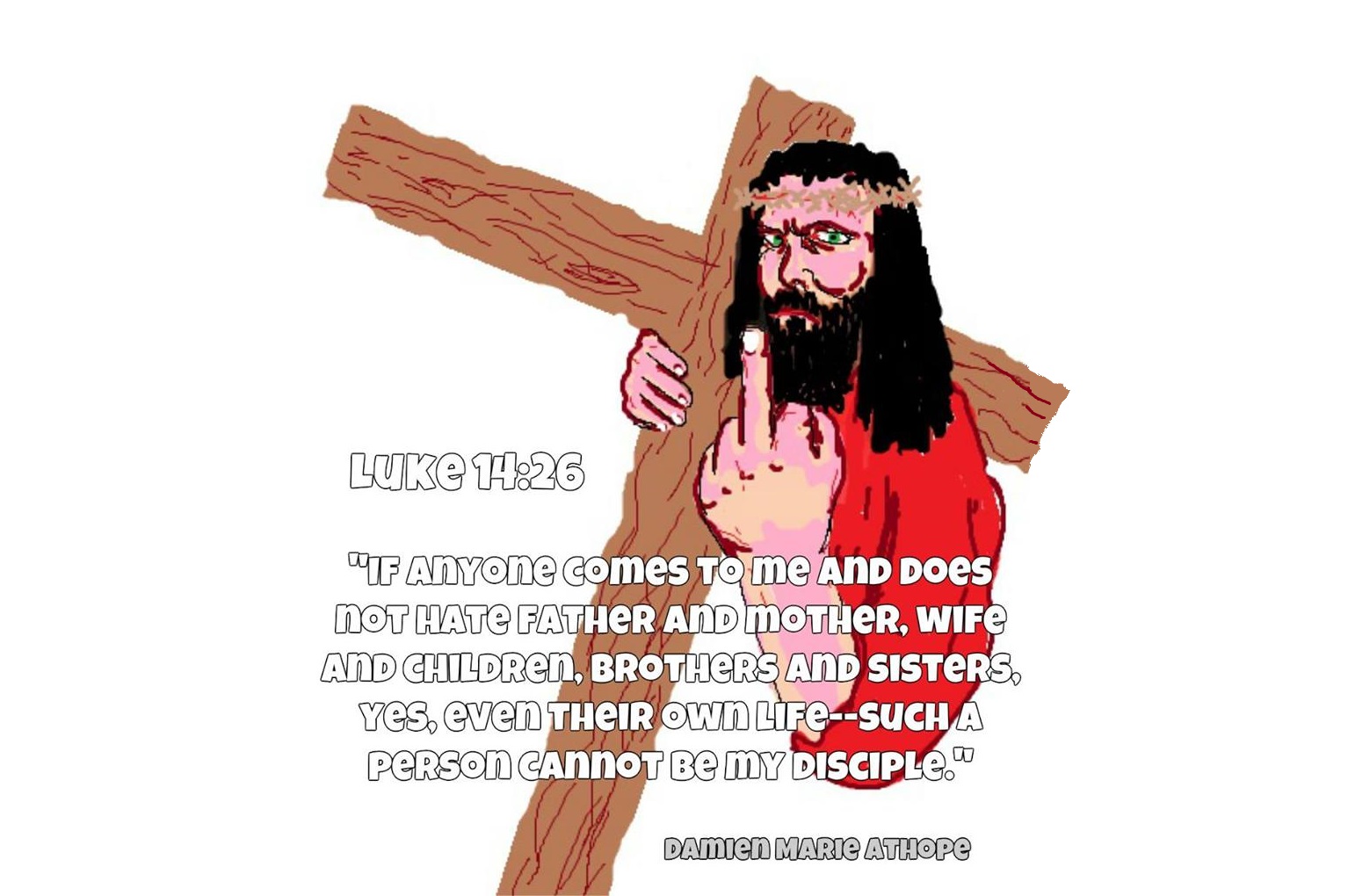 ---
---
My Blog, My Memes & Short-writing or Quotes
Here is my external pages or content: Facebook Witter Page, My YouTube, My Linkedin, Twitter: @AthopeMarie, Instagram: damienathope, Personal Facebook Page, Secondary Personal Facebook Page, Main Atheist Facebook Page, Secondary Atheist Facebook Page, Facebook Leftist Political Page, Facebook Group: Atheist for Non-monogamy, Facebook Group: (HARP) Humanism, Atheism, Rationalism, & Philosophy and My Email: damien.marie.athope@gmail.com