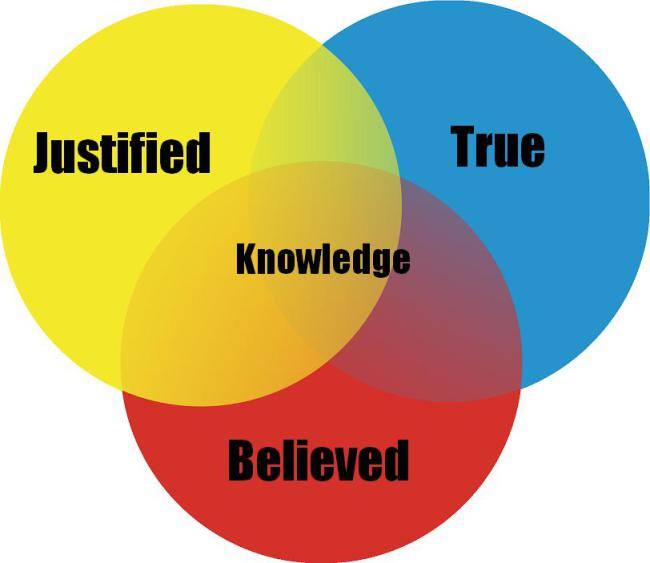 Agnosticism is a Non-Standard Epistemological Belief About Knowledge & Certainty
Agnosticism is a belief about knowledge built on folk logic and nonstandard philosophy it is not a true branch of the philosophy of knowledge at all, infact it is more connected to philosophical skepticism which is against asserting any firm knowledge claim.
I hear people time and again asserting the 100% knowledge or truth claim that because they believe there is no such thing as asserting the 100% knowledge or truth claim that by default Every atheist is agnostic. Do you see the self contradictory claim which would or I guess if one holds such a belief in the limits of knowledge, should refrain from making global affirming truth claims that one cannot make global affirming truth claims.
Some likely have such thinking because of they are using agnosticism's folk philosophy ideology you like it are asserting something about the nature of knowledge and belief which is not how philosophy works. Here is what standard philosophy uses it is called epistemology and it never uses anything called agnosticism. Epistemology is the study of knowledge and justified belief. As the study of knowledge, epistemology is concerned with the following questions: What are the necessary and sufficient conditions of knowledge? What are its sources? What is its structure, and what are its limits? As the study of justified belief, epistemology aims to answer questions such as: How we are to understand the concept of justification? What makes justified beliefs justified? Is justification internal or external to one's own mind? Understood more broadly, epistemology is about issues having to do with the creation and dissemination of knowledge in particular areas of inquiry. A common concept in epistemology is "Knowledge is Justified True Belief"
There are various kinds of knowledge: knowing how to do something (for example, how to ride a bicycle), knowing someone in person, and knowing a place or a city. Although such knowledge is of epistemological interest as well, we shall focus on knowledge of propositions and refer to such knowledge using the schema 'S knows that p', where 'S' stands for the subject who has knowledge and 'p' for the proposition that is known. Our question will be: What are the necessary and sufficient conditions for S to know that p? We may distinguish, broadly, between a traditional and a non-traditional approach to answering this question. We shall refer to them as 'TK' and 'NTK'.
According to TK, knowledge that p is, at least approximately, justified true belief (JTB). False propositions cannot be known. Therefore, knowledge requires truth. A proposition S doesn't even believe can't be a proposition that S knows. Therefore, knowledge requires belief. Finally, S's being correct in believing that p might merely be a matter of luck. Therefore, knowledge requires a third element, traditionally identified as justification. Thus we arrive at a tripartite analysis of knowledge as JTB: S knows that p if and only if p is true and S is justified in believing that p. According to this analysis, the three conditions — truth, belief, and justification — are individually necessary and jointly sufficient for knowledge.
Initially, we may say that the role of justification is to ensure that S's belief is not true merely because of luck. On that, TK and NTK are in agreement. They diverge, however, as soon as we proceed to be more specific about exactly how justification is to fulfill this role. According to TK, S's belief that p is true not merely because of luck when it is reasonable or rational, from S's own point of view, to take p to be true. According to evidentialism, what makes a belief justified in this sense is the possession of evidence. The basic idea is that a belief is justified to the degree it fits S's evidence. NTK, on the other hand, conceives of the role of justification differently. Its job is to ensure that S's belief has a high objective probability of truth and therefore, if true, is not true merely because of luck. One prominent idea is that this is accomplished if, and only if, a belief originates in reliable cognitive processes or faculties. This view is known as reliabilism.
http://plato.stanford.edu/entries/epistemology/#JTB
Some thinkers and philosophers deny the validity of agnosticism assertions in general, seeing it as a limitation of man's capacity to know the reality, affirming that "not being able to see or hold some specific thing does not necessarily negate its existence," using gravity, entropy, reason and thought as examples.
Agnosticism is the position of believing that knowledge of the existence or non-existence of god is impossible.
Finally, there is an argument, popular among some who fancy themselves intellectuals, that agnosticism is the only intellectually honest position to take with regard to gods. According to this viewpoint, theism and atheism are arrogant affirmations of being certain about something that is intrinsically unknowable. It is, of course, true that it is possible there is some unknowable being or entity who creates universes, has unimaginable powers, and is like nothing we have any experience of. No atheist that I know of has ever denied such a possibility, nor have we denied the possibility of an unknowable Easter Bunny who lays eggs on Saturn or any other imaginable epistemic improbability. So what? Atheists and theists do not concern themselves with epistemic improbabilities, but with gods about whom stories have been told for millennia. The more we learn about the universe, the less reason there is for believing that any of these gods were not created by human imagination. Agnosticism regarding Zeus or Abraham's god is not an intellectually honest position, as it can be maintained only by a fatuous and dishonest treatment of the available evidence. That evidence shows beyond a reasonable doubt that all gods fashioned thus far in the minds of men are highly improbable. Agnosticism regarding unimaginable, unknowable beings is redundant.
http://www.skepdic.com/agnosticism.html
We can sert 100% psychological certainty we do it all the time. What most agnostics likely mean is they don't want to claim epistemic certainty thinking it like knowledge is disconnected from belief. However, like knowledge, certainty is an epistemic property of beliefs. http://plato.stanford.edu/entries/certainty/
Sometimes a person who is really an atheist may describe herself, even passionately, as an agnostic because of unreasonable generalised philosophical scepticism which would preclude us from saying that we know anything whatever except perhaps the truths of mathematics and formal logic.
http://plato.stanford.edu/entries/atheism-agnosticism/
Knowledge and belief
Knowledge is a intellectual commodity which is true and believed and justified. There are two slightly different meanings of belief that must be distinguished. In the first sense, John might "believe in" his cousin Joe. This may mean that he is willing to lend Joe money, trusting in his paying it back. In this sense, John might say, "I know it is safer to fly than drive, yet I don't believe it," in which case John doesn't trust in the safety of aircraft, even though as a cognitive matter he may understand the pertinent statistics.
In the second sense of belief, to believe something just means to think that it is true. That is, to believe P is to do no more than to think, for whatever reason, that P is the case. It isthis sort of belief that philosophers most often mean when they are discussing knowledge. The reason is that, in the view of most philosophers, in order to know something, one mustthink that it is true—one must believe (in the second sense) it to be the case.
Consider someone saying, "I know that P, but I don't think P is true." The person making this utterance seems to have contradicted himself. If one knows that P, then, amongst other things, one thinks that P is indeed true. If one thinks that P is true, then one believes P.
Knowledge is usually held to be distinct from belief and opinion. If someone claims to believe something, they are claiming that they think that it is the truth. But of course, it might turn out that they were mistaken, and that what they thought was true was actually false. This is not the case with knowledge. For example, suppose that Jeff thinks that a particular bridge is safe, and attempts to cross it; unfortunately the bridge collapses under his weight. One might say that Jeff believed that the bridge was safe, but that his belief was mistaken. One would not say that he knew that the bridge was safe, because plainly it was not. For something to count as knowledge, it must be true—at least as knowledge is usually understood anyway.
Similarly, two people can believe things that are mutually contradictory, but they cannot know (unequivocal) things that are mutually contradictory. For example, Jeff can believe the bridge is safe, while Jenny believes it unsafe. But Jeff cannot know the bridge is safe and Jenny know that the bridge is unsafe. Two people cannot know contradictory things.
http://www.newworldencyclopedia.org/entry/Epistemology
Rationality
If one does not reject rationality, but still wishes to maintain that knowledge claims cannot be or are not justified, one might be termed a non-justificationist. Here philosophers are on firmer philosophical ground; since non-justificationists accept the validity of reason, they can present logical arguments for their case.For instance, the regress argument has it that one can ask for the justification for any statement of knowledge. If that justification takes the form of another statement, one can again reasonably ask for that statement also to be justified, and so forth. This appears to lead to an infinite regress, with every statement justified by some other statement.
It would be impossible to check that each justification is satisfactory, and so relying on such a series quickly leads to skepticism.Alternately, one might claim that some knowledge statements do not require justification. Much of the history of epistemology is the story of conflicting philosophical doctrines claiming that this or that type of knowledge statement has special status. This view is known as Foundationalism.One can also avoid the regress if one supposes that the assumption that a knowledge statement can only be supported by another knowledge statement is simply misguided.
Coherentism holds that a knowledge statement is not justified by some small subset of other knowledge statements, but by the entire set. That is, a statement is justified if it coheres with all other knowledge claims in the system. This has the advantage of avoiding the infinite regress without claiming special status for some particular sorts of statements. But since a system might still be consistent and yet simply wrong, it raises the difficulty of ensuring that the whole system corresponds in some way with the truth.
http://www.newworldencyclopedia.org/entry/Epistemology